City General Hospital, Newcastle Road (w).
Started as the workhouse in 1832.
Among the oldest buildings surviving is one of fifteen bays, dated 1842 and called Parish Hospital. This and a range duplicating it have pedimented gables on the end bays and the middle bay and in the middle bay a window of three-arched lights such as they are characteristic of the 1840s.
The twenty-one-bay, much more monumental, Elizabethan range is of course later.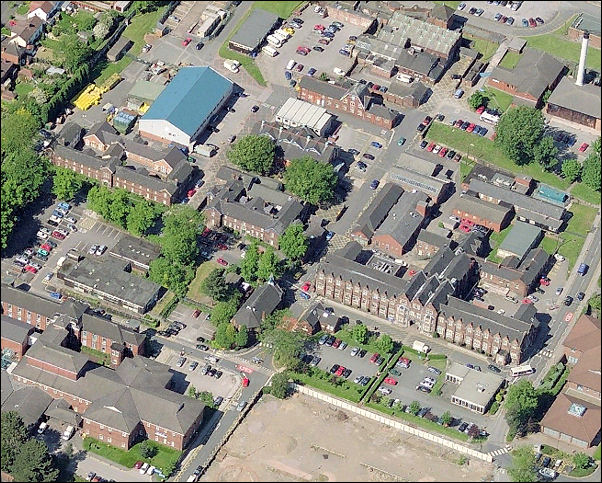 City General Hospital, Newcastle Road

Stoke-upon-Trent Parish Hospital from the west


name and date over the entrance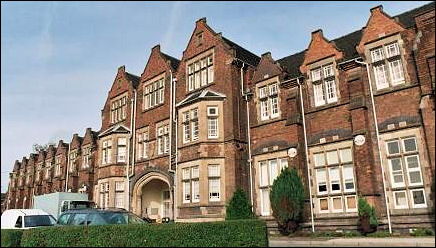 twenty-one-bay - 1866 school block
photos: © Peter Higginbotham - 2001


---
Blind and Deaf School, Greatbatch Avenue (w).
The school centre is The Mount, the house built in 1803 by Josiah Spode II. Seven bays, two storeys, brick, but in the middle a big bow of ashlar with attached giant unfluted Roman Doric columns. Pretty staircase and a circular skylight and an iron handrail with balusters and trellis panels. - Handsome lodge with a portico of four Tuscan columns and a pediment.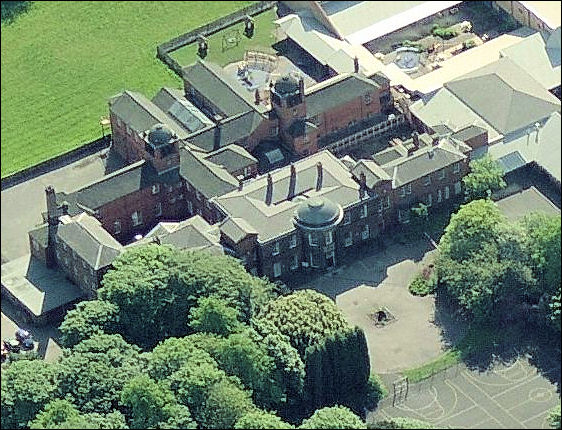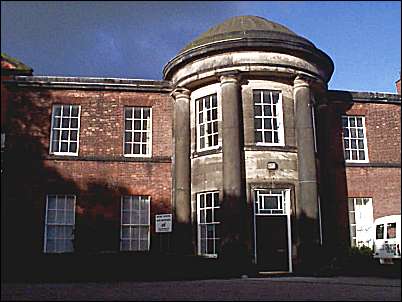 The Mount - former home of Josiah Spode
Centre is the Vestibule
---
British Ceramic Research Association, Queen's Road (w). 1947-50 by Wood, Goldstraw & Yorath. Symmetrical, neo-Georgian, but with a giant portico of thin pillars and a cupola inspired by Tengbom and altogether the Sweden of before 1930.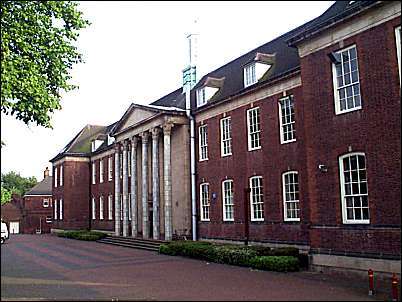 British Ceramic Research Association
In April 1948 the British Ceramic Research Association was created by the fusion of the British Refractories Research Association, which had been in existence since 1920 and the British Pottery Research Association, which was founded in 1937. The main building was officially opened in December 1951 by H.R.H. the Duke of Edinburgh.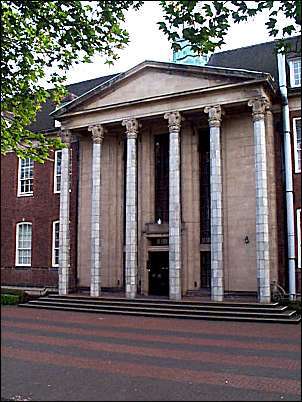 Detail of the imposing main entrance
photos: Steve Birks 2000

---
A postscript for The Villas, a cul-de-sac off the London Road (s). They are all Italianate and boast the short towers so typical of the Italianate of the 1840s.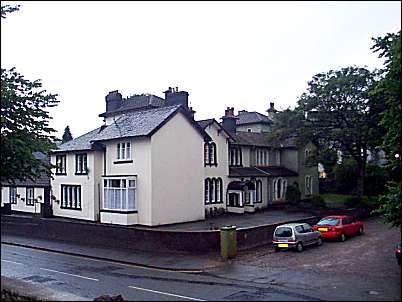 No 1 The Villas - home of Louis Solon
on Louis Solon - pottery artist at Minton's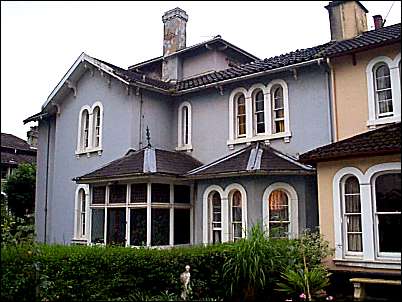 Numbers 3 & 4 The Villas

Number 21 The Villas
The Villas were designed by architect Charles Lynam

---
(Just under 1 m. sw at Trent Vale is The Woodlands, a five-bay Georgian house with a one-bay pediment. It stands behind Nos. 149-163 Newcastle Road.)
---
(Springfields Hotel, Newcastle Road, Springfields (w). A mid c18 house of five bays. Small pediment. Doorcase with Corinthian pilasters. A. Gomme)