St John, High Street, Goldenhill (n). 1840-1 by Stanley of Shelton.
Brick, Norman, with a w tower with spire. Single, tall, shafted, round-headed lancets. Lombard friezes, but triangular instead of arched. Very short, narrow chancel. Open timber roof.

St John the Evangelist - Goldenhill
photo - Peter Bennett c.1996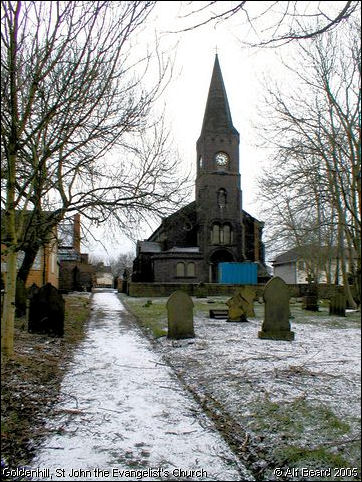 photo - Alf Beard 2005

---
St Mary, Hammond Street (sw). 1858-9 J. W. & J. Hay of Liverpool. Not like most of their other work.
Brick, with a ne steeple. Big lancets. Next door the uncommonly excellent school. Five bays, brick and Gothic, the style used, however - as Webb did - as ground-work only. No frills, nothing picturesque - just a functional front.

---
Central Methodist Chapel, Calver Street, close to St Mary. 1822, enlarged 1832, but the showy facade of 1860.
Ashlar, of five bays, with a three-bay pediment and a big three-bay segmental porch.

---
Westcliffe Institution, Turnhurst Road (ne). The former workhouse.
The core is of 1838-9. To this belongs the yellow brick range in Tudor Gothic. Many additions.

Wolstanton and Burslem western infirmary block from the north-west
photo: © Peter Higginbotham - 2001



---
Former Greenfield Pottery, Furlong Road (ne). The old building, dated 1818, stands at r. angles to the street. It is of two storeys and has a pediment.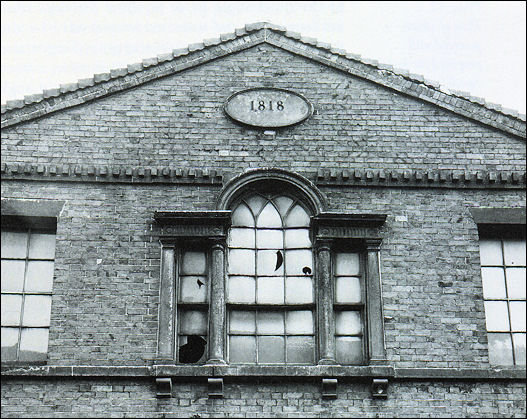 Venetian Window and date stone at Greenfields Pottery, Tunstall
photo: © Potworks
- building since demolished -