Shelley Potteries Ltd, King Street, Stoke-on-Trent

Shelleys had a flair for advertising - they used well known artists Mabel Lucie Attwell and Hilda Cowham for their childrens ware.

Purchasers of Shelley China were encouraged to "Look for the name Shelley on each piece of China"

Their target market was 'Ladies with good taste', 'better class mothers', 'discriminating hostess'

Shelley China
- Shelley Potteries Ltd, Longton, Stoke-on-Trent -
---
Good Taste Needed

Good taste appreciates the beauty of Shelley China. A Shelley Teaset speaks of quality in every graceful line, in purity of colour (a secret three generations old) and in the featherweight lightness which it combines with unsuspected strength.

Afternoon tea, served in China so exquisite, has that note of modest splendour which every lady desires.

Write for Coloured Illustrations of the latest Shelley Tea Sets, Shelley Dainty White China, Shelley Nursery Ware by Mabel Lucie Attwell and Hilda Cowham, Shelley Domestic Ware and Shelley Jelly Moulds—all English : Free with name of nearest supplier from SHELLEYS, Dept. G, POTTERS, LONGTON, STAFFS.

Shelley
CHINA

Look for the name Shelley on each piece of China

---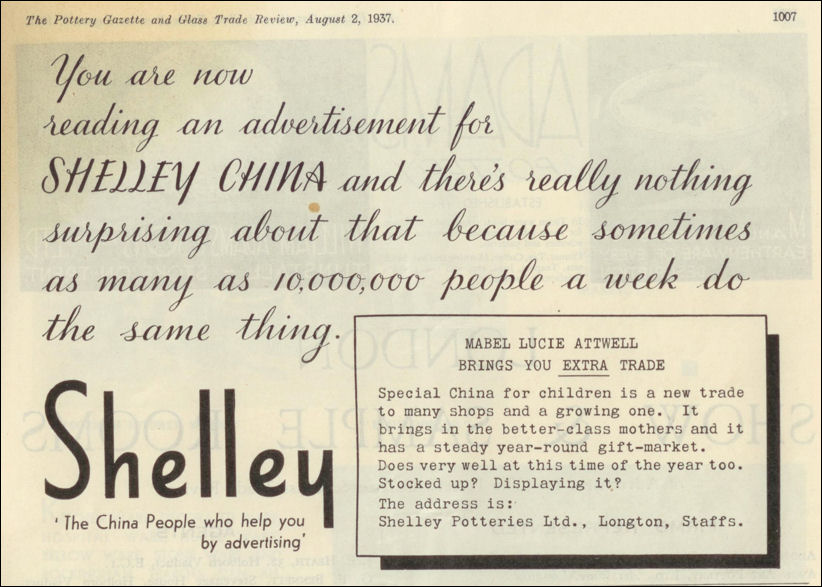 Shelley Advert from the August 1937 Pottery Gazette and Glass Trade Review
Mabel Lucie Attwell "Special China... brings in the better class mothers"
Mabel Lucie Attwell and her relationship with Shelley China

"Mabel's success as a commercial artist was phenomenal and led to her being approached to create illustrations for books. Between 1905 and 1913, Mabel had illustrated ten in total with 4 to 5 colour plates in each for publisher W & R Chambers. Later on she also illustrated for the Water Babies and Alice in Wonderland but her most famed achievement w as when renowned author J.M. Barrie requested that Mabel illustrate his new book "Peter Pan" in 1918.

By the 1920's Mabel Lucie Attwell was a prolific and admired artist and her images began to appear on hundreds of different consumer products but it was her affiliation with the pottery "Shelley" that led her into design as well as illustrations. The factory had already broken the mould of producing children's traditional nursery ware in 1925 by employing Hilda Cowham as an illustrator, this range had been an immense success so they approached Mabel and engaged her to work on designs as well.
She had just finished illustrating on a range of books which featured a small elf in a green suit, "The Boo Boo's" so when her first designs for Shelley were registered in 1926 they featured children and this elf like character. In the same year she designed teasets for Shelley which comprised of the sought after mushroom house as a teapot, a sugar bowl again like a mushroom and Boo Boo the Elf as the milk jug. This teaset was a hit and so in the 1930's Mabel also designed the "Animal Series" which again included a teapot, sugar bowl and milk jug.

Of all the wares Mabel designed for Shelley over the years it was the figurines which were the best examples of her work. Using the characters from her famed illustrations these chubby children figurines included "The Toddler" and "The Golfer Boy." Mabel designed for Shelly over a number of years, producing many designs one of my own personal favourites being the stunning Boo Boo "Sleepy Head" nightlight."
World Collectors Net



the 'BooBoo' range designed for Shelley by Mabel Lucie Attwell.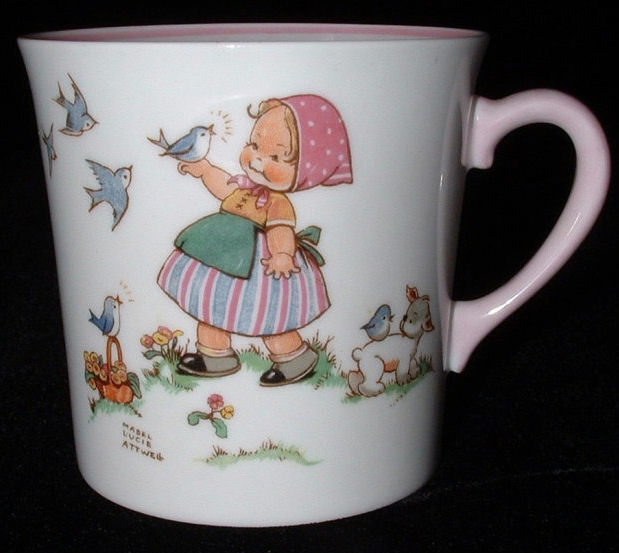 Shelley China Mug 'Little Blue Bird'
designed by Mabel Lucie Atwell
Shelley China - Hilda Cowham designed Beach Tent teaset c. 1928.
Comprising Tent teapot and lid, Pail sugar basin and Shell milk jug.
All pieces have H Cowham signature and the Green Shelley shield with model no.726181 printed to base.

---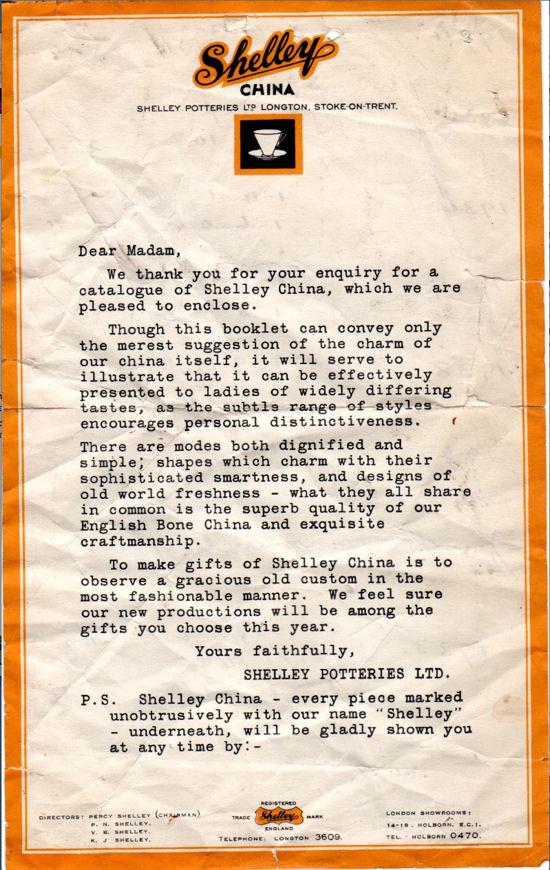 covering letter (c.1932/3) for a Shelly China catalogue
- the letter demonstrates the marketing flair of the business -
[supplied by Charles Woollam]
Dear Madam,
We thank you for your enquiry for a catalogue of Shelley China, which we are pleased to enclose.
Though this booklet can convey only the merest suggestion of the charm of our china itself, it will serve to illustrate that it can be effectively presented to ladies of widely differing tastes, as the subtle range of styles - encourages personal distinctiveness.
There are modes both dignified and simple; shapes which charm with their sophisticated smartness, and designs of old world freshness - what they all share in common is the superb quality of our English Bone China and exquisite craftmanship.
To make gifts of Shelley China is to observe a gracious old custom in the most fashionable manner. We feel sure our new productions will be among the gifts you choose this year.
Yours faithfully,
SHELLEY POTTERIES LTD.
P.S. Shelley China - every piece marked unobtrusively with our name "Shelley" - underneath, will be gladly shown you at any time by:-
---
Shelley China - December 1934 advert
- Graces Guide -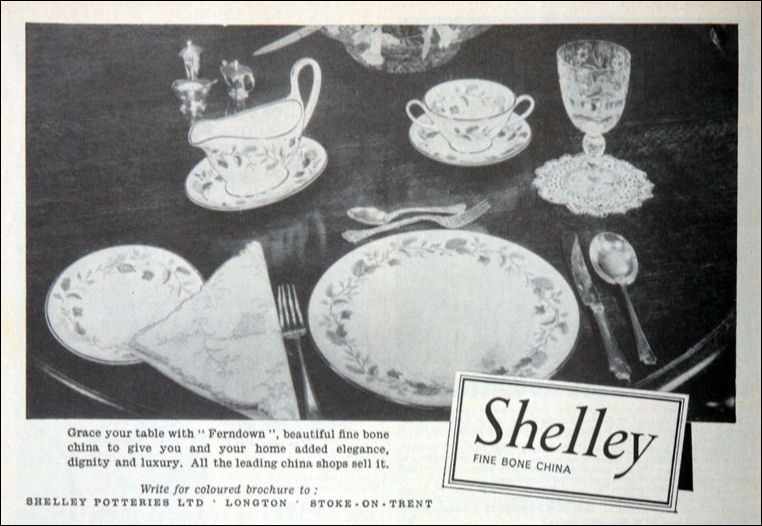 Shelley Fine Bone China - November 1963 advert
- Graces Guide -
---