Location and period of operation:
| | | | |
| --- | --- | --- | --- |
| John Chew | Longton | 1903 | 1904 |
China manufacturer at the Mill Street Works, Longton, Stoke-on-Trent
Previously John Chew was in partnership with John Aynsley, Joseph Chew Snr, Frederick John Ridgway and Joseph Aynsley in the earthenware business H. Aynsley & Co. at the Commerce Street Works.

Subsequently he was a partner in Stubs Bros. and John Chew (Longton) Ltd - still operating from the Mill Street Works.
John Chew's family:
John Chew's father, Joseph was an earthenware stilt and spur manufacturer.

His younger brother, Joseph, was described in the 1891 census as a 'book-keeper'.

James Aynsley Chew (John's older brother), was recorded as 'assisting father' in Stilt and Spur manufactory in the 1881 census but died in 1888 aged 25.

John Chew's maternal grandfather, James Aynsley is described as 'publican' in the 1841 census.
Previously: Boulton & Co.
Subsequently: Stubbs Bros and John Chew Ltd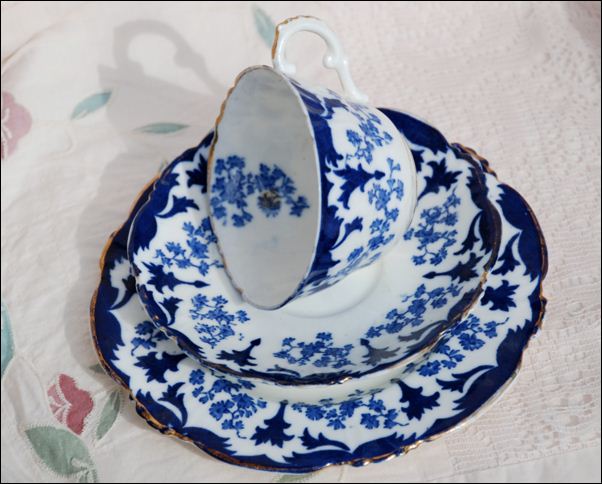 John Chew tea set in the Clyde pattern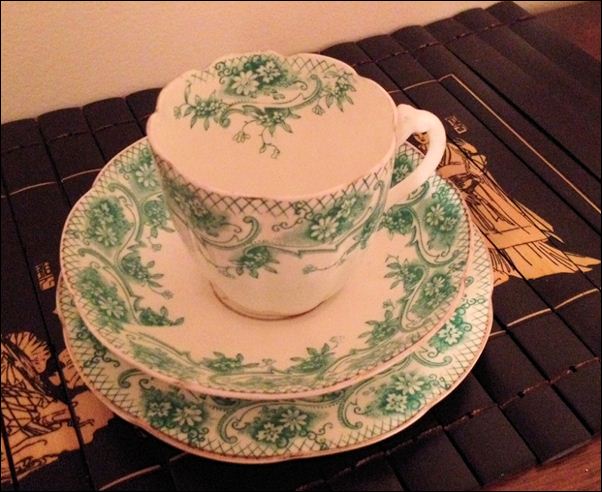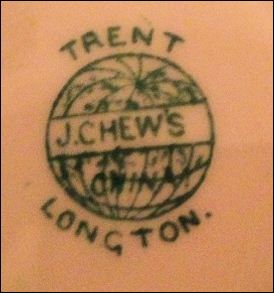 John Chew tea set in the Trent pattern

---
Initials and marks used on ware for identification:
J C
L
initials sometime appearing as
an impressed mark inside a diamond
- the L is for the town name of Longton -
---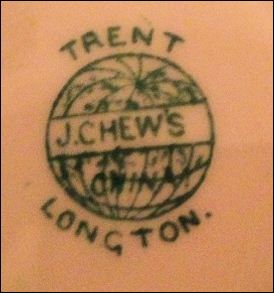 TRENT
J CHEW'S
CHINA
LONGTON
'TRENT' is the pattern name
1903-04
---

1898 map showing the location of the Mill Street Works in blue
Mill Street is shown in red
(it was subsequently named Edensor Road - which it merged into)
The Commerce Street Works where John Chew was previously a partner
in the pottery business of H. Aynsley & Co is shown in green
---
Questions, comments,contributions? Steve Birks
---