Location and period of operation:
| | | | |
| --- | --- | --- | --- |
| W S Kennedy | Burslem | 1843 | 1854 |
Earthenware and china manufacturer at Bournes Bank and then at the Washington Works, Burslem, Stoke-on-Trent, England
William Sadler Kennedy first set up in business in King Street, Burslem producing palettes and other items for artists decorating pottery.

Around 1843 he moved to a pottery in Bourne's Bank, he there added to his business the manufacture of door furniture, letters for signs, &c. He was later joined by his brother-in-law, James Macintyre and they traded as W. S. Kennedy & Co.

Around 1847 the business was moved to the Washington Works, Burslem.

The partnership was dissolved in March 1854, Kennedy left the business and James Macintyre continued on his own.
Subsequently: James Macintyre & Co (Ltd)
---
Washington Works

"The business now carried on at this manufactory originated experimentally in King Street, Burslem, where the late Mr. William S. Kennedy, about the year 1838, commenced the production of palettes and other requisites for artists' use.

Shortly afterwards, removing to a pottery in Bourne's Bank, he there added to his business the manufacture of door furniture, letters for signs, &c. With perseverance, Mr. Kennedy
combated the difficulties which these novel articles presented; and while in conjunction with Mr. William Maddock, who remained with the firm for thirty-five years, he was successful in effecting great improvements in the various processes.

About 1847, the manufacture was removed to its present locality, and has from time to time been enlarged.

The marks W. S. KENNEDY and J. MACINTYRE have been very rarely used.

In 1852 Mr. Kennedy was joined in partnership by his brother-in-law, Mr. James Macintyre, who shortly afterwards became sole proprietor of the works."

'Ceramic Art of Great Britain' - Llewellyn Jewitt - 1878

---

London Gazette - 4 April 1854

notice of the dissolution of the partnership
between Kennedy & Macintyre

---
Marks used on ware for identification:
W S KENNEDY
W S KENNEDY
& J MACINTYRE
---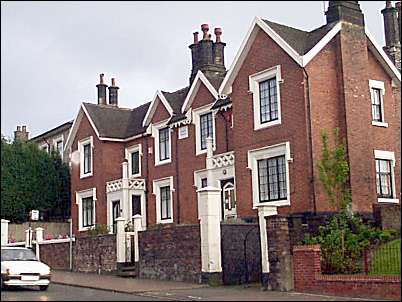 Camoys Terrace, Waterloo Road, Burslem
W S Kennedy lived in one of these houses
- click for more -
---
questions/comments/contributions? email: Steve Birks
---