Arnold Bennett - Son of Stoke-on-Trent




next: Tales of the Five Towns
previous: A Man from the North
contents: Bennett's 'Five Towns' books

index page for Arnold Bennett
Anna of the Five Towns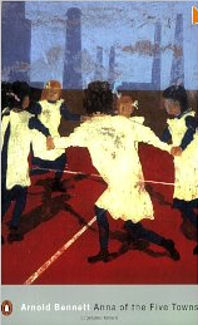 Anna of the Five Towns
1902
"The yard was all silent and empty under the burning afternoon heat, which had made its asphalt springy like turf, when suddenly the children threw themselves out of the great doors at either end of the Sunday-school - boys from the right, girls from the left - in two howling, impetuous streams, that widened, eddied, intermingled, and formed backwaters until the whole quadrangle was full of clamour and movement."
Against a brilliantly observed background of life in the Staffordshire Potteries, Anna of the Five Towns is both a novel about a gossipy, myopic, savage community and at its heart a young girl dominated by her miserly father.

The plot centres on Anna Tellwright, daughter of a wealthy but miserly and dictatorial father. Her activities are strictly controlled by the Methodist church. Having escaped her father by marrying the respectable and attractive Henry, she attempts in vain to help Willy, son of a drunken and bankrupt business associate of her father's. She eventually realises, too late, that she loves Willy.

Bennett's portrait of Anna as a spirited, subtle, complex modern woman makes this book as absorbing and moving today as when it was first written.





next: Tales of the Five Towns
previous: A Man from the North
contents: Bennett's 'Five Towns' books

index page for Arnold Bennett