Roll Call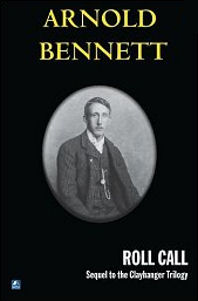 Roll Call
1918
"In the pupils' room of the offices of Lucas & Enwright, architects, Russell Square, Bloomsbury, George Edwin Cannon, an articled pupil, leaned over a large drawing-board and looked up at Mr. Enwright, the head of the firm, who with cigarette and stick was on his way out after what he called a good day's work.
It was past six o'clock on an evening in early July 1901.
To George's right was an open door leading to the principals' room, and to his left another open door leading to more rooms and to the staircase. The lofty chambers were full of lassitude; but round about George, who was working late, there floated the tonic vapour of conscious virtue. Haim, the factotum, could be seen and heard moving in his cubicle which guarded the offices from the stairs.
In the rooms shortly to be deserted and locked up, and in the decline of the day, the three men were drawn together like survivors...."

Roll Call is the sequel to the Clayhanger trilogy. This often neglected, book concerns the young life of Clayhanger's stepson, George.
George Edwin Cannon (he quickly dropped the surname Clayhanger), is an architect, in many ways representing the ambitions held by his stepfather, Edwin. However, he possesses an arrogance endowed by family wealth and Bennett examines with some aplomb the difficulty of bringing up children without spoiling them.
It is a riveting tale which sees George eventually in the army and a fitting finale to one of the finest series in English literature.