Hilda Lessways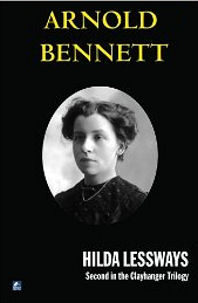 Hilda Lessways
1911
"The Lessways household, consisting of Hilda and her widowed mother, was temporarily without a servant. Hilda hated domestic work, and because she hated it she often did it passionately and thoroughly.
That afternoon, as she emerged from the kitchen, her dark, defiant face was full of grim satisfaction in the fact that she had left a kitchen polished and irreproachable, a kitchen without the slightest indication that it ever had been or ever would be used for preparing human nature's daily food; a show kitchen. Even the apron which she had worn was hung in concealment behind the scullery door.
The lobby clock, which stood over six feet high and had to be wound up every night by hauling on a rope, was noisily getting ready to strike two. But for Mrs. Lessways' disorderly and undesired assistance, Hilda's task might have been finished a quarter of an hour earlier. She passed quietly up the stairs. When she was near the top, her mother's voice, at once querulous and amiable, came from the sitting-room:...."

In the second volume of the trilogy, events in Clayhanger are retold from the perspective of Hilda Lessways, who is embarking upon a relationship with George Cannon, a charismatic entrepreneur, whose success has taken him from the Five Towns to Brighton.
A disastrous bigamous marriage and pregnancy result. Finally, however, she is reconciled with Edwin Clayhanger and one of Bennetts most living heroines must face up to her conflicting emotions, and the reality of her hopes and tragedies.
Clayhanger is the first in the trilogy