Brownhills:
The packhorse lanes through Brownhills:
"One of the main pack-horse roads, which left Hanley by Woodisun (Marsh Street), Brook Street (off Marsh Street North), connected with the lane from Newcastle and wound through Cobridge and the lower end of Hot Lane, Burslem, where it branched; one route going approximately via the present Nile Street, Burslem, and the other, a narrow lane behind, and to the west of what is now Waterloo Road, but which was then a portion of the adjacent fields.
Passing Cross Hill and in front of the church yard, it ran by Bournes Bank, a steep incline, to Swan Square. From here the road probably traversed the slope by way of St. John's Square, or through the Market Square, on to Hill Top. From thence it went down the narrow steep passage of the Back Sytch, past the Sytch Water Mill on the Brownhills Hall estate and past the hall, where it would join the road from Newcastle and Longport, into Tunstall and the north.
From Burslem, the Mother Town of the Potteries, an important pack-horse road ran from the Market Square, as already mentioned, via Pack-Horse Lane, winding by St. Paul's Church, Dalehall, via Trubshaw Cross, fording the stream at Longbridge (Longport), by the present road past a group of houses called Longbridge Hayes. From thence it went round the Bradwell side of what is now Longport Station and up the hill, now traversed by the road (made about 1875) and so on to Wolstanton and Newcastle."
A Sociological History of Stoke-on-Trent, E J D Warrillow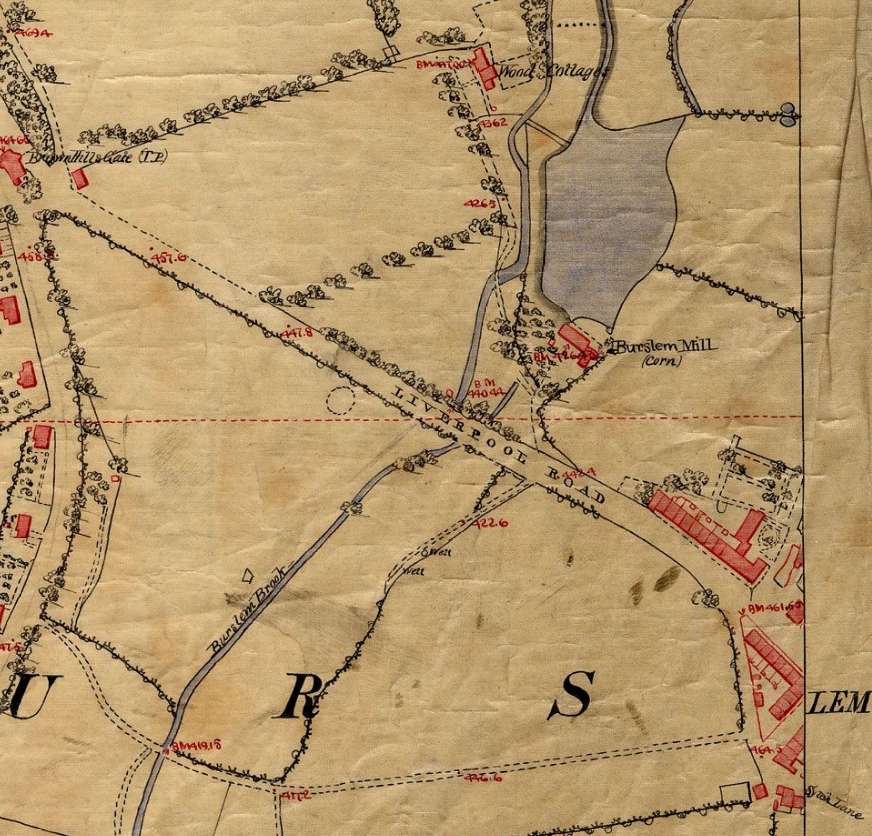 1851 map showing Liverpool Road (now Westport Road)
running from the Sytch, Burslem and joining Davenport Road/Brownhills Road
at Brownhills gate (top left)


1800 map - top left is Brownhills gate
---
Since the potteries around Stoke-on-Trent were in desperate need of something better than the pack-horse to carry their fragile wares, they wholeheartedly supported the connection of Staffordshire to the Trent and to the Mersey canal.
The first sod was cut near Brownhills by Josiah Wedgwood in 1766 and Brindley carried it away in a barrow.
"The first clod of the grand trunk canal was dug the 26th July, 1766, on the declivity of Brownhills, in a piece of land, now belonging to Mr. Wood, within a few yards of the bridge which crosses the canal, by Mr. Josiah Wedgwood, then of Burslem, (the gentleman who afterwards rose to such eminence as a Potter), in the presence of Brindley, the Engineer, and many respectable persons of the neighbourhood, who each cut a sod to felicitate the work.

Perhaps the only survivor who assisted at the ceremonial, is Enoch Wood, Esq., of Burslem, who communicated this information ; and also, that a sheep was roasted whole, in Burslem market-place ; a feu dejoie fired in front of Mr. Wedgwood's house ; and other demonstrations of festivity displayed on the auspicious occasion."
Ward - The Borough of Stoke-upon-Trent, 1843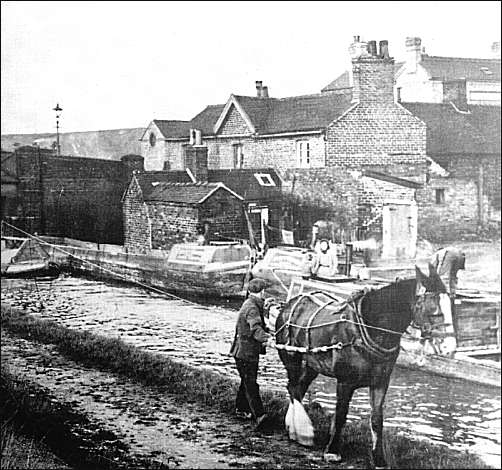 The Trent and Mersey canal at Brownhills, c.1930