Burslem
Station


NSR Burslem Station
Bennett made use of the Potteries loop line that during the late 19th century provided a much needed form of transport between the towns.
"In a second-class compartment of the Loop Line train with Sophia and Fossette opposite to her, Constance had leisure to 'take in' Sophia. .....

Sophia hit on the excellent idea of noting all the buildings that were new to her and all the landmarks that she remembered. It was surprising how little the district had altered. "Same smoke!" said Sophia. "Same smoke!" Constance agreed. "It's even worse" said Sophia. As the train puffed under Trafalgar Road, Constance pointed to a new station that was being built there, to be called 'Trafalgar Road' station. " Won't it be strange?" she said, accustomed to the eternal sequence of Loop Line stations - Turnhill, Bursley, Bleakridge, Hanbridge, Cauldon, Knype Trent Vale and Longshaw. A 'Trafalgar Road' inserting itself between Bleakridge and Handbridge seemed to her excessively curious.

She indicated the glories of Bursley Park, as the train slackened for Bursley, with modesty."
Arnold Bennett The Old Wives' Tale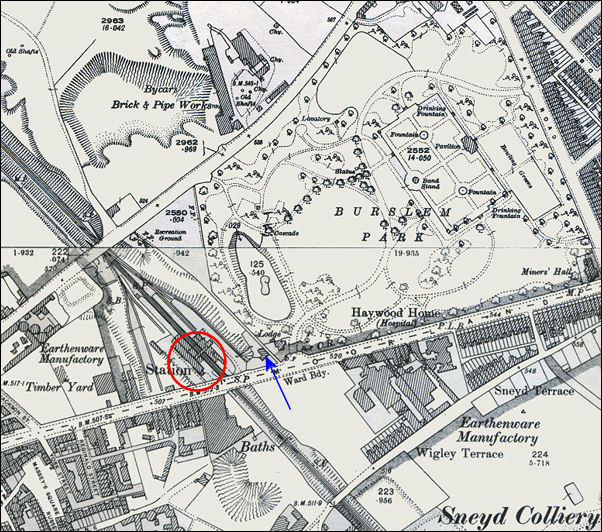 Burslem Station on Moorland Road - 1898 map
This map shows Burslem Station at the bottom of Burslem Park. The station masters house is pointed out by the blue arrow.
Hamil Road runs centre left to centre top and Moorland Road runs left to right.

The Official Opening of the Loop Line to Burslem
"Early in December, 1873, the Sentinel, under the heading of 'The Official Opening of the Loop Line to Burslem,' reported,
'considerable interest was manifest yesterday Monday, December 1st, 1873, in the opening of the Loop Line to the town.
A goodly number went by the first morning train, returning by the next, expressing their satisfaction at having a ride by the first train. The town flag was hoisted on the covered market and the American Stars and Stripes were exhibited by a Yankee tradesman, in Mill Street, near the station. ...
In the afternoon, a large number of spectators assembled on the bank, near the station and seemed to regard the arrival and departure of trains with quite as much interest as the dog racing and rabbit coursing games in the field close by.' "
E J D Warrillow - A Sociological history of Stoke-on-Trent

Frontage of Burslem Station on Moorland Road

© Birch-Holland Collection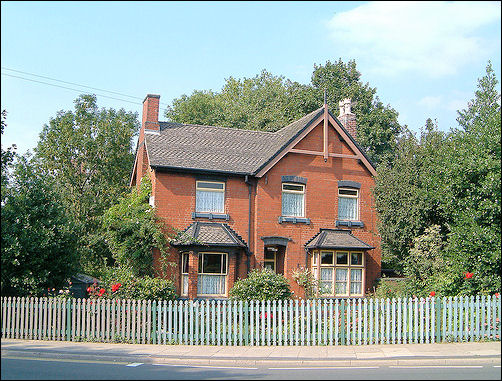 Stationmasters house on Moorland Road
This house is called Station House and was the Station Masters house when Burslem had a Railway Station. The lines ran along side this house and now form the greenway.
photo: © Futurilla - July 2007