| | | |
| --- | --- | --- |
| | Stoke-on-Trent - Potworks of the week | |
Advert of the Week
Photo of the Week
St. Gregory's Pottery, Longton
In 1909 Jackson & Gosling who was a china manufacturer at the Grosvenor Works, Foley Place, King Street, Fenton
moved to the existing St. Gregory Works in Gregory Street Longton, and renamed the factory to the Grosvenor Works.

By 1960 the Jackson & Gosling business moved from Gregory Street to the New Chelsea China Companies' Chelson Street works.
NOTE: There was another (unrelated) works called St. Gregory's Pottery - click for information -
---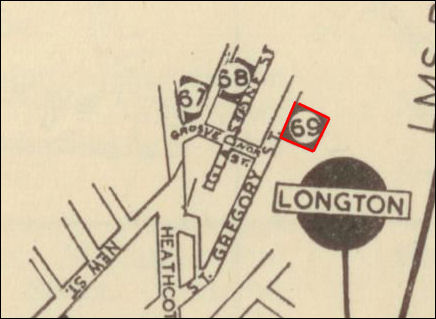 67 Leonard Ferneyhough
68 H. A. Wain & Son. Ltd.
69 Jackson & Gosling Ltd.
Pottery Gazette & Glass Trade Directory - 1947
---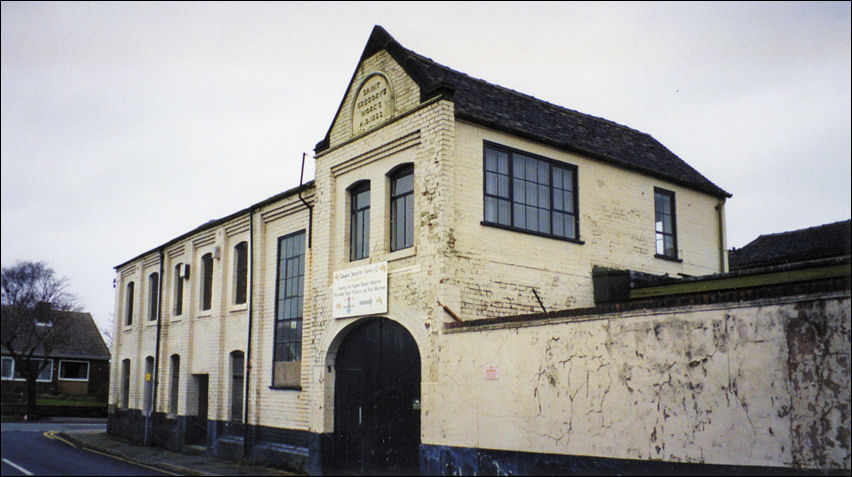 James Wilson's St. Gregory's Works
the main entrance to the works on Gregory Street (was originally St. Gregory Street)
photos: © Eileen Hallam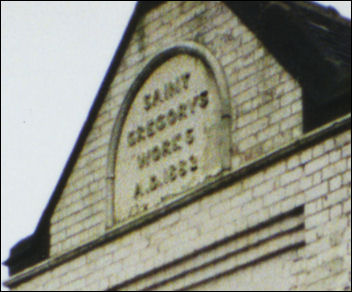 St. Gregory's Works A.D. 1883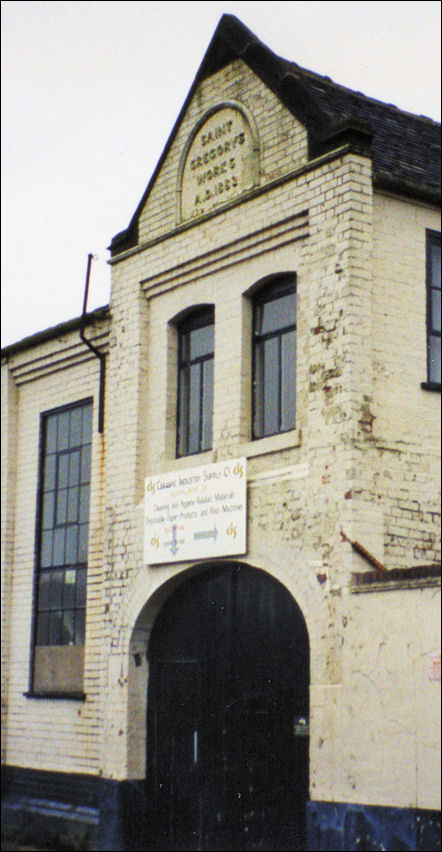 gate to the works
St. Gregory's Pottery
"In 1883, James Wilson having erected these new works in Marsh Street, transferred to them his Parian works, formerly in High Street, and added the manufacture of china to his other business.
James Wilson started at High Street in 1879 and continued at Marsh Street to about 1897."
Jewitt's Ceramic Art of Great Britain, 1800-1900
---

end view of the works from Grosvenor Street
to the left is Gregory Street and to the right is Griffin Street
(originally Marsh Street - renamed in the 1950's to Griffin Street)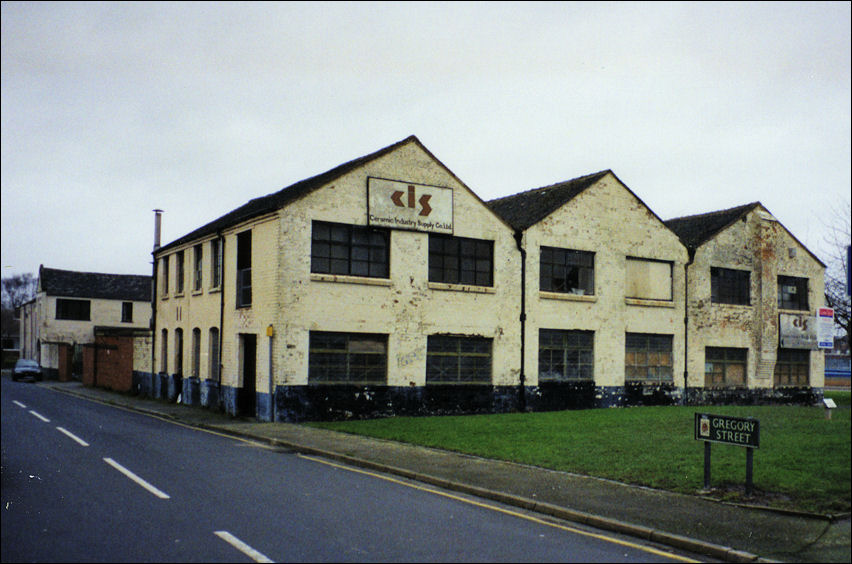 view from Gregory Street
- at the time of these photos the buildings were occupied by CIS - Ceramic Industry Supply Co. Ltd. -

to the left are the original buildings - those to the right look like later build

---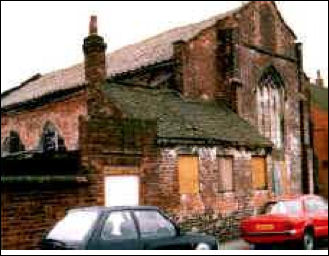 original St. Gregory's church in a 'simple Gothic style'
photo: St. Gregorys
The St. Gregory's potworks was named after the nearby Roman Catholic Church of St. Gregory which was built in 1818 in a simple Gothic style between St. Gregory Street and Marsh Street. The small brick built church was still standing in the 1960's but is now replaced by housing.

The church moved to Heathcote Road in 1868-9.
---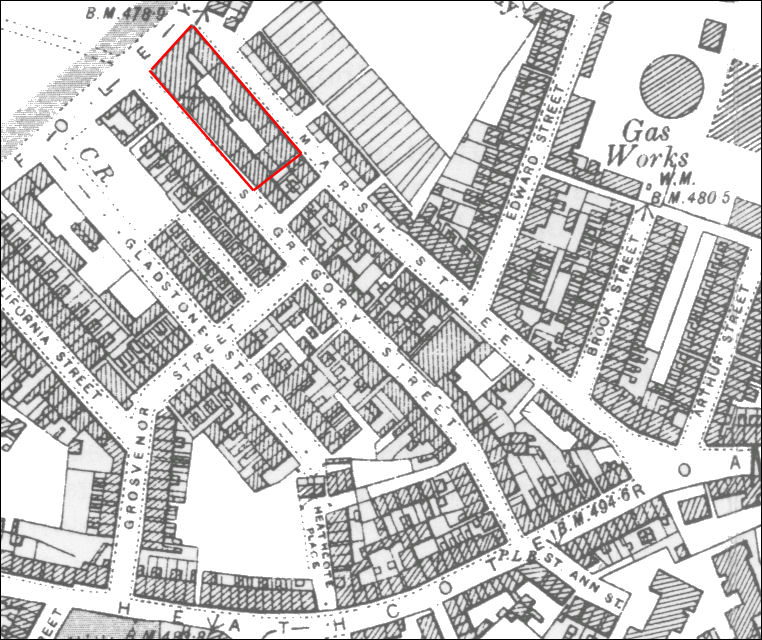 1898 map showing the location of the St. Gregory's Works

larger area on the 1898 map - St. Gregory's Works are to the left of the Gas Works

---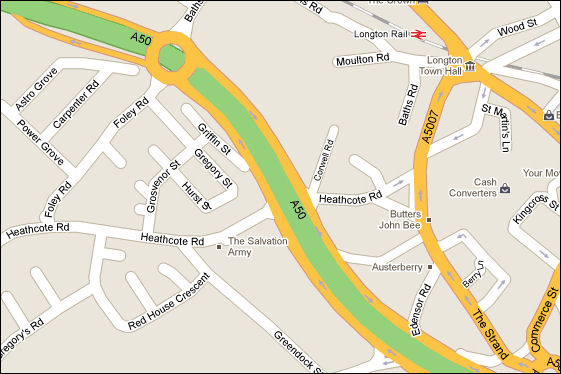 2009 Google map of the same area - the A50 main road has cut straight through the map
Foley Road, Heathcote Road, Grosvenor Street, Gregory Street and Griffin Street (formerly Marsh Street)
can be located on the 1898 and 2009 maps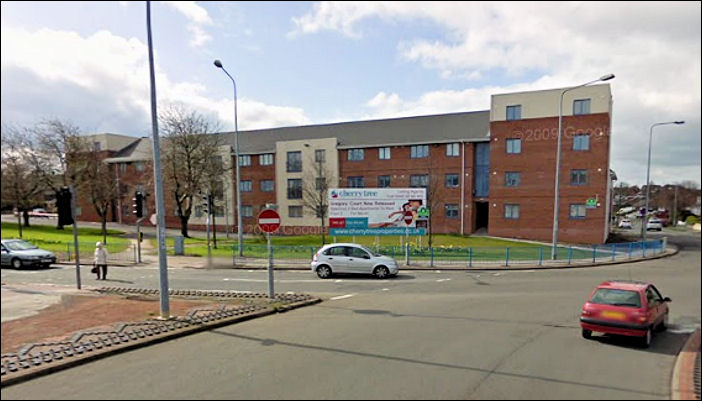 a block of flats named Gregory Court has been built on the site of the pottery works
this picture from Google Street view is from the roundabout over the A50
in front of the flats is Griffin Street (formerly Marsh Street), to the right is Foley Road