back to "The Grand Tour" index
Neville Malkin's "Grand Tour" of the Potteries
buildings of Burslem





next: Ford Green Hall, Smallthorne
previous: Bethel Methodist Church, Burslem
contents: index of buildings of Burslem

No 51 - The George Hotel, Burslem

Photo: Wilf Mountford.
The original George Hotel at Burslem, 1925.
This hotel burned down in 1929.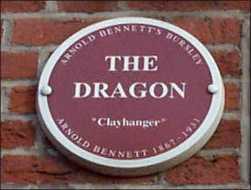 In Arnold Bennett's novels he renamed the George Hotel
as 'The Dragon' (for obvious reasons!)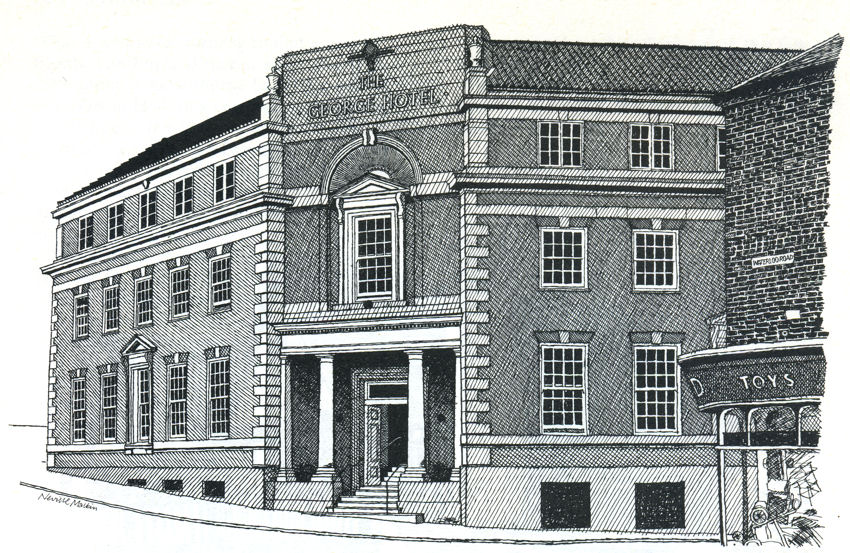 The George Hotel, Burslem
pen drawing by Neville Malkin - Oct 1974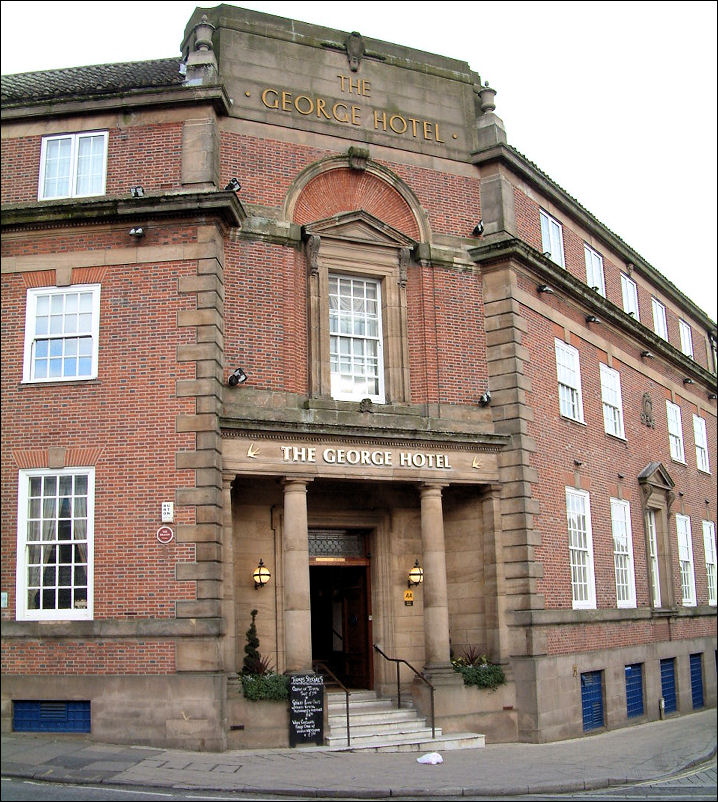 The George Hotel, Burslem
corner of Waterloo Road and Nile Street
photo: Jan 2006
"The orderly everyday activities of Swan Square, Burslem, are a far cry from the dreadful events that took place on August 16th, 1842, which were truly reminiscent of the Peterloo Massacre in Manchester exactly 23 years earlier.

It was a time of industrial strife and revolutionary doctrines. Unrest in the Potteries had been caused by falling wages. Miners had been arrested for carrying begging cups in Burslem marketplace. Families were on the verge of starvation, embittered by the grinding miseries of the "Hungry Forties." The Potteries were a tinder box of discontent, and on August 15th, Thomas Cooper, a talented Chartist orator from Leicester, addressed a mob from a makeshift rostrum at Crown Bank, Burslem. Inflamed by his speeches, angry mobs dispersed to vandalise, on a scale that makes soccer hooligans look like angels. Houses were gutted by fire, and public offices, factories and police stations wrecked. In the evening the mobs gathered in Hanley. Incensed by alcohol and Cooper's words, they surpassed .the outrages of the day. The following morning the Potteries looked like a battlefield.

In Hanley, a local Chartist named Ellis violently addressed the mobs. They made their destructive way to Burslem for a mammoth Chartist demonstration. Formidable gangs from Leek, Macclesfield, Congleton, etc., converged on the town, and a reign of terror began. The George Inn-predecessor of the George Hotel-was almost wrecked. Capt. Powis rode into town and assembled a troop of mounted Dragoons. By now there was an estimated crowd of 8,000, armed with cudgels and stones, and eager to repeat the previous day's destruction. The Riot Act was read. One hour later the military were drawn up opposite the "Big House." The mob advanced, brandishing its weapons and hurling volleys of stones. The military were ordered to fire. One man fell dead, and several others who were wounded died afterwards. The military charged and the rioters dispersed; anarchy was overcome at Burslem. At the following trials, 54 were transported and 146 sentenced to hard labour."

Neville Malkin 30th Oct 1974





next: Ford Green Hall, Smallthorne
previous: Bethel Methodist Church, Burslem
contents: index of buildings of Burslem



back to "The Grand Tour" index

---