back to "The Grand Tour" index
Neville Malkin's "Grand Tour" of the Potteries
buildings of Hanley





next: Staffordshire Potteries Water Board
previous: The Mechanics' Insitution, Hanley
contents: index of buildings in Hanley

No 74 - Bethesda Chapel, Hanley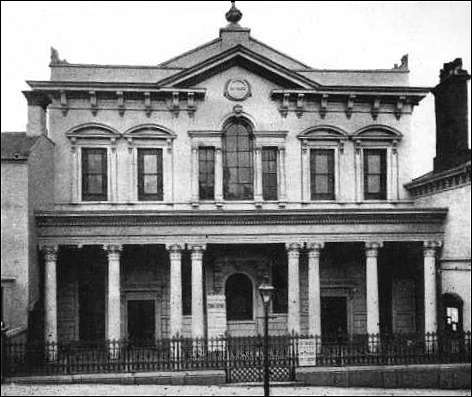 Bethesda Methodist Chapel
c. 1893
Shortly before the 1797 annual conference of the Wesleyan church (held at Leeds), the congregation of Hanley Wesleyan Chapel were locked out of the chapel by the trustees for supporting a resolution embodying the demands made by the group led by Alexander Kilham. These demands resulted in schism and the formation of the Methodist New Connexion.
The Methodist New Connexion
By 1797, only six years after Wesley's death, dissension and divisions were surfacing within the Methodist church. One group who broke away from the main Methodist body over questions of church government and discipline became known as the "Kilhamites" or "Methodist New Connexion." This group enjoyed some success in each of the Potteries towns, but particularly in the area around Hanley and Shelton.
This may have been due to the influence of Job Ridgway, a pottery manufacturer in Hanley, whom Henry Wedgwood called, "one of the most remarkable men Staffordshire ever gave birth to." Ridgway was one of the founding fathers and leading figures at Bethesda Chapel in Albion Street, Hanley, which became the central place of worship of the New Connexion. The chapel was rebuilt in 1820 to seat 3,000 people and became known as "The Cathedral of the Potteries," a name it has kept to this day.

Bethesda Chapel, Albion Street, Hanley
pen drawing by Neville Malkin - April 1975

Bethesda Chapel, Albion Street, Hanley
- undergoing restoration -

photo: April 2010
"The large and splendid Bethesda Chapel in Albion Street, Hanley was first erected on a much smaller scale in 1798, considerably enlarged in 1819, and the attractive Italianate-style facade added in 1859. The spacious interior, with its all-round elliptical gallery, was designed to hold 3,000 people; the organ, described as a handsome fine-toned instrument, was installed in 1820 at a cost of £600. Underneath are vaulted catacombs, intended for families and single interments, and, at the rear, a roomy cemetery with numerous commemorative tombs and headstones.

Four of the earliest monuments in the chapel are in memory of those who helped to establish the Methodist New Connexion in Hanley, following the rift with the Wesleyans in 1797. One is in memory of William Smith of Shelton, "a lay preacher of excellent parts"; another, to the memory of William Thom, "an able minister of the gospel"; a third, in memory of Job Ridgway, who was instrumental in introducing Methodism into this area; and the fourth to Job Meigh, one of the founders of this church.

The Methodist New Connexion was particularly healthy in the Potteries during the early 19th century. In the census of 1840 it was found that approximately one tenth of the total membership in England were residents of Hanley and Longton."




next: Staffordshire Potteries Water Board
previous: The Mechanics' Insitution, Hanley
contents: index of buildings in Hanley





back to "The Grand Tour" index

---