Museum and Art Gallery, Broad Street. 1954 by J. R. Piggott, The City Architect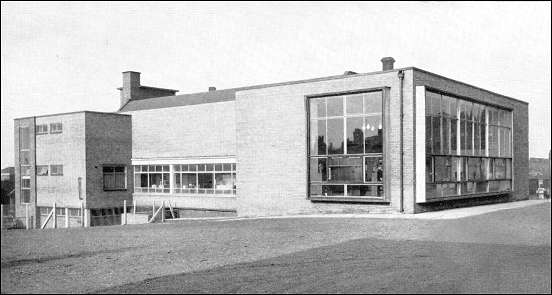 City Museum and Art Gallery, Hanley
From a 1957 Stoke-on-Trent Handbook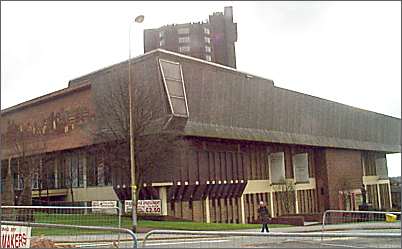 The museum after the extension.
---
Library, Bethesda Street. 1968-70 by J. W. Plant, the present City Architect. A sensible job.

City Central Library, Hanley

---
Library (former), Pall Mall. On the l. the former British School and Art School, 1818, with a remarkable attic storey of 1880. On the right the former Mechanics' Institution, 1859-61 by Rober Scrivener, now deprived of its Ionic top story. (A. Gomme, WCH)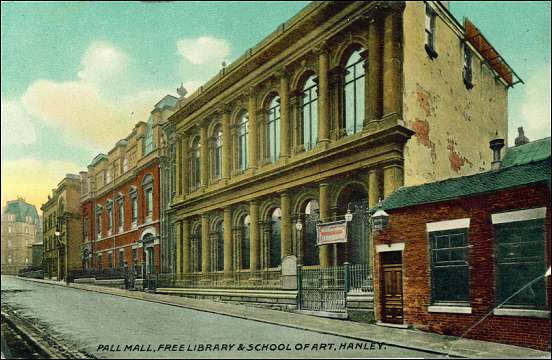 Pall Mall, Hanley
This picture looks up Pall Mall towards Albion Street - the Town Hall can be seen on the left of the picture at the very end of Pall Mall

On the right the first large imposing building was the Museum and further up the road was the free public library. Both thee buildings were demolished in the early 1970's.

Hanley School of Art - founded 1860
Public Free Library - established by Hanley Borough Council 1887
The technical, art and industrial museum was based on the original work of the Mechanics Institute in 1891
---
Post Office, Tontine Street. Complete in 1906. Design by John Rutherford of the Office of Works. Monumental, classical, ashlar-faced.

New Post Office, Hanley - 1906
The Post Office was built with stone from the Waterloo Stone Quarries at
Alton at a cost of about £13,000. Opened in October 18th 1906.
In previous years the site was a regular venue for Batty's Circus.

---
Market Hall, Tontine Street. 1831. A severely classical front, single storyed, with a centre which once probably had a cupola and two pedimented end pavilions. Tuscan columns.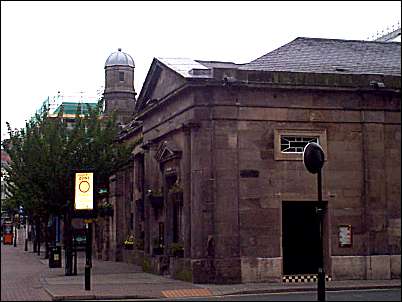 Corner of the Meat Market
Tontine Street to the left, Percy Street to the right. The ashlar frontage is low and classical - the central arched entrance (shown below) is surmounted by a stone turret - when the market closed in 1987 the cupola was missing, but it was added during the subsequent refurbishment.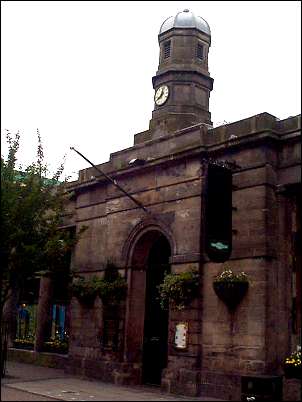 Main Entrance on Tontine Street
Note the Cupola, with the clock face, over the entrance.

Built in 1831 as a shambles (butchers slaughterhouse), the cattle market was in nearby Lower Bethesda Street. The market closed on Saturday 14th November 1987.

---
Market, Market Square. 1849. Eight -bay palazzo, a quite, dignified facade.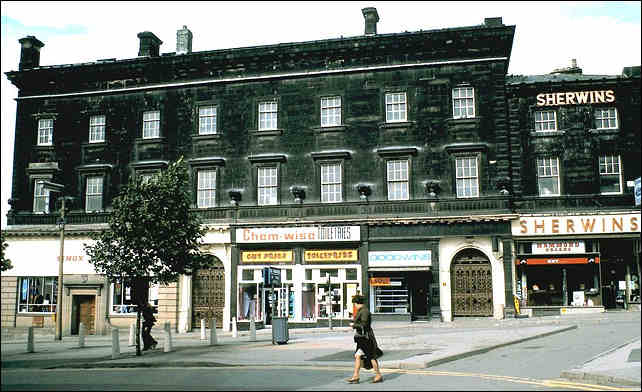 Hanley Indoor Market - photo taken on a Sunday, from Market Square
The whole of the market area was demolished to make way for the Potteries Shopping Centre

on Hanley Market