| | |
| --- | --- |
| George Wade and Son Ltd | |
Location and period of operation:
| | | | |
| --- | --- | --- | --- |
| George Wade and Son Ltd | Burslem | 1922 | |
Porcelain and earthenware manufacturer at the Manchester Pottery, Greenhead Street, Burslem, Stoke-on-Trent

---

The Wade Group of Potteries started in 1810 at Burslem, Stoke-on-Trent, England. Early in the twentieth century several potteries merged to become George Wade & Son, Ltd. and other potteries have been added through the years. Only in 1953, after Sir George Wade developed Whimsies, a small solid ceramic collectable animal series, did Wade become a household name in the UK and America and the company has been known ever since as the "Home of the Whimsie".

George Albert Wade on July 19th 1891 in Burslem, the last of the male line on his side of the old Wade family. His parents, George Wade JP and his mother lived at Baddeley Street, Burslem.
When he was very young, his older sister Daisy Evelyn died in 1893 aged 3, leaving him to grow up an only child in a family of potters establishing their business in the thriving late Victorian era. The Wade family had by now safely pulled away from the hardship suffered by families in the boom-and-slump of supposed progress, and were beginning to enjoy the fruits of their success, prospering by providing for the new needs of a maturing society.


Col. Sir George Wade M.C.
former chairman of the
Wade Pottery Group died
on January 27th 1986 - aged 94

---

George Wade (father)

George Albert Wade (son)

---
Initials used on ware for identification:
TRADE NAMES:-
WHIMSIES
MINIKINS
HATBOX SERIES
---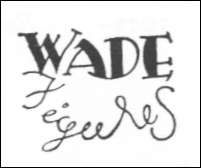 c.1936+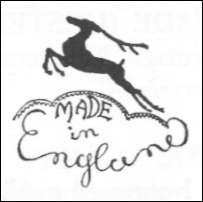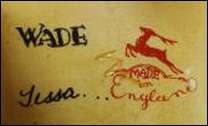 c.1936+
[this mark appears in a 1947 trade directory]

c.1947+
[this mark appears in a 1960 trade directory]
This owl mark type was used at the Manchester pottery for items made for the "free market", in other words, items not made to a customer's own design but intended for the general market. Examples of wade industrial ware using this mark are ceramic cleats, ceiling roses, insulators and electrical fire element holders.
---
Questions / comments / contributions? Steve Birks