| | |
| --- | --- |
| Thomas G. Booth | |
Location and period of operation:
| | | | |
| --- | --- | --- | --- |
| Thomas G. Booth | Tunstall | 1876 | 1883 |
Thomas Gimbert Booth, earthenware manufacturer at the Church (Bank) works in the High Street, Tunstall, Stoke-on-Trent.

An 1880 advert reads: "manufacturer of earthenware, also best ironstone china for hotels' and ships' use, suitable for home, foreign and colonial markets..."

Formerly Thomas Booth & Son
Subsequently T. G. & F. Booth

---

Thomas Gimbert Booth
Tunstall, Staffordshire

The Pottery Gazette, 1st July 1880

---
Initials used on ware for identification:
T G B
The initials were used with several
different printed marks - the name of the pattern
was often included.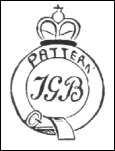 ---
click for more on Booth's works:-




---




BOOTH, Thomas Gimbert (1850-1907), earthenware manufacturer, Tunstall.


Thomas Gimbert Booth, born about 1850, was the son of Thomas Booth, pottery manufacturer, of
Knowles Works, Burslem in 1864 and of Church Bank Works about 1870. Thomas Gimbert Booth succeeded his father about 1876 and for a short time was in partnership with his brother Fred as T G & F Booth.

The business was registered as a limited company about 1898, and Thomas acted as managing director until 1904 then as chairman. The firms produced good quality earthenware and became famous for its Royal Semi Porcelain, Silicon China and in the 20th century for its reproduction, in opaque earthenware, of 18th century Worcester porcelain. The factory employed 50 Men, 60 Boys, 15 Women, and 30 Girls in 1881. The firm continued until the1940's when it became Booth's and Colcloughs.

Thomas Gimbert Booth was elected to the Tunstall Local Board of Health in 1882 and served as chief
bailiff from 1886-90. He supported the idea of a separate Potteries county and was one of Tunstall's first representatives on Staffordshire county council in 1889. His portrait, by John Nash Peake, hung in the council chamber. He was a churchman, a Conservative and bred racehorses.

He lived in Wolstanton, then at Bradwell Lodge, Porthill, at May Bank Cottage in 1881, for some time after 1904 in Wellington, Shropshire and for the last six months of his life at Grace Dieu, 17 Knowsley Road, Southport, where he died on 7 September 1907 leaving a widow, Eliza.

SOURCES: Census 1881, Dir. 1907; Staffs. Sentinel 7 October 1907 (obit.); People of the Potteries; Jewitt.

1881 census:
Dwelling: May Bank Cottage
Census Place: Wolstanton, Staffordshire, England
| | | | | |
| --- | --- | --- | --- | --- |
| Name | Marr | Age | Sex | | Birthplace | Occupation |
| Thomas G. BOOTH | M 30 M | Head | Tunstall | Earthenware Manufacturer Employing 50 Men 60 Boys 15 Women 30 Girls |
| Eliza BOOTH | M 31 F | Wife | Liverpool | |
| Lizzie BURGESS | U 18 F | Cousin | Burslem | |
| Sarah GLOVER | U 35 F | Serv | Burslem | |
| Emiley BURGESS | U 19 F | Cousin | Norbury, Shropshire | |
---
Questions/comments/contributions: email: Steve Birks
---