Location and period of operation:
| | | | |
| --- | --- | --- | --- |
| Booths Ltd | Tunstall | 1891 | 1948 |
Manufacturer of earthenware at the Church Bank works, Tunstall, Stoke-on-Trent.

From c.1912 also at the Swan and Soho Potteries, Tunstall.

The Booth's family business in pottery manufacture was started by Thomas Booth in Burslem in the 1850's and from 1868 at the Church Bank Works in Tunstall.

Thomas's son - Thomas Gimbert Booth was in business with his father and in 1876 continued on his own account.

By 1881 the factory employed 50 Men, 60 Boys, 15 Women, and 30 Girls

From 1883- 1887 he was joined by his brother Frederick as T G & F Booth.

In January 1887 Frederick left the business and Thomas Gimbert continued on his own accoint.

The business was registered as a limited company about 1898, and Thomas acted as managing director until 1904 then as chairman.

In 1905 Charles H Bowers was appointed general manager and under his guidance Booths became a leading manufacturer.

Thomas Gimbert Booth died September 1907 and was buried in the churchyard of St. Margaret, Wolstanton

By 1914 the company employed 800 people

In the 1920s the Person Group aquired an interest in Booths and then later full ownership - the name Booths was retained.

In 1944 Booths aqcuired Colclough China Ltd - merging with them in 1948 to become Booths & Colclough Ltd
Formerly: T G & F Booth

Subsequently: Booths & Colclough Ltd
---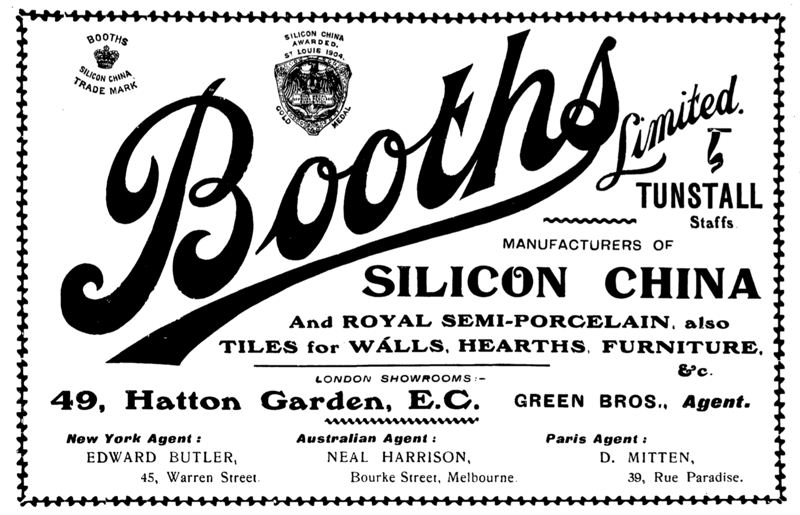 Booths Limited, Tunstall, Staffs
Manufacturers of Silicon China and Royal Semi-Porcelain
also Tiles for Walls, Hearths, Furniture
from..... 1907 Staffordshire Sentinel
'Business Reference Guide to The Potteries, Newcastle & District'
---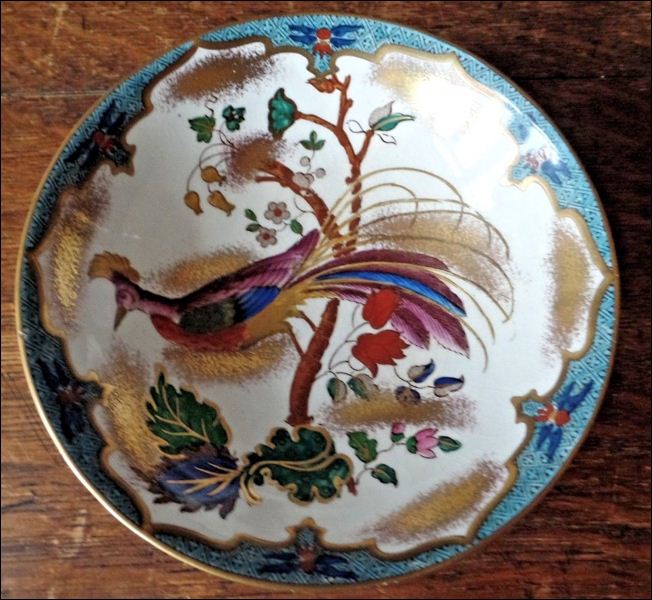 Booths plate with hand painted colour and gilt
---

Booths 'Real Old Willow' plate
pattern number: 9072
used c.1906 to 1944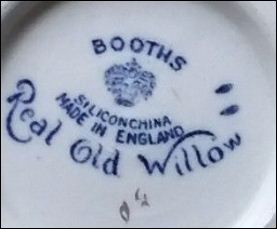 ---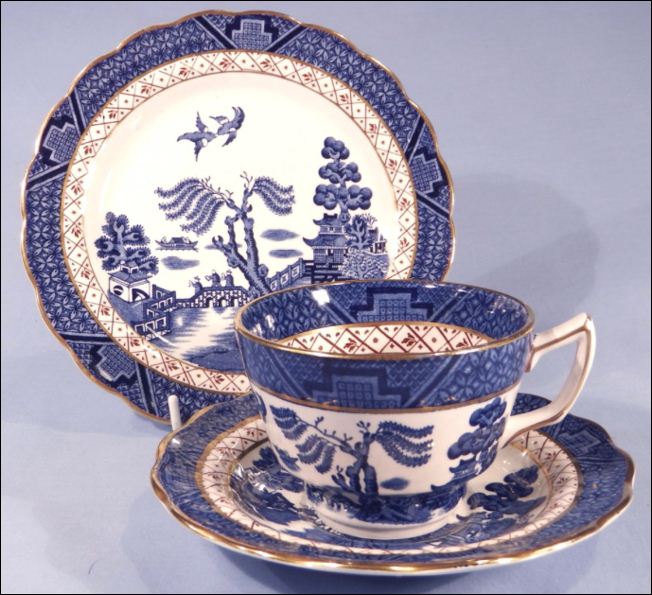 Booths 'Real Old Willow' plate
pattern number: A8025
introduced 1944 and used by Booths
and also subsequent Booths companies into the 1980's
NOTE: Royal Doulton produced the Booths 'Real Old Willow' pattern under its own name from c.1981 to 1999
the name 'Real Old Willow' has also appeared on Royal Albert branded bone china ware
---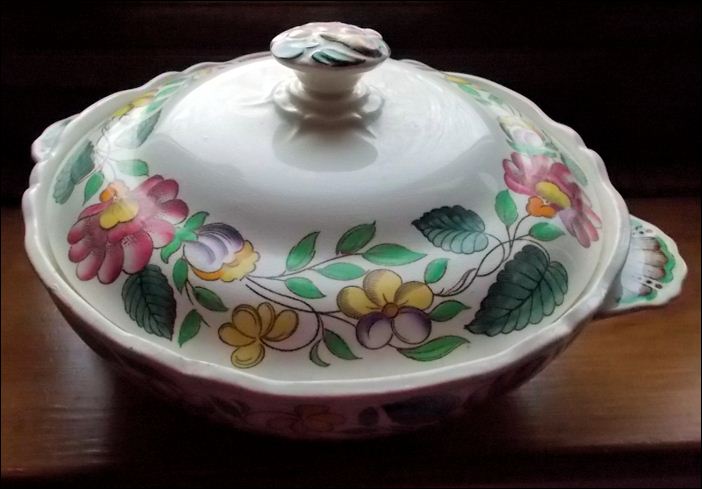 Tureen in the 'Old Lady' pattern

Booths
"Silicon China"
Made in England
'Old Lady'
---
Marks used on ware for identification:
BOOTHS
BBB
Real Old Willow
---
Royal Semi Porcelain
- description used on high quality earthenware -

Silicon China
Silicon China was a name given to an improved, tin & lightweight earthenware body. It was used in the catering markets - hotels, sea liners and railways.
---


- click for more on the pottery marks -
---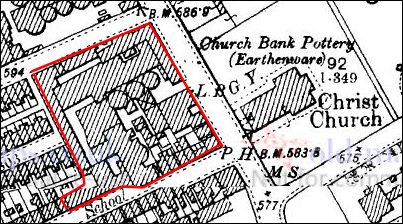 - click the map for more information on the Church Bank Works -
---
questions, comments, contributions? email: Steve Birks
---