Location and period of operation:
| | | | |
| --- | --- | --- | --- |
| New Hall Pottery Co Ltd | Hanley | august 1899 | 1956 |
Earthenware manufacturer at the New Hall works, Hanley, Stoke-on-Trent

When the New Hall Pottery Co. was founded in 1899/1900 they took over the New Hall works and also the business of Plant and Gilmore, who had been tenants of Shelton (New) Hall since 1892.

The business owed its origin to Robert Audley, who, at the age of forty, with no experience, became a Master Potter.

In 1913 (when King George V and Queen Mary visited the Potteries) it was authoritatively asserted that 'the Company is known all over the world as the largest manufacturers of cheap toilet sets and jugs.' In 1908 the Company produced and sold more than 50,000 toilet sets of the Waverley shape alone.

After the first world war was over a sweeping reconstruction took place, for an important part of the factory had been burnt down and left in ruins for lack of building material. A new well-designed three storied building designed to house the packing department, the glost drawing warehouse and decorating shops was built. Three old intermittent glost ovens were replaced by a 250 foot long recuperative and regenerative chamber kiln of 23 chambers.

After the war Robert Audley took into partnership his two sons-in-law – Albert Cook and Harold Clive. The latter was an expert potter and a man of foresight. He realized that the demand for toilet sets was being killed by the growing popularity of fixed lavatory basins and that milk and beer bottles were supplanting jugs for certain everyday uses. He therefore turned his attention to dinner and hotel wares.

The economic situation during the decade 1926-1936 was one of peculiar difficulty and anxiety for all the potteries, including New Hall. There was no coal and no work for months at one period. Mr G. E. Stringer, Chairman and Director, summarised the situation in the following words:

"This year (1926) hastened, if it did not entail, the financial crisis of 1931, when our customers could not place their orders owing to a lessened demand and mounting stocks. The ordinary channels of trade were moreover being diverted into shops called chain stores with an immense capacity to sell a cup and its saucer for three-pence - tuppence for the cup and its handle and a penny for the saucer.... In order to sell something, men pretended to give away something else, and the so-called gift scheme affected every trade - silver, glass, leather and particularly pottery. The quantities required by these schemes were fantastic and in 1936 New Hall purchased the New Pearl Pottery to enlarge its capacity".

During the second War New Hall, though it remained in production, voluntarily closed its decorating departments and became a chief source of supply to the various ministries concerned with the supply to the armed forces. In the years immediately following, production gradually swung back into its customary lines for the home market, while the overseas trade was, by 1948, in excess of anything achieved before.

The New Hall Pottery Co. ceased trading in 1956 and the moulds for the company's hotelware were acquired by the Royal Art Pottery - a member of the Colclough Group.

Marks used on ware for identification: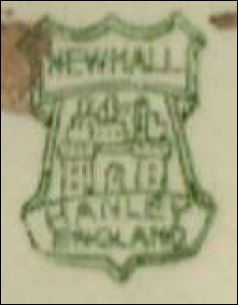 NEWHALL
Hanley
England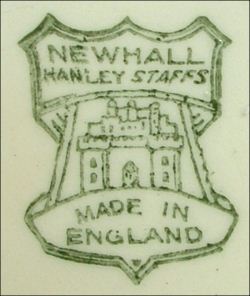 NEWHALL
Hanley Staffs
Made in England
marks used c.1930-51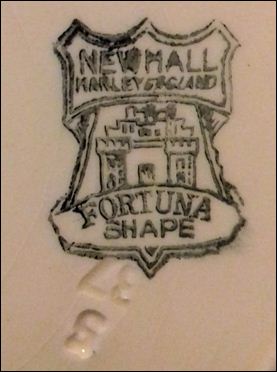 NEWHALL
Hanley England
this mark has the impressed numbers 5 37 which indicate the
month and year of manufacture - May 1937
---
NEW HALL
Hanley
Staffordshire
restyled mark used c.1951-56
---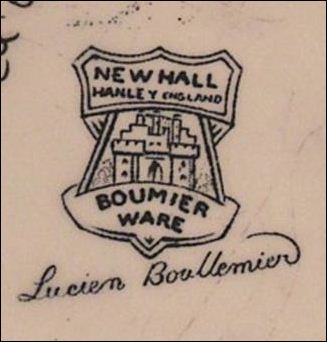 NEW HALL
Hanley
Boumier Ware
Lucien Boullemier was the son of the French-born ceramic artist Antonin Boullemier, who had moved to Stoke in 1872 to work as a decorator at Minton's factory.
Boullemier worked at Mintons factory and then at the Soho Pottery in Cobridge, before being recruited by C.T. Maling of Newcastle upon Tyne to take charge of their decorating department. Until 1926 he had been engaged in painting quite high class porcelain, and he introduced a range of more glamorous designs into the mass-market Maling range, using gold printing techniques and lustred surfaces.
In 1936 he left to work for the New Hall Pottery Company where he produced a range called "Boumier Ware", each piece of which carried his facsimile signature.
---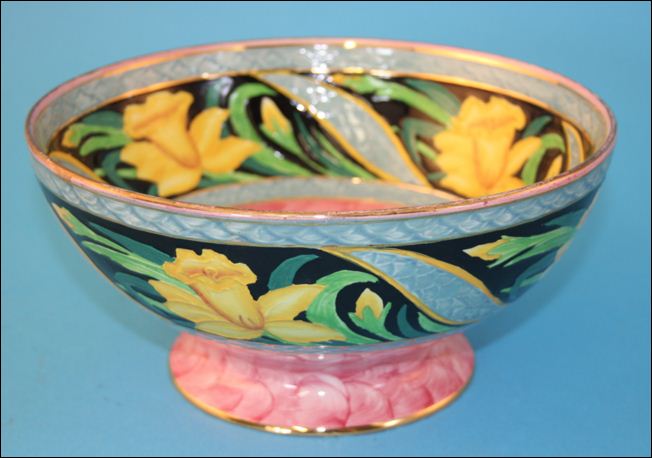 Newhall circular pedestal bowl decorated with bands of daffodils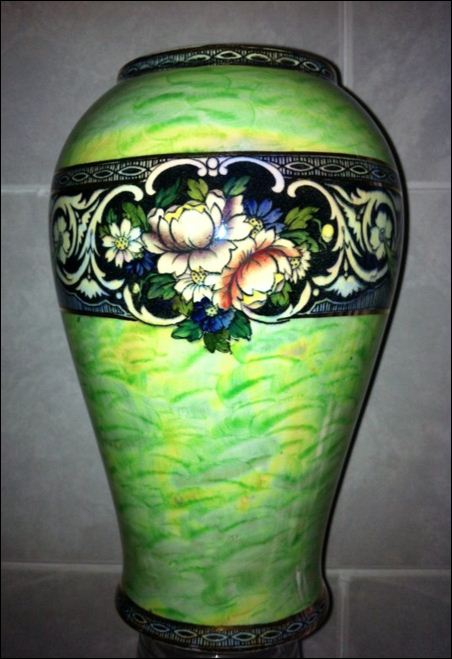 Newhall Boumier Ware vase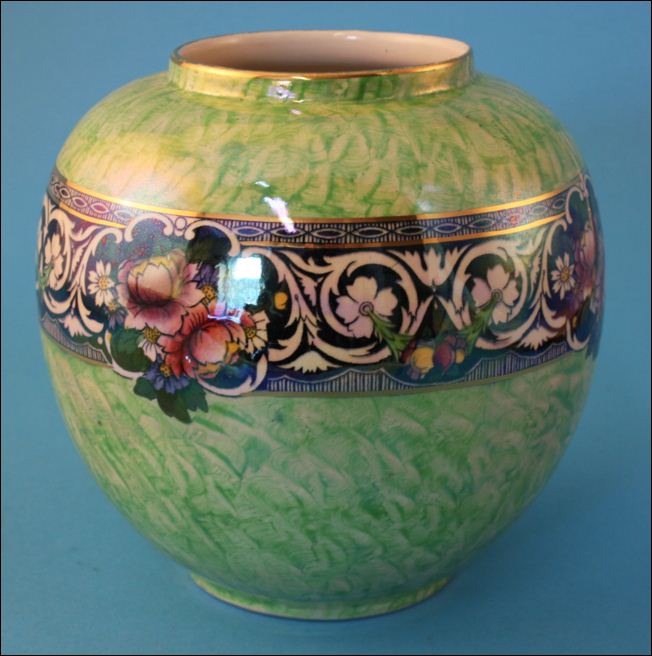 Newhall Boumier Ware vase on an apple green background
---
questions/comments/contributions? email: Steve Birks
---