| index of Pubs, Inns & Beer Houses |
| Index of Meir Pubs |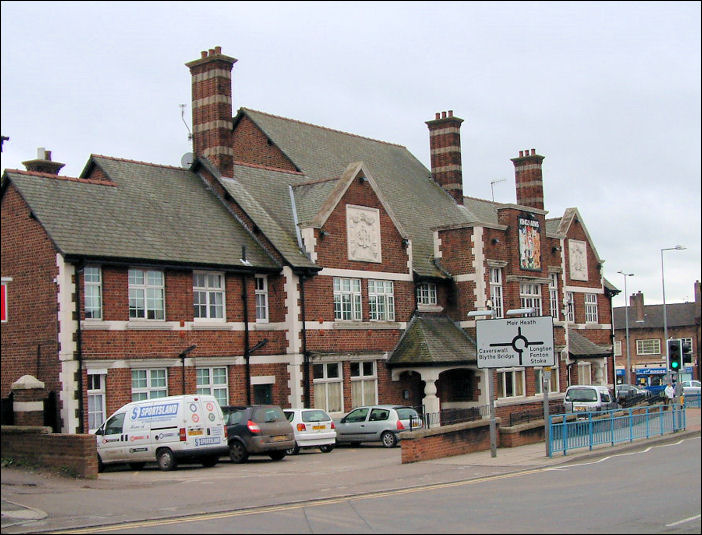 Kings Arms, Meir
Nov 2007
a pub has stood on this site from at least the early 19th century -
the present Kings Arms was rebuilt in 1935 by Horace Pool to the design of John S. Redman
---

Postcard of the Kings Arms, Meir
Meir roundabout looking towards Weston Road, leading to Weston Coney and Leek
---
"The outside of the 1935 pub is pretentious to the point of being extreme, with deep-sloping multi-gabled roofs and high chimneys in a muddled blend of Art Deco utilitarian and hollow Gothic architecture. At the back, an acre of land stretches south incorporating a full-size bowling green"




Kings Arms - Meir
Weston Road - on corner of Uttoxeter Road (A50)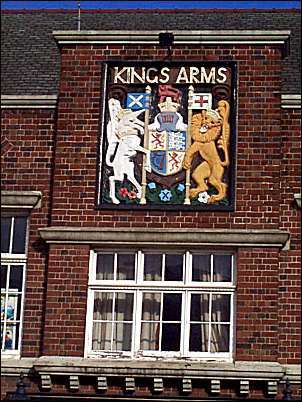 1935 plaque - the year of completion

JJ&S plaque

photos taken August 2000
"It used to be a hotel and all the bedroom upstairs are still there. There's a huge banqueting suite, and the fireplaces are amazing. There's also a bowling green and pavilion at the back."
---

In 2007 Stoke-on-Trent Primary Care Trust bought the pub site from brewery Admiral Taverns. They want to build a state-of-the-art health centre with a wide range of facilities under one roof, serving about 22,000 people.
After the pub was sold and closed an attempt to have the building listed failed in May 2008
A Man born at a pub now threatened with demolition has recalled a childhood of presidential visits, wartime dances and concerts. David Johnson, aged 80, who was born at the Kings Arms, Meir, was devastated to learn of plans to bulldoze the landmark pub and replace it with a state-of-the-art health centre.

Now Mr Johnson has added his voice to a growing number of campaigners protesting against the closure of a pub they say is vital to their community.

Mr Johnson's dad, Robert, was landlord of the pub from the late 1920s until 1953.

As a youngster Mr Johnson, saw and heard tales of politicians, including former American president John F Kennedy, propping up the bar.

And he says the pub served as a place for residents and airmen using the nearby aerodrome to forget about the horrors of war.

Mr Johnson, a professional writer living in South Wales, said: "My dad was a tremendous character, very well known, and he built the pub up to become a focal point for the community. A lot of political leaders have passed through the pub.


"I didn't believe her when my mum told me John F Kennedy was there, but I later read about him visiting the area at that time and it fitted in. "During the war people didn't have much to spend their money on except booze, and there was some hard drinking then.

"They didn't know how much longer they were going to be on the planet, so it was a riotous time. "My dad built a dance hut outside on ground where there used to be cattle auctions, and we had American officers from Meir aerodrome there dancing with local women.

"We had a lot of pilots drinking there and not many of them survived the war.

"My dad was a fine pianist, and lots of brilliant local musicians would gather to give concerts at the pub. "He started up a lot of the clubs that are going now, and was also responsible for getting the bowling green back into condition.

"I love the bones of that pub, and was shocked when I heard it was going to be closed down.

"It's a very fine building and has a lot of history and memories."

The Sentinel Newspaper. 25 March 2008
15 March 2008 (Sentinel Newspaper - letters)

"Madam, - I read with sadness of the possible forthcoming fate of the King's Arms, in Meir. My father was the master builder, contracted by Joules Brewery to build The King's Arms, The Saracen's Head, The Weston Coyney Arms and the Normacot Hotel, all of which are of the same architecture.

I was two-years-old when the King's Arms was built and we lived in Uttoxeter Road, Normacot, at that time.

I have a brother eight years older than me, who still lives in the Potteries.

My mother used to tell me of the extensive oak panelling inside. I intend to visit there soon to see it while still possible."

ANN INGLES
Shenstone
Lichfield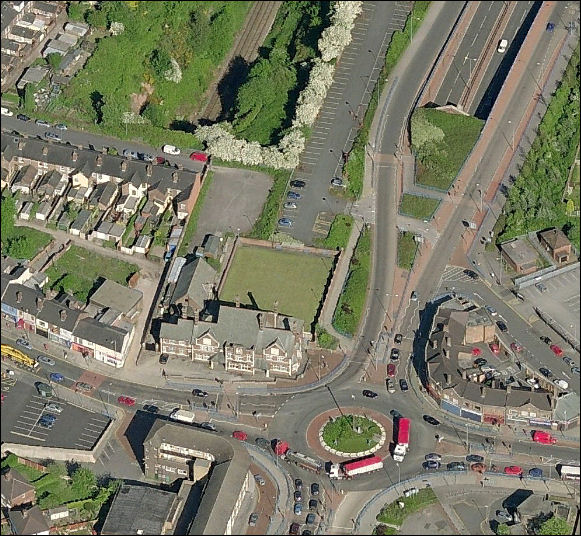 Meir Crossroads
showing the Kings Arms & bowling green,
the Meir Tunnel and the railway line
photo - live search March 2008
---

Demolition of the Kings Arms
photo: 14th Nov 2008 © David Moss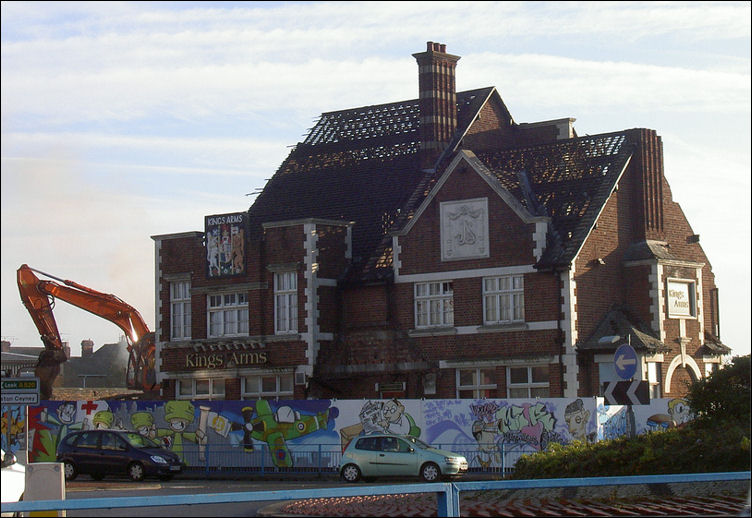 Demolition of the Kings Arms
"The demolition contractors move in to remove another well known landmark, The Kings Arms at Meir...The Broadway Cinema which stood diagonally opposite having gone many years ago"
photo: 7th Nov 2008 © Berresfordmotors
---

more on Meir

more on the Kings Arms