| Index of all listed buildings |


Listed Buildings in Stoke-on-Trent and area
Former workhouse, Norton
---
Area
Norton
Street
266, 270 Endon Road
Heritage No.
106 A B
Grade
II
Date Listed
08 May 1989
Building: Cottages
Location:

STOKE ON TRENT SJ95SW ENDON ROAD, Norton In The Moors

Description:

Pair of cottages, formerly the Parish workhouse. Built c1798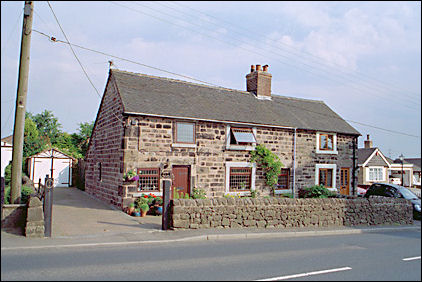 formerly the Parish workhouse, Norton
photo: © Clive Shenton July 2001

---

Pair of cottages, formerly the Parish workhouse.

Built circa 1798 and converted into cottages 1839. Extensively altered, circa 1970. Coursed rubble with ashlar dressings and plain tiled roof. 2-storeyed, with off-centre original doorway now partly blocked, flanked by casement windows with painted ashlar surrounds on each floor.

Inserted doorways to left and right, and inserted or renewed windows to left on each floor. Axial brick stack.
---





next: Norton Green Hall
previous: Church of the Holy Trinity, Northwood

| Index of all listed buildings |
| Tunstall | Burslem | Hanley | Stoke | Fenton | Longton | Other areas |
---