Bradwell:
"BROWNHILLS is a pleasant village, situate on the Liverpool and Manchester road through the Potteries, about half a mile from Newcastle-under-Lyme, has several good houses, and two extensive earthenware manufactories.
At a short distance from the road there is also a manufactory of considerable magnitude, noted for its excellent blue tiles, quarries and conduit pipes, &c. which are quite vitrified, and of a beautiful dark colour. The many various strata of clay got here, which are of excellent quality, and in great abundance, seem particularly adapted for these articles. These works are now occupied by Messrs. Haywood, and contiguous to the Trent and Mersey canal, by which considerable quantities of this manufacture are exported to different parts of the kingdom: opposite is a much-admired hanging wood, called Bradwall Wood, belonging to Walter Sneyd, Esq."
Pigot & Co's 1828/9 Directory of Staffordshire
---
Bradwell in the 1500's: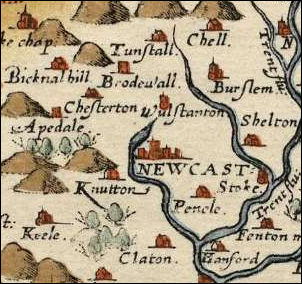 Part of a 16th Century Staffordshire Map, by Christopher Saxton
date: 1577
note the spelling: "Brodewall"

Bradwell in the 1700's: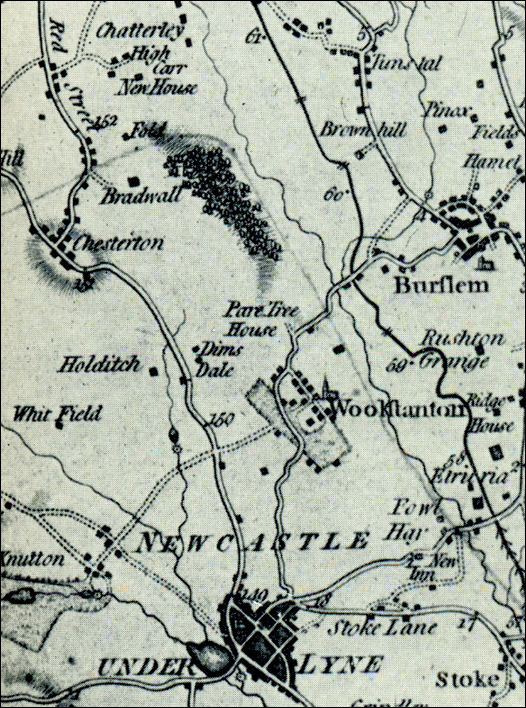 Extract from William Yates 1775 Map of Staffordshire
Showing "Bradwall" (now called Bradwell) and it's relationship
with Newcastle and Burslem
- click map for larger area of map -