Lower Lane, Fenton, Stoke-on-Trent, Staffordshire.

Where is Lower Lane?
On the road from Longton to Stoke the 1775 Yates map [

] shows that we pass through the distinct populated areas of Lane End

| The Foley

| Lane Delph

| and then we arrive at Lower Lane.
Lower Lane was an area of Fenton which lay along the Newcastle-Uttoxeter road (now City Road) as it passed from Longton through to Stoke.
In 1775 Lower Lane and Lane Delph were among the most populated parts of the area.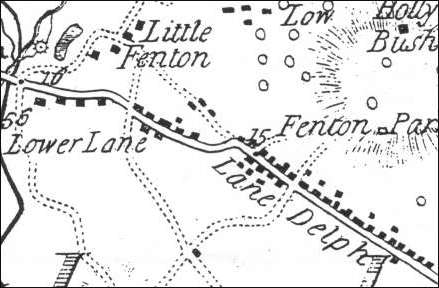 Extract from William Yates 1775 Map of Staffordshire
- showing the Lower Lane area of Fenton
- click map for larger area of map -
Lower Lane lay on the boundary of Little and Great Fenton (see

) It covers the area at the junction of the road now known as City Road (previously High Street West and east) and a track which is the current Glebedale Road.
[note Victoria Road was not built until about 1843]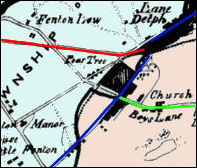 Lower Lane - on the boundary of Great and Little Fenton
- click map for details of Fenton Culvert and Fenton Vivian -
The Lower Lane area:

Lower Lane area on a 2007 map
---
The Bakers - the family who single-handedly 'built' Fenton:
Every building of note in the Lower Lane area of Fenton was built or influenced by the Baker family.......
Their involvement in the area came through the acquisition of land and a potworks.........
In
1765 William Baker an architect from Audlem in Staffordshire, bought the estate and manor of Fenton Culvert together with a pottery factory for his second son William Baker II.

William Baker II came to Fenton and in 1767 he married Sarah Bagnall the daughter of Thomas Bagnall who was Lord of the Manor of Hanley.

William and Sarah had one son, William Baker III (to add to the confusion!!).

William III was born in 1771, his father William II died in 1784, when his son was only 13, and nine years later Sarah married again. She married Ralph Bourne, another pottery manufacturer of Fenton. In due course Ralph Bourne took his stepson (William III) into partnership and the firm traded as Bourne and Baker. Ralph later took in his brother John Bourne as partner and the firm was then known as Bourne, Baker and Bourne, earthenware manufacturers, Fenton.

---