Meir and the monks of Hulton Abbey
3 .... in 1223 Henry de Audley granted land to the monks of Hulton Abbey, this included land in Normancote (became Normacot Grange) and monks passed through the village of Meir on their way to the Grange at Normacot.
Charter of the Abbey of Hulton
The Foundation Charter of the Abbey of Hulton, dated 1223, contains a description of the possessions, granted by Henry de Audley, to the Abbots and Monks; which includes lands in Normancote (became Normicot Grange, now Normacot), adjoining to Longton and Lane End.
This estate is said to be bounded by the old course of the river Blithe (now river Blythe), as far as a place called Wetmeresbrook, (or Wetmotesbrook), which must be near Bthythe Bridge, and from there to run up Rykeneld Street and through the village of Mere as far as the spring which flows from the intakes of Mere.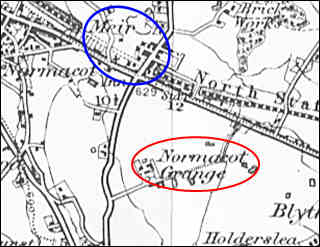 1898 OS map showing the relationship of Meir and Normacot Grange
The monks of Hulton Abbey and Normacot Grange
Henry de Audley - vill of Hulton, the vill of Rushton to the south of Burslem with a wood at Sneyd 'with the enclosed hay' at Carmount near Hulton, all his land at Bucknall and Normacot.
Further land at Normacot was given by Simon de Verney

By 1291 the abbey had acquired tithes at Biddulph and had mills at Normacot and Mixon.
About 1300 Sir William de Mere had given the monks land at Meir near Normacot.

Other grants included land of Normacot Heath from Robert de Caldwal.
The monks income: By 1242 there is mention of the abbey's sheepfold at Normacot.

They were running an iron smithy at Horton in 1528 and owned coal mines at Hulton and Hanley by the 16th century.
Although in 1535, as in 1291, much of the abbey's income was derived from rents, there was extensive farming at Hulton, Normacot, Bradnop, and Cammeringham

Normacot Grange: The grange was established on the site by 1242, built upon lands which were included in Henry de Audley's grant to the Cistercian monastery at Hulton
By the 15th century Normacot Grange, including all the buildings and lands, was leased out.

In1540, following Henry VIII's dissolution of the monasteries, the grange was sold to Sir John Gifford of Chillington, remaining in his family for several generations.

The property continued to operate as a farm and the grange farmhouse, with its reputedly medieval cellars, was only demolished in 1984.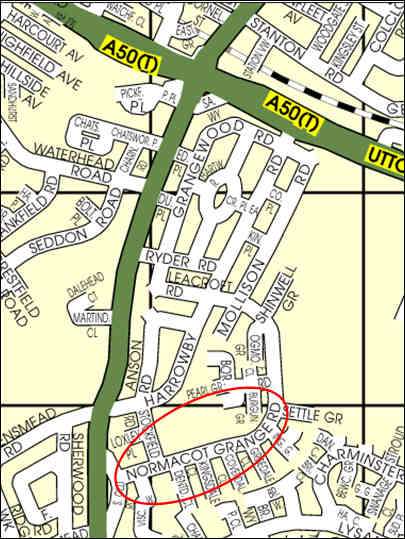 Modern day map showing Normacot Grange Street near the location
of the Grange lands made over by Sir William de Mere and
Henry de Audley to the monks of Hulton Abbey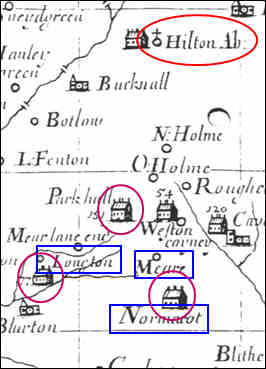 1686 map showing the location of the abbey, Meare village
and the Grange at Normacot

---
Meir - modern day entry to the city
4 .... today the A50 major trunk road enters the city at Meir.