Normacot, Longton, Stoke-on-Trent, Staffordshire.
Normacot has been a site of habitation and activity for around 3 to 4,000 years.....
Bronze age (1000-2000BC)
| | |
| --- | --- |
| | Evidence of bronze age occupation is demonstrated by the finding of a fragment of stone age axe and a collared urn. |
---
Roman Occupation (late first century)
Normacot was on the route of the Roman Road from Derby/Uttoxeter to Chester which was called Rykeneld Street
......
"This road proceeded from Blyth Marsh, in a direct course towards Lane End… the Sutherland Road in Lane End is a continuation of it; at the north end of which it again unites with the turnpike road, and passing the church, goes on to Lane Delph..."
The Borough of Stoke-upon-Trent" John Ward, 1843

on Rykeneld Street
---

Normacot and Domesday (1087)
Normacot was recorded in the 1087 Domesday Book as part of the "Land of Richard Forester" the only other settlements nearby recorded in the Domesday Book were Fenton, Weston, Caverswall and Stoke.
NORMACOT
[NORMANESCOTE]
NORMACOT. Aelmer and Wulfric hold from him. Wullfmer held it; he was a free man. 1 virgate of land. Land for 1 plough.
In lordship 1.
Woodland 3 furlongs long and 2 furlongs wide.
Value 2s.
roughly translated the Domesday entry reads......
"Before the Norman conquest the peasant named Wullfmer (he was a free man) owned Normacot.

After the conquest King William gave Normacot to Richard Forester (along with Clayton, Dimsdale, Hanchurch, Hanford and Knutton).

Richard Forster rented out the land to Aelmer and Wulfric.

Nobody lived there but it was farmed, it wasn't worth much – only about 2s

Aelmer and Wulfric looked after the land themselves.

They paid tax based on the pasture which was about 30 acres, there was enough arable land for 8 oxen to take about a day to plough it.

The woodland there was about half a mile by a quarter of a mile."
---
Hulton Abbey and Normacot (1219 - 1500's)
Henry de Audley - vill of Hulton, the vill of Rushton to the south of Burslem with a wood at Sneyd 'with the enclosed hay' at Carmount near Hulton, all his land at Bucknall and Normacot.
Further land at Normacot was given by Simon de Verney
By 1291 the abbey had acquired tithes at Biddulph and had mills at Normacot and Mixon

About 1300 Sir William de Mere had given the monks land at Meir near Normacot.
Other grants included land of Normacot Heath from Robert de Caldwal
By 1242 there is mention of the abbey's sheepfold at Normacot.
They were running an iron smithy at Horton in 1528 and owned coal mines at Hulton and Hanley by the 16th century.
Although in 1535, as in 1291, much of the abbey's income was derived from rents, there was extensive farming at Hulton, Normacot, Bradnop, and Cammeringham
Normacot Grange:
By the 15th century Normacot Grange, including all the buildings and lands, was leased out.
In 1540, following Henry VIII's dissolution of the monasteries, the grange was sold to Sir John Gifford of Chillington, remaining in his family for several generations.
The property continued to operate as a farm and the grange farmhouse, with its reputedly medieval cellars, was only demolished in 1984.

above 1577 map showing Hilton abbey and the house at Normacot Grange near Meare.

on the right a 1686 map showing Hilton Abbey and Normacot Grange.

---
Normacot lay at the junction of four parishes:
Caverswall parish which lay north of "Meer Lane" (now Uttoxeter Road); Stone parish to the east, which contained the liberty of Normacot; on the west Trentham parish which also included the township of Blurton and Stoke parish to the north-west which contained the town of Lane End.


"Normacot, at the north end of the parish [of Stone], adjoins Blurton, and the large pottery town of Longton.
It includes Mear Lane, Mear Heath, Mear Furnaces, and many neat houses, some of which are occupied by china and earthenware manufacturers. A new suburb, called Dresden, is being built here. "
From: History, Gazetteer and Directory of Staffordshire, William White, Sheffield, 1851

"Normacot, comprising the triangle of land between the Uttoxeter road, Upper Normacot Road, and Meir Road, lying east of Longton, had been laid out in building plots for the Duke of Sutherland by 1875 and much of it built up by the late 1870's.
Further houses had been built by 1898. Land between Normacot and Florence was also laid out in building plots for the Duke of Sutherland in 1864, but the building plan was not carried out for some years, the eastern end of the area being built up in the last quarter of the century."
From: 'Longton', A History of the County of Stafford: Volume 8 (1963), pp. 224-246.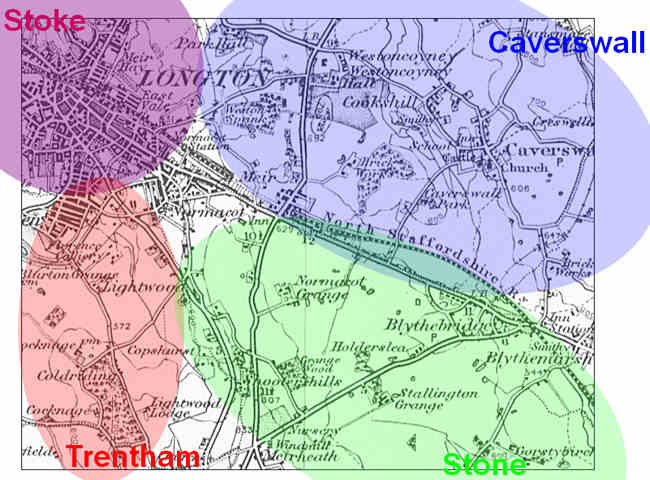 Normacot lay at the junction of four parishes