Bournes Bank, Burslem
Places of employment:
Pigot & Co's 1828/9 Directory of Staffordshire
Earthenware manufacturers
Thomas Gallimore, Bourne's bank, Burslem

Daniel Steel & Son (jasper & stone), Bourne's bank, Burslem

Engravers
Thomas Baines, Bourne's bank, Burslem


Crate Makers
James Stein, Bournes bank, Burslem

Modellers
Joshua Brookes, Bourne's bank, Burslem


George Hood a pottery manufacturer from Tunstall took over Walton's figure and toy factory in Navigation Road, Burslem in 1835.

In January 1841 the warehouse of the Walton factory, holding about ten tons of ware, collapsed, and three of the 20 women workers below were seriously injured. George Hood sold the Highgate Pottery in 1841. He started up in business again in a works on Bourne's Bank, making figures and dogs.

It is generally accepted that George Hood is the 'George H.' referred to in Charles Shaw's When I was a Child.
Shaw provides a vivid and fairly sympathetic portrait of him, stout, cheery despite his financial misfortunes, employing only a dozen people in his toy manufactory instead of the scores he had previously employed, in a broken-down works which produced mostly figures of Napoleon.
The famous Midwinter factory was started in 1910 by Roy Midwinter's father, William Robinson Midwinter who had spent fourteen years at the Royal Doulton factory. Originally located at a small potter at Bourne's Bank he first turned his attention to the making of 'Rockingham' teapots and tea and toilet wares. The factory quickly outgrew the space and moved to the Albion Pottery in 1918.

Mellor, Taylor & Co were record at Bournes Bank (Burslem) between 1880 and 1884; and from 1887 to 1900 at Waterloo Road (Burslem)


Printed or impressed mark
1880-1904
incorporating the Royal Arms
---
Places of entertainment
:
Towards the top of Bournes Bank the Burslem Picture Palace was converted from a skating rink in 1911 to become the first cinema in the Potteries 'mother town', it could seat 1,200 and was described as 'the largest and most comfortable picture theatre in the Midlands' with 'velvet tip-up seats throughout'
It was rebuilt in 1936 as the New Palace, seating 1,800, with a cafe-foyer on the second floor.
On the other side of Bournes Bank was the Coliseum Cinema.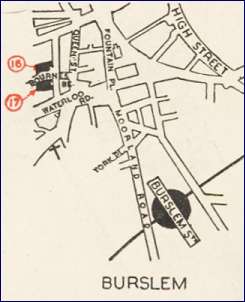 Bournes Bank, Burslem
From 1947 Pottery Gazette
Coliseum Cinema - location16
New Palace Cinema - location17

---
Places of education:
At the top of Bournes Bank is the Burslem National School - A three-story structure erected in 1817 at a cost of £2000.
It was built to accommodate 600 children but was half empty in 1840 because most parents preferred to send their children to the Methodist schools and to Burslem Sunday School.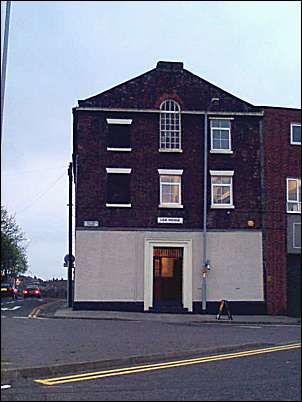 Top of Bournes Bank is the Burslem National School