Pall Mall, Hanley

The Museum:
A museum known as the North Staffordshire Museum had been added by 1851, and probably by 1846. The institution moved into a new building in Pall Mall in 1861. With the exception of the reading-room, which was still in use in the 1960's, the rest of the building in Pall Mall was been occupied by the free library since 1887, and the museum became the nucleus of the borough museum.
"Further facilities for art and technical training are afforded by the North Staffordshire Technical and Art Museum, also in Pall Mall. This admirable institution was established and formerly managed by the North Staffordshire Chambers of Commerce; but the control was transferred to the Corporation in July, 1891."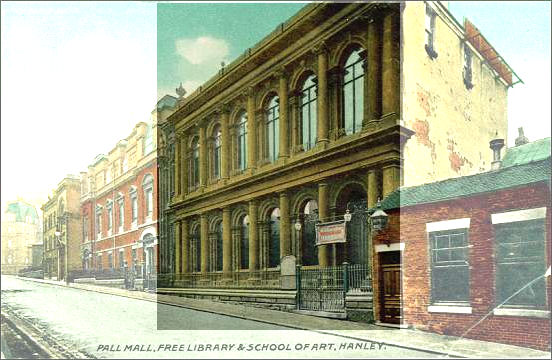 The museum is highlighted
The North Staffordshire Technical and Art Museum established in the Mechanics' Institution building in Pall Mall by the North Staffordshire Chamber of Commerce in 1890 was transferred in 1891 to the borough council which also took over the museum belonging to the Mechanics' Institution.
The North Staffordshire Natural History Museum, established in association with the North Staffordshire Naturalists' Field Club, was opened in the same building in 1908. The present City Museum and Art Gallery in Broad Street was opened in 1956, and the upper part of the Mechanics' Institution which had housed the museum was demolished.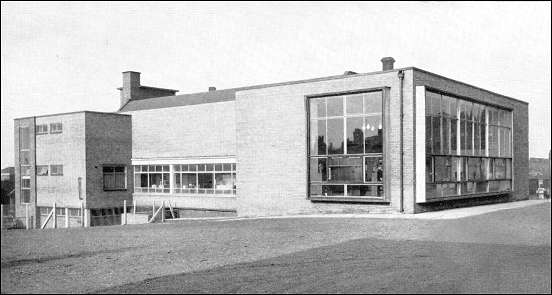 Museum and Art Gallery, Broad Street, Hanley
designed 1954 by J. R. Piggott, The City Architect

---
In 1910 museums existed at Tunstall (Victoria Institute), Burslem (Wedgwood Institute), Hanley (Pall Mall), and Stoke (London Road).
Centralization of the art collections of the various towns and of the museums service generally was the chief aim of the newly constituted Libraries, Museums, and Gymnasiums Committee of the council.
As a first step a curator was appointed for the county borough. A rearrangement of the collections was undertaken, and in 1912 the museums were reopened by the mayor.
The outbreak of the First World War halted further developments. In 1926 the bequest to the city by Dr. John Russell of an important collection of paintings emphasized the need for adequate accommodation. Part of the Hanley School of Art in Pall Mall was acquired for the housing of the collection, but this was no more than a temporary expedient. In the same year a proposal to convert the Old Town Hall, Burslem, into a central art gallery was rejected in favour of the Pall Mall site at Hanley, where the City Art Gallery remained until 1956.


The Hanley museum caretakers house
This house was next to the Peppers Garage in Albion Street
photo: late 1930's