A photo walk around Ash Hall, Werrington Stoke-on-Trent
Job Meigh & the Ash Hall Estate
location 8 on the map |tour map|
Ash Farm

In 1827 most of the Ash Estate was occupied by two farm - Ash Farm containing 120 acres and Little Ash Farm containing 33˝ acres.

When Job Meigh bought the estate in 1837 he retained this division.

Ash Farm was first let to Thomas Hill before it was taken over by William Mellor Meigh c.1845 to 1857. He then handed over the management of the farm to Ward Puckrin, a farm bailiff.

By 1862 a new tenant farmer, John Morris, was in occupation. His arrival probably coincided with the demolition of the old farmhouse and its replacement by the present building (see photos below). This is a substantial, two-storey, brick and tile farmhouse, quite different from the other new estate buildings which were built of local sandstone. It is possible that the decision to rebuild was made in 1862 by William Mellor Meigh I, who adopted a much cheaper building material than his father Job Meigh.

By 1879 Morris had left and had been replaced by George Mountford. In the 1881 census he was recorded as 35 years old and described as a "Farmer of 93 acres employing two men". He lived at the farm with his wife Anne 32, son, George 6, Ann Vigers, his mother-in-law, a widow, aged 68, and two farm labourers - Charles Heath 18 and William James 19. George Mountford was still in occupation in 1893.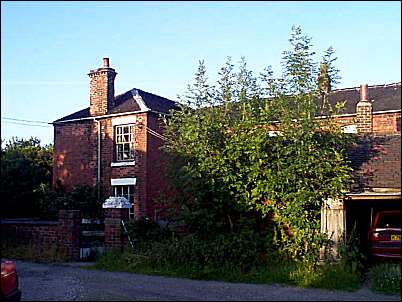 Ash Farm - rebuilt in 1862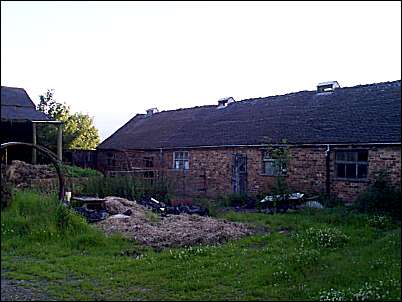 outbuildings to Ash Farm

this outbuildings of Ash Farm backs onto the Ashbank Hotel grounds
It is built of stone and could be part of the
original farm buildings
photos: July 2000
1881 census:
Dwelling: Ash Farm
Census Place: Stoke Upon Trent, Staffordshire, England
| | | | | |
| --- | --- | --- | --- | --- |
| Name | Marr | Age | Sex | | Birthplace | Occupation |
| George MOUNTFORD | M 35 M | Head | Stoke On Trent | Farmer Of 93 Acres Employing 2 Men |
| Annie MOUNTFORD | M 32 F | Wife | Stoke On Trent | |
| George MOUNTFORD | 6 M | Son | Stoke On Trent | Scholar |
| Ann VIZERS | W 68 F | Mother In Law | Stoke On Trent | Annuitant |
| Charles HEATH | U 18 M | Serv | Stoke On Trent | Farm Serv (Indoor) |
| William JAMES | U 19 M | Serv | Stoke On Trent | Farm Serv (Indoor) |




previous: Little Ash Farm
next: Mettle House Farm

updated: 27/10/2002