Grove Road, Heron Cross, Fenton
'old D-road transports us back three centuries'




click the "contents" button to get back to the main index & map
next: Ford Hayes Farm - Hugh Bourne
previous: Normacot Road, Longton
Historian Fred Hughes writes....
You may have a few problems getting to Grove Road from the A500. If you miss the Whieldon Road turn-off you can turn round at the A50 intersection and travel back to Stoke and have another go. I tried it three times and gave up. So I went the old way from City Road. Historian Steve Birks agrees that Grove Road is hard to find – and he lives here.
"Grove Road is a piece of an arterial semi-circle leaving and rejoining the original Roman road. It begins life as Duke Street as far as the crossroads at Heron Cross. Here it becomes Grove Road until it gets to Mount Pleasant where it changes its name to Whieldon Road. And when it gets to Stoke it becomes Lytton Street," Steve tells me. "The semi-circular routes is like an ancient D-Road by-passing the Roman Road, or as we named it, King Street."
It sounds quite fantastic, but much of it has been obliterated by rail and motorway construction. Never mind, the Grove Road section retains a rural flavour that takes you back three centuries.

"Grove Road has always been a popular place to live," he continues.
"In Georgian times Fenton's three great halls were situated here. And it's not at all fanciful to speculate that a fair few famous potters journeyed along these lanes which were once no more than horse tracks. Thomas Whieldon of Fenton Low – Little Fenton as it was also known – was probably the leading manufacturer of his day. His house was at the bottom of Mount Pleasant where Whieldon Road these days disappears into a spaghetti-bowl of road, rail and water routes. His contemporary influence is immeasurable. Josiah Spode was his apprentice, and the young Josiah Wedgwood was his partner from 1754 to 1759.
Whieldon's influence also reached to Burslem's great modeller Ralph Wood and the pioneering potter John Astbury. The district was also home and workplace to the Mason family where a younger Mason built his home, Heron Cottage, by the Blurton Road crossroads."

In early times the district generally known as Fenton, was divided into two parts known as Fenton Vivian and Fenton Culvert. The Culvert lay on pleasant high land above Stoke among substantial acres of pastureland that was later named Whieldon's Grove and subsequently Mount Pleasant.
"Street names give clues to the origins of the district," continues Steve. "Early Grove Road led to the estate of Thomas Smith whose family lived in Great Fenton Hall from 1715. According to the historian John Ward, the area was formerly part of a fiefdom in the overall ownership of Robert of Stafford. The story goes that following a medieval joust in the reign of Henry I (1069-1135), the estate was won on behalf of Lord Ormus of Darlaston. As the loser fled the battlefield he was heard to cry out, 'craven!' – meaning 'I give in,' while Ormus's champion shouted after him, 'culverd!' meaning coward. I don't know whether this is true but it's a lovely story."
In the early 18th century the Smiths were mine owners. But they could trace their local line to the 1400's. The family's great hall was demolished in 1900. Where it once stood is now Mount Pleasant recreation ground with its cricket field and Smith's Pool popularly known as the Lido.
"By 1832 there were some scattered houses at Great Fenton. As well as the Great Hall there were Great Fenton House, Grove House and Bank House. By the late 1870's Heron Cross as we now recognise it was developed around the Glebe Colliery," says Steve.
---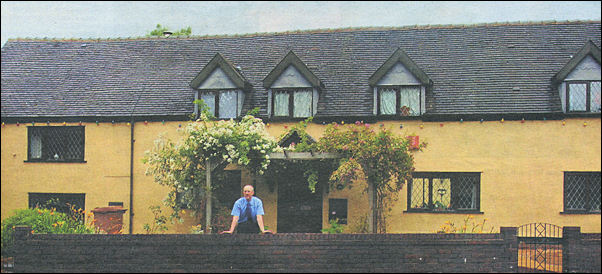 Steve Birks outside the converted cottages in Grove Road
photo: Sentinel Newspaper June 2008


But for my money the most impressive house stands next to Heron Cross Primary School. It's a house that belongs to none other than my travelling companion Steve Birks himself.
"Actually they are four cottages knocked through into one," he exclaims unassumingly. "The cottages were originally occupied by farm labourers and were here in 1720 but likely to have been built quite awhile before this. They were sold in 1889 by the landowner Charles Smith to Francis Evans, a coal merchant. From this time forward the cottages changed hands regularly until 1986 when Alan and Joan Clews stepped in and saved them from demolition, restoring and converting them into one dwelling. I bought them as one house in 2002. It was something the whole family fell instantly in love with. Even now it must be one of the oldest properties in Stoke on Trent. The heritage of Grove Road is amazing."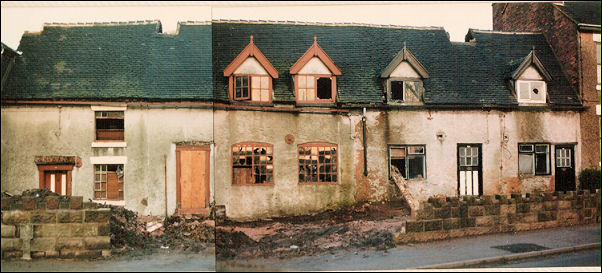 the four cottages being restored in 1986
Equally proud of Fenton's heritage is local councillor Paul Shotton.
"My family roots are firmly planted here," says Paul.
"My grandparents Henrietta and Benjamin were born here, as were my father and mother Dennis and Jean. My father, a former Lord Mayor, did move to Blurton for a short spell. It was only a mile away but he returned home within three years saying he felt homesick. That shows how much you can love a place. I was born here and I've never wanted to live anywhere else," adds 47 year old Paul.

see more on Grove Road