Normacot Road, Longton
road to nowhere links past to future




click the "contents" button to get back to the main index & map
previous: Etruria Road (Fowlea Bank)
next: Grove Road, Heron Cross
Historian Fred Hughes writes....
The intersection of Normacot Road by the A50 has created two different communities where one a close-knit one was formerly shared.
When Chris and Laura Probert moved home they only had to go to the other end of the street. Trouble is, the street they live in has been divided by a two-carriage motorway complete with a double-island intersection. If this sounds difficult to understand, it's even harder to negotiate.
"It's like two different towns," says Chris, who recently moved from the Normacot Hotel to keep the Tam o' Shanter. "Both pubs are in Normacot Road but the line has completely disappeared. The A50 has completely severed the community across the middle and I can assure you the two sides have very little in common these days."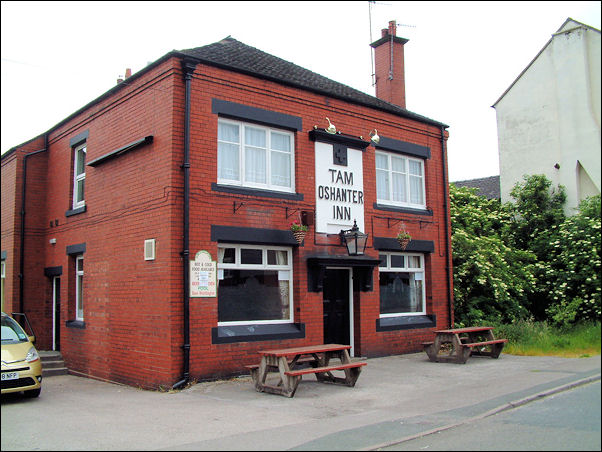 The Tam O' Shanter Inn - on the Normacot side of Normacot Road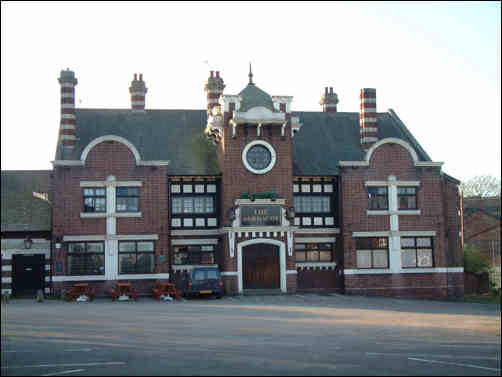 The Normacot public house - on the Normacot side of Normacot Road

Tam 'o Shanter regular Eric Rushton aged 70, agrees.
"I was born and brought up around here," he says. "I went to Queensbury School in Normacot Road. Best school in the Potteries that was. They could fill a Stoke City first team with footballers. The two Boswells, Corbishley, Vic Wooley all went to Queensbury as did Alan Bloor and Denis Smith. The place isn't the same since they opened the A50. The side with the Tam o' Shanter on is dead."
Indeed it is very quiet. Hardly any traffic moves along Normacot Road or the two parallel roads, Uttoxeter Road and Lower Spring Road. They all terminate as dead-ends at the A50 hectic Intersection.
"Normacot Road was once an important domestic and industrial thoroughfare in Longton," explains historian Steve Birks. "Lined with many pot-works and terraced houses, people worked and lived here in their thousands. But many of these houses and factories were demolished between the 1930's and the 1970's through slum clearances. And of course the opening of the A50 road in 1997 meant the end of Normacot Road as a main road. I suppose these days you can call it a road to nowhere."
I recall my old friend Les Lockett of Edwardian China in Normacot Road reminiscing about his youth here. Les is 87 and was born a few yards from his factory gates. He tells me:
"Across the road was a coal yard where women used to weigh coal by the barrowful. Before I went to school and in my lunch break I delivered coal in those barrows. Three tons each day I weighed out and carried from that yard. Normacot Road was a dark and dirty place then."
Les remembers looking out and seeing nothing but smoke polluting the Longton air 365 days a year. He's still able to name a bewildering number of potteries that once stood between Edwardian China and St James Church, a distance of just 200 yards.
"The population was greater and people lived where they worked. When I was a boy there were 72 pubs from Normacot Road to Longton town centre. And they were all well-used to break the monotony of life," he recalls. "The coal yard disappeared many years ago and just a tiny row of terraced houses remain out of hundreds."
---
Opposite the Tam o' Shanter is the factory of Walkers' (Nonsuch) Toffee in Calverley Street where I meet marketing director Emma Walker.
"We've always been a family business," declares Emma with a childlike toffee-logo smile. "That's definitely the secret of our success."
Stoke on Trent's world-famous confectioners began life as a tiny sweet shop at the back of a pottery.
"Edward Joseph Walker was my great, grandfather who began making toffee for local customers in the 1890's with his sister Florence. It proved to be an inspired secondary business for the toffee was so popular that in 1915 Edward and his son Edward Victor Walker, founded Walkers' Nonsuch as an independent family company. Together they made toffee in single batches based upon Edward Joseph's original recipes. It became a limited company in 1922."

Walkers' Nonsuch
Like most people I wonder about the quaint banner-name Nonsuch.
"The Nonsuch word takes its origin from Henry VIII's fabulous palace near Epsom in Surrey. It was the palace of palaces because of its splendour. And people said there was none such like its majesty. Edward Joseph and his son made the same comparison with the trade name," explains Emma. "It was Walkers' way of saying there was no toffee better than theirs."
After the war Walkers' moved to its present extended site.
"The new premises had been a sweet factory since 1894 belonging to the Horleston brothers," Emma continues. "When Edward Victor died in 1962, my father Ian his brother Edward, became managing directors investing in modern equipment to increase the output. The important thing was to keep to the family standards. And this has been the key to our success."
Walkers' Nonsuch continues its family traditions and original methods. Ian, in his seventies, actively continues as head of the business and his daughters, Kate and Emma are involved in sales and marketing with nephew Edward Nicholas Walker responsible for production.

Back in Normacot Road Steve is putting some amended information to one of his maps.
"I think the most interesting thing about this part of Longton is the amount of history and heritage that's been preserved," he says. "Beginning at the Gladstone Museum at the town end, Normacot Road is still lined with important buildings. The highly collectable pottery of the SylvaC Works stands close by.
St James Church – Longton's cathedral – is on elevated ground just above the Victorian, Short Street and Chelson Street with a cluster of bottle-ovens. Across are the ovens of Hudson and Middleton Works. Back on the other side is the oven of the Minkstone Works. Normacot Road is so important to Potteries' heritage that I'm sure one day it will come back into its own and you'll get people coming from all over the world to experience how the Potteries used to be."

Gladstone Pottery Museum

St. James
the Lesser

Cottages in
Short Street

Enson Works

Sutherland Works of Hudson & Middleton

Bottle Oven of the
Minkstone Works
The A50 may have turned this old Longton thoroughfare into a cul-de-sac. But if you want to see the Potteries how it used to be you can still savour it here in Normacot Road.

see more on Normacot Road