Sir Nigel Gresley's Canal
(Newcastle-under-Lyme Upper Canal)
"Tracing a canal via blackberries"




click the "contents" button to get back to the main index & map
Next: Dalehall, Burslem
previous: Newcastle-under-Lyme Junction canal
Historian Fred Hughes writes....
The big clue is blackberries; yes, plump juice-filled berries hanging heavily in English hedgerows. You'd think they'd be lining some country lane. But no, here they are, forests of them clustered yards deep along the unseen byways of urban Newcastle.
"And that's the giveaway," historian Jim Worgan told me last week. "Blackberry bushes were a feature of railway embankments and canal towpaths. They were easily propagated and bees love them. You see, blackberry flowers are good nectar producers and once they take hold they remain there forever."
For the final leg of my journey along the Newcastle Canals I'm accompanied by Potteries' historian Paul Nibblet and his wife Kathy, author and expert in 20th century ceramics. We're searching for the route of the Apedale Canal and have been joined by canal enthusiast and Newcastle resident Colin Ramsell.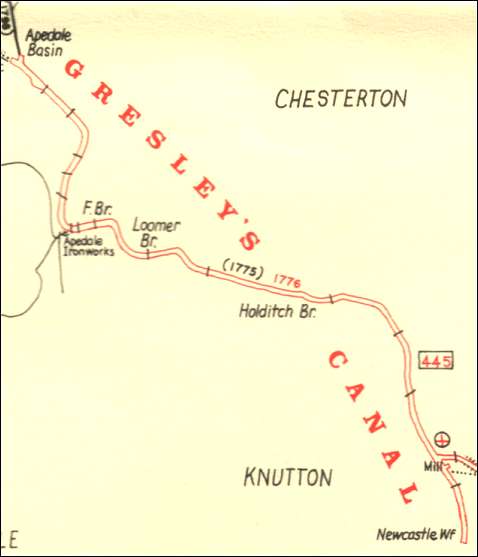 the route of Gresley's Canal

map from: Canals of North Staffordshire
It was a 3 mile level private canal from Sir Nigel Gresley's collieries at Aperdale to Newcastle-under-Lyme.
Authorised by an Act of Parliament in 1775, closed in c.1857
"I've been searching for the bed of the canal for quite some time," explains Colin. "I worked for Newcastle council for many years and know this part of the town well. It really is impossible to trace the end of the Gresley Canal to the coal wharf that was in the region of Newcastle College. But we can pick up tell-tale signs when we walk along Wilton Way. This is where Gresley's Canal met the Junction Canal. You can still see a wall running to the rear of Swift House occupied by a motorcycle retail store. Before it was modernised it was a huge mill which you can still see behind the modern façade at the rear."
Sure enough here is Colin's Victorian brick wall; long, high and straight.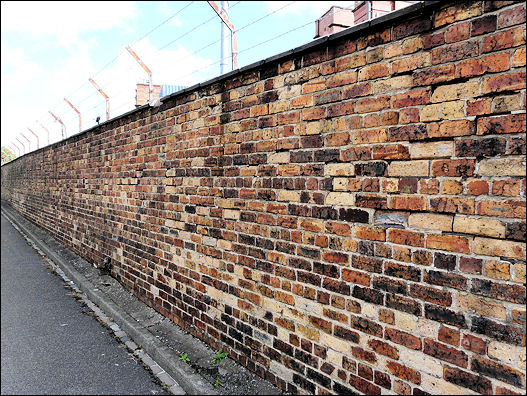 Canal wall separating old mill from canal behind Swift House, Cross Heath - this is the spot where Newcastle Junction canal meets Gresley's canal
"It is typical for its times and you can imagine the canal running alongside it as it made its way north to Milehouse, to Chesterton and the Apedale mines," says Paul.
"It's something you don't notice and don't necessarily look for," adds Kathy. "It's hard to conceive how long it has stood here undisturbed."
The wall stretches for 50 yards until it is halted by an enclosed field at the rear of Charter Road. In order to circumnavigate the obstruction we have to walk to King Street where the picture becomes clearer. And it gets better.
"Here we are," says Paul. "Now we can see straight along the line at the rear of Charter Road. And, hello, what do we have here!"
Paul has discovered a procession of blackberry bushes bending under the weight of shimmering ebony fruit. Give it a week and it will be too late for blackberry pies for this overripe store is about to burst un-plucked. Here, in this district of Cross Heath amidst advanced Renew redevelopment, Paul has found an unvisited and unexplored orchard of industrial Newcastle. And naturally we lunch on the sticky sweetness of ancestral berries.
"It's impossible to guess how long these bushes have been here but I can imagine them alongside the canal can't you," says Paul

Now Colin comes up with another surprise.
"I have discovered a house in King Street that stands in a different direction to the others," he claims. "I'm sure this was once the vicarage to St Michael's Church. If so it must have stood right next to our canal."
We're in luck encountering Sandra Cook a resident of King Street for 33 years.
"Yes you're absolutely right about the old vicarage. In fact our house was once part of the vicarage grounds. It was actually built on the tennis courts," says Sandra pointing out the location on Paul's map. "The canal ran along the bottom of the vicarage gardens and passed through my neighbour's plot emerging in Milehouse Lane, through the Meadows road and across some land which was called the Cut where it connected with Holditch Colliery. Before the estate was built the vicar would have uninterrupted views across Knutton and Keele."
---
The eponymous, the Cut, makes sense. Here you can visualise the canal line along Meadows road. But that is it. Only satellite observation from this point gives any clue to Gresley's canal long buried with the ubiquitous coalmines by new industrial estates. At some point it passed Loomer Road stadium pushing its trail through moonscape terrain ravaged by pits and tips. My enduring fellow-traveller Steve Birks catches up.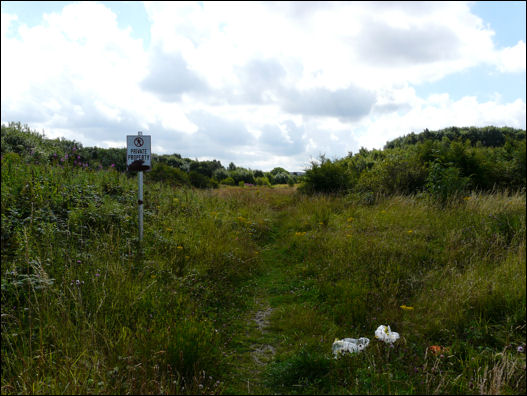 the bed of Gresley's anal coming into Apedale -
this area is still industrial - the only part not changed by land reclamation of country park.
"I don't know how long you want to spend searching," he says, "But there's not much evidence left. I can tell you the valley was carved by ice-age movement some 20,000 years ago. Its mineral deposits ensured it was at the forefront of the Industrial Revolution and intense coal and iron mining at Apedale spanned at least 200 years. Gresley had it all for some thirty years transporting coal along his canal which was first dug at his colliery called Burley after a nearby farming location. The forgotten Burley Colliery closed in 1926."
Following a decade of opencast mining in the 1980's Apedale has been transformed into an inspiring country park. And it really is impossible to see how it looked 200 years ago during the brief period of the canal age before the railways arrived to make Britain the most powerful nation on earth.

more on the Gresley's canal