Waterways of Stoke-on-Trent - Newcastle Branch Canal



contents: the 3 Newcastle Canals
---
Sir Nigel Gresley's Canal
Newcastle-under-Lyme

Sir Nigel Gresley (d. 1787) of Knypersley Hall at Biddulph owned a large estate at Apedale in the parish of Audley. The estate amounted to about 1550 acres and contained a number of collieries.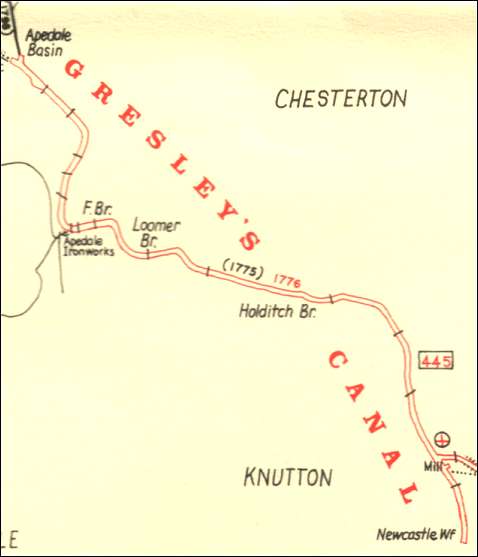 the route of Gresley's Canal

map from: Canals of North Staffordshire
It was a 3 mile level private canal from Sir Nigel Gresley's collieries at Aperdale to Newcastle-under-Lyme.

Authorised by an Act of Parliament in 1775, closed in c.1857
---
The three Newcastle canals:
There were three canals built in the Newcastle-under-Lyme area....
1
The first was the Newcastle Upper Canal (otherwise known as Gresley's Canal) it was around three miles long, built around 1776 and served to bring coal from Gresley's mines at Apedale to Newcastle.

2
The second was authorised in 1795 and competed about 1800, known as the Newcastle-under-Lyme Canal was built to join Newcastle to the Trent and Mersey Canal in Stoke.
It ran for about four along the Lyme Valley and then Oakhill and Boothen into Stoke.

3
There would be a gap of about 1 mile between the existing Gresley Canal and the proposed canal from Newcastle to Stoke.
So in 1798 a junction canal was authorised. This canal was built, it had a junction with the Upper Canal and ran through the Brampton to Stubbs Walks.

The termination of the Junction Canal was about 60 feet higher than the Lyme Valley where the Newcastle to Stoke canal ran, a short inclined railway was originally planned to join the two. In the end lack of funds meant that this was not built and there was only road connection between the canals.

---