Northwood Park




click the "contents" button to get back to the main index
next: The Potteries Loop Line
previous: Fenton Park
Historian Fred Hughes writes....
It's difficult to tell from a distance of 82 years in this palely-lit room currently occupied by members of Northwood Park Senior Citizens' Club. But I'm sure the man seated at the centre of a 1926 photograph of the bowling club is the famous potter's union leader and Hanley Member of Parliament Sam Clowes.
"Well I reckon that's Honest Sam as he was popularly known. He lived just up the road and the park would have been on his doorstep," I say to my companions. Four out of five shrug; although his face is familiar they don't know. However, the secretary of the Senior Citizens Club, John Cope, cautiously agrees.
"You may be right," says John, "It certainly looks like him."
Sam Clowes is a face from the past – legendary in his time but forgotten by time's passage.
"We have quite a gallery of old photographs on the wall," says John who has lived in Northwood for 70 years. "It's part of the park's heritage." He points to a picture of Stanley Matthews bowling with a late club member Frank Manley. "Some time ago we had a break-in and they were stolen. But a public appeal resulted in them being returned and dumped on the veranda."

Northwood Park was opened by the Mayor of Hanley, Alderman T Hampton in May 1907.
"It was a big ceremony led by a long procession from Hanley Town Hall," historian Steve Birks tells me. "Although the park was unready for use the opening was put forward to coincide with the jubilee of the Hanley Corporation."
Northwood Park cost £9,500 and was built around an ancient fish pond.
"The pond has gone," continues Steve, "But there was an early lane called Fishpool Walk running by it which was subsequently renamed Eastbourne Road. In those times local communities were trying to outdo each other with people claiming that Northwood's park was much more attractive that Shelton's and Etruria's. Even the Sentinel reported that 'People were going to be very proud of Northwood Park. If their Shelton friends did not look lively they would easily be beaten in the matter of attractiveness'."
The ground was designed by a Surrey landscape gardener named Jackman.
"There was quite a debate over the location," says Steve. "Housing in Northwood was developing rapidly and it was difficult to find appropriate space. Two sites were proposed, one at the edge of Northwood nearest Sneyd Green called Udall's Field, and a smaller area more in the centre of Northwood called Hall Field. In the event it was Hall Field that won the day even though the cost was greater. Happily though, even now, Udall's Field is still public open space despite the fears then that it would be overrun by houses."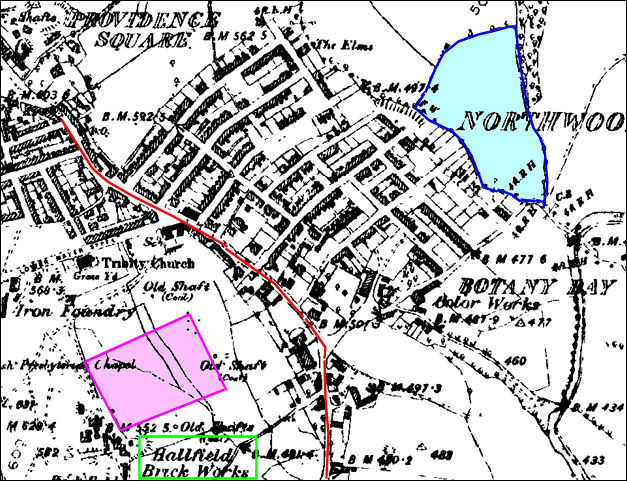 map c.1890 of the Northwood area
The red line is Keelings Lane. In blue is the 20 acre Udall's field and in pink is the 8 acre Hall field site. The location of the Hallfield Brick Works is marked in green.
The centenary of the original opening was celebrated last year. Club member Brenda Bowden recalls it.
"It was a fantastic day," she says. "The park was done up really well and you can see the results with the playground and the mural and of course the return of the statue."
The sculpture of the Roman goddess Temperantia stood for many years in the centre of Hanley alongside a drinking fountain donated by pottery manufacturer William Brownfield when he was mayor in 1859. Northwood resident and former local councillor Paul Breeze campaigned for it to be re-sited in Northwood Park.
"It was housed here in the late 1920's when it was taken from Hanley during road improvements," says Paul. "Then in 1974 it went back to Hanley. More recently it was put into storage until we campaigned for it to have a permanent place in the park. And here she stands in all her glory looking over the park's lush greenery across to the Trent Valley."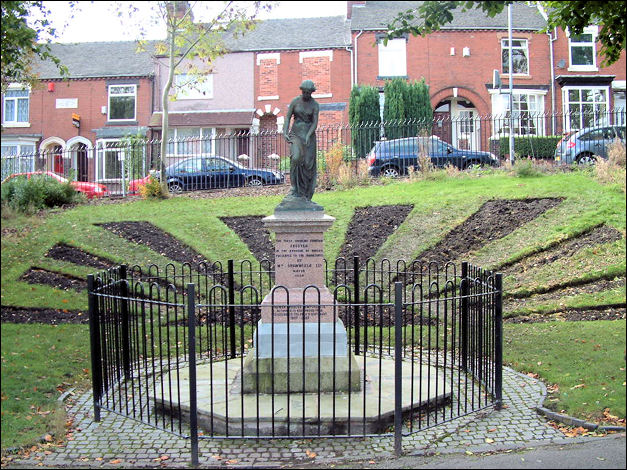 the statue of Temperantia returned to Northwood Park in 2007
---
There's something for all ages in Northwood Park. A kick-about area for budding footballers; a well-equipped infant's play area and pleasant woodland nature walks. It also has one of the best, though smallest, bowling greens in the district.
"Our teams have really done well this season," says John who also chairman of the bowls club. "We had two circular greens, one that stood on the old pond, which has now become a picnic area. And we have the round one that most visitors find tricky to play. We have three teams in leagues in which we came 4th and 2nd placed. The only problem these days is getting young people involved. The older ones can't last forever."
The clubhouse though sparsely furnished, is an ideal meeting place for indoor games.
"There's a first-rate group of local people that come every day," says spritely 80 year-old Eric MacKenzie. "We play cards but mainly we like a game of dominoes."
Gradually the room fills up. Retired parks supervisor Mick Leonard takes his jacket off to claim his place alongside pensioner Ken Blood and Brenda; others begin to arrive as the morning warms to noon.
"Do you know," says John looking again at the gallery of pictures. "I think you're right. That is Sam Clowes in the middle there."

more on Northwood Park