A walk along the Loop Line




click the "contents" button to get back to the main index
next: Kidsgrove on the Loop Line
previous: Northwood Park
Historian Fred Hughes writes....
"I wonder whether it's still possible to travel along the Potteries Loop Line," I say to historian Steve Birks. "Well not by train it isn't," he responds. "And certainly not by steam train; Doctor Beeching put a stop to that in 1964. However I think we could do it except for the bridges and tunnels that have been knocked down and blocked up. It's worth a go just to see how much the Potteries have changed."
I still remember the last time I travelled on the Loop Line. Returning from Derby in 1960 I ended the first part of my journey at Etruria where I caught the connection to Burslem. Leaving Etruria the train turned sharp right and began a convoluted climb up to Hanley Station through Shelton Bar and past Wedgwood's works. It certainly wasn't a journey for views for all I could see were railway goods sidings, tall gasholders, ironworks, dozens of potbanks and high chimneys of engineering plant. The train steamed under a bridge at Etruria Road hissing with great effort between rows of filthy goods sheds and mountains of steel rods.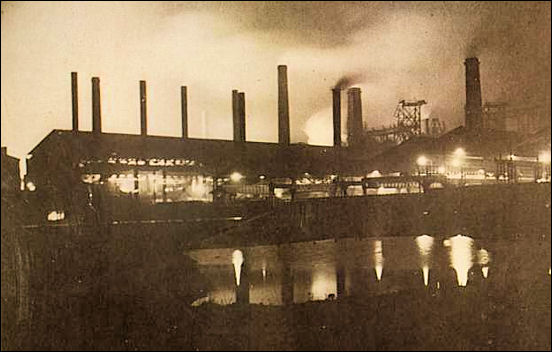 The Shelton works at night c.1924
It passed under Etruria Road for the third time before pulling into the curved platform of Hanley station terminating a journey of about ten minutes. Despite the locked-in grime the down platform was quite attractive standing on a slope beneath tiered offices and a parcel's depot. Above this was the noble edifice of the Grand Hotel where businessmen lodged for the night and swanky women took afternoon tea.
If I thought the landscape had been bad to Hanley worse was to come as the train passed spoil heaps and mountains of cinders under Black Horse Lane swinging on a serpentine transmission past coal wharfs, oil refineries and marl holes so close I worried the carriage might fall into them. Then the train crossed Waterloo Road into a tunnel before emerging into Cobridge Station.
The views were slightly better passing by Cobridge Park before suddenly plunging back into the smoke and dust of Sneyd Colliery and Brickworks. Two more bridges through a steep cutting brought the train to a stop at Burslem Station in Moorland Road, a rough journey of roughly two miles covered in a rough 20 minutes.
"Industry was the spirit of the Loop Line," Steve comments. "And it was a quick way to get from one end of the city to the other. And just think; your journey from Derby to Burslem was achieved without any stops for traffic or dawdling bus routes through town centres. All you had to do was keep your eyes shut to avoid the grim views and prevent flying grit from getting into them."
The Loop Line was certainly an benefit to travel, over the years providing a service to millions of passengers embarking on shopping excursions, not just to Hanley but to Manchester and Birmingham. It was a boon for business; a conduit for commuters and for kids going to school.
"For a hundred years it was a backbone of Potteries travel," Steve continues. "What's more you could actually begin a journey at Burslem to the Orient by train; amazing!"
---
Continuing north from Burslem the Loop Line followed Scotia Road over a viaduct into a seemingly impossible sharp 1 in 90 climb to Tunstall Station; then through the steep Victoria Park cutting to Pittshill Station and uphill again to Newchapel and Goldenhill. This was the best part, travelling beneath clear skies across the fileds of Turnhurst and Newchapel. After this the line swept west into a steep descent for a mile through more high embankments shielding the sight of the ugly Birchenwood Gas and Coke works. A short, but imposing tunnel took the trains into Kidgsrove Halt, the last Loop Line station behind Market Street after an astonishing rollercoaster switchback ride through some 10 miles of the worst scenery in the world.
"There's no doubt that the Loop Line was difficult for the drivers because of the frequency of sharp gradients and extreme curvature," says Steve. "But it was a terrific and popular route that connected the people of North Staffordshire who otherwise would probably have remained isolated. And of course it brought Kidsgrove people to Hanley when they may have gone elsewhere for shopping, working and entertainment."
It's true you never miss something until you want to use it again. And that happened a generation after the Loop Line closed. The advance of tramcars then buses, and the motor car ultimately did for Britain's urban railways in the 1960's. Many people wish the line had never closed, but there wasn't a lot of resistance back when Beeching's axe fell. Happily these days the path of the Loop Line is still accessible for much of it has been made into urban walkways.
The route of the loop line at Goldenhill - 2008
"Come on," I urge Steve, "Let's walk along the route and get all nostalgic."
And that's what we'll be doing over the next few weeks starting at Kidsgrove where the first customer to jump on board with us is Kidsgrove County Councillor Margaret Astle.

more on the loop line