Kidsgrove on the Potteries Loop Line




click the "contents" button to get back to the main index
next: Goldenhill on the Loop Line
previous: Introduction to the Loop Line
Historian Fred Hughes writes....
Councillor Margaret Astle arrived, possibly by train, at Kidsgrove as a six-year old in 1954.
"We came from Ayrshire when my dad got a job in the North Staffs coalfield," Margaret tells me. "He was Polish, my mum was Scottish and the family name was Chrzanowski. We settled in a new council house in Norfolk Road on Galley's Bank estate."
A new Kidgsrove community was already developing rapidly and Margaret watched it grow first hand.
"Coalfield estates mushroomed as a consequence of post-war need for a depleted workforce. Many mines in Scotland and the North-East had been worked-out and miners were transferred to North Staffordshire. Here we found a multi-language community and I remember how exciting the children found Kidsgrove as an adventure playground. There was Bathpool, the 'slackwash', red rocks and Clough Hall," recalls Margaret. "But the Loop Line railway that ran through the middle of the town was the big attraction. I can just about remember trains running, but I remember it mostly after it closed."
These days the old line forms an attractive greenway stretching from the town but for many years it lay as derelict wasteland until it became transformed into a nature reserve and parkland. Margaret leads me along the old line via Whitehall Avenue starting at a narrow track above Liverpool Road.
"This path was a shortcut to the other side of a town divided by the Loop Line," she says. "The land that Tesco stands on was railway goods yards. We used to come down here to pick wild berries for mum's homemade fruit pies."
Time-travelling corroboration shows proof with dense rows of blackberry bushes bending under a weight of unpicked fruit as we wander south to Heathcote Street to plummet down a flight of steps straight into the town centre.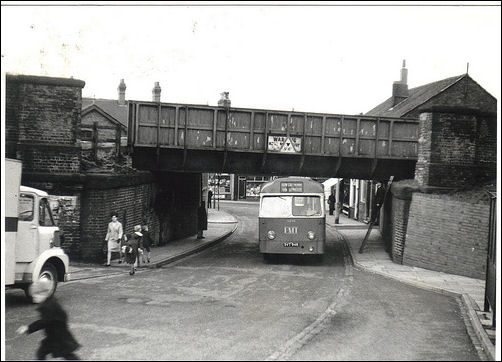 Loop Line bridge over Heathcote Street, Kidsgrove
"This is where the bridge stood until it was eventually demolished in 1996, a great relief to all. It was the last piece of the Loop Line to go. Since then the whole route of the track from Kidsgrove to Etruria has become a greenway. It's a tremendous legacy of our industrial past," she says.
The Loop Line formerly ran behind Market Street where the station stood by the Labour Club. There's little evidence now that it ever existed except for a high stone wall.
"The wall was preserved as an industrial relic when the greenway was opened," says Margaret. "It's very attractive and reminiscent of how we once lived, don't you think?"

Before railways Kidsgrove was notable as the north entrance to the canal's Harecastle Tunnel which opened in 1777.
"By 1845 rail-mania had taken the country by storm. An early line was the North Staffs Railway Company nicknamed 'The Knotty'," says historian Steve Birks. "The London to Manchester line passed through Kidsgrove. But there was another line from Crewe to Derby that made Kidsgrove an important rail junction. And yet despite this the nearest the railway ever came to a town centre on the way to Stoke was Longport and Etruria.

The Loop Line was like a railway D Road planned to connect the town centres. The north end of the loop, at Kidsgrove, opened in November 1875 although the Halt Station wasn't built until 1905."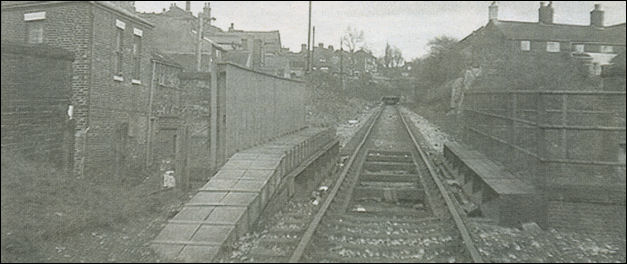 Loop Line looking to the back of Market street, Kidsgrove
- where the station formerly stood
photos: The Sentinel Newspaper
The launch must have been a great occasion I suggest.
"Indeed it was. The Sentinel reported that it resembled a 'wakes' holiday," continues Steve.
"The coalmines came to a standstill as hundreds gathered at the new station in Market Street. Everybody wanted to ride on the first trains. The Sentinel correspondent reported that 448 passengers got on at Kidsgrove, most buying a ticket to Hanley.
A later timetable showed that five trains left Kidsgrove daily. The 0910 stopped at Goldenhill eight minutes later. It left Pittshill at 0922, Tunstall 0925 and Burslem 0928. Incredibly the journey from Kidsgrove to Hanley took just 24 minutes and cost sixpence for a second class single ticket."
---
Years after the Loop Line closed, the Heathcote Street Bridge remained an ugly hazard.
"It marked a barrier that separated one half of the town from the other," explains Margaret. "It took years of negotiation to take it down. Yet even now people give directions from the bridge that isn't there anymore. It was such a prominent landmark."
One man who knows the Loop Line better than most is Kidsgrove resident Paul Nutty age 84.
"For 46 years of my working life I was employed mostly as a fireman by LMS and British Railways," he tells me. "I've lived in Kidsgrove all my life and remember riding the Loop Line as a child. It was a godsend for Kidsgrove folk going to Hanley. My dad loved the theatre and particularly the comedian Sandy Powell. You remember – 'Can you hear me mother!' was his catchphrase. We'd travel to the Theatre Royal by train and back. It was a great day out. Little did I know then I'd be riding the Loop Line as a job."
Regrettably the time arrives to wave farewell to Margaret at Kidsgrove Halt as Paul joins Steve and me en-route to Newchapel.

more on Kidsgrove on the loop line