The lie of the land on the west side of the Cellerhead to Leek ridge is idyllic. It is a cascade of every kind of English landscape you could wish for anywhere, from the outcrops of millstone at Wetley Rocks to acres of purple moorland. On an earlier visit to the district I'd met up with Staffordshire Moorland countryside officer Mark Preece who maintains just how important Wetley Moor in particular still is.
"The 70 hectares of protected moor is a classified lowland heath which represents ten percent of Staffordshire's total," he told me. "It is indeed one of the highest valued nature conservations in England. But about seventy-percent of Britain's lowland heath has been lost in the past 200 years and it has become a threatened habitat for natural wildlife and plant life."
Wetley Moor had originally been classed as waste under the administration of Hulton Abbey. There was at least a thousand acres of it in those times much of it used for grazing. But along came industry and urban development to change it all. It was here in the early 1800's the Meigh potting family took the best of the land on which they built an extraordinary mansion. These days the estate has been broken up. But Meigh's grand Ash Hall is still standing, in use now as a residential nursing home owned by Geoff Bowker and his two daughters Lorraine and Maxine.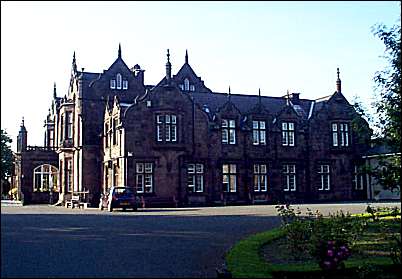 The view of Ash Hall from the entrance drive
---
"We bought the hall as a gamble eighteen years ago," says Geoff age 70. "My original intention was to develop it into a hotel with at least a four-star status. But circumstances changed and we decided it would be ideal as a nursing home. So I bought the whole estate. Sold some for housing which gave me the collateral to make the main hall and the extensive gardens into something special."
Indeed he has done just that. Ash Hall, with its armorial motto Benigno Numine (Heaven's Favour) is a listed building and the gothic stone exterior is exactly how the Meigh's constructed it in the 1840's. Inside has been altered to reflect the changing periods. For instance the original oak panelling has been replaced by maple sections sympathetically designed in art deco character.
"It has seen a lot of changes since it stopped being a dwelling," remarks Geoff. "It had been used as offices in the main and much of the interior had been sectioned off to make space for more rooms. I've kept some of this because it suits my purpose. But the landings leading to the winding staircase descending into the wide lobby is still much the same as the original."
Geoff's is the archetypal rags to riches story that is representative of Potteries' grit and initiative. Brought up on a council estate in Abbey Hulton, from the age of 11 he worked mainly in the building trade. After his National Service he took his chances, and helped along by astute financial partners went into house construction in a big way. He says he got where he is by hard work and determination.
"I've always been a good earner me," he explains his successes modestly. A bit like the Meigh's you might say.