The bridle path, Ash Hall
The Meigh family:
Job Meigh who bought the Ash Estate in 1837, was the son of Job Meigh (1750-1817), who manufactured pottery on the site of Hanley Old Hall and was instrumental with the Ridgway brothers in forming the Hanley Methodist New Connexion and the Bethesda Chapel.
Job Meigh II, in 1807 set up in partnership with Richard Hicks at the Broad Street works of John & Edward Baddeley.
After the sale of the business in 1835 Meigh purchased the Mettle House Estate and also the Ash Estate where he built Ash House.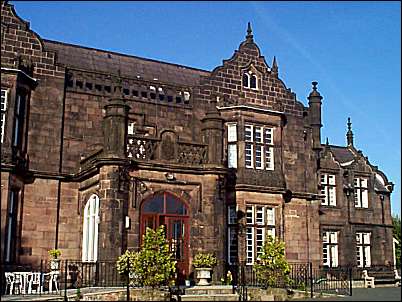 Ash Hall, Ash Bank Road, Werrington
Built 1837 for Job Meigh II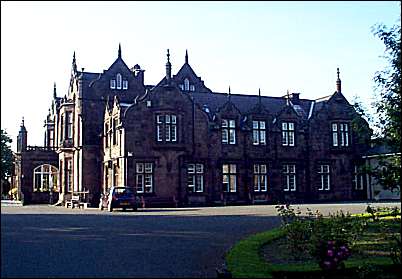 The view of Ash Hall from the entrance drive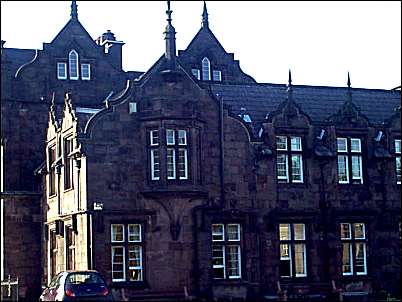 Detail of the pediments
Photos: 2000
The coal mines:
The purchase of the two estates and the building and running of Ash Hall required considerable resources. As well as the money from the sale of the pottery business the estates had coal mines which brought in an income for Job Meigh.
On the 7th of October 1836, after the death of Mary Ash at the age of 90, the owner of the Mettle House Estate, the property was put up for sale at the Kings Head Inn, in Shelton. It was advertised in the Staffordshire Advertiser on the 1st of October 1836:

"VALUABLE ESTATE, WITH COAL MINES, &c., IN THE PARISH OF STOKE-UPON-TRENT.
TO BE SOLD BY AUCTION BY MR ADAM WALTERS
All that DWELLING-HOUSE, called Mettle House, with all necessary Outbuildings and Appurtenances, and about 49 acres 1 rood 32 perches of Arable, Meadow, and Pasture LAND thereto belonging, situate near the Turnpike Road, between Bucknall and Werrington, and in the parish of Stoke-upon-Trent; which said house and lands are now in the possession of Mrs Ellen Bentley.

The above property has strong claims to attention. Few opportunities can occur of investing capital to greater advantage, as the estate abounds in coal of most excellent quality, which, from the vicinity of the estate to the Potteries, will always meet with ready sale. The Land is of good quality, and lies in a ring fence. The tenant will show the premises; and any further information may be obtained at the Office of Mr YOUNG, Solicitor, Lane-End."