Shelton and the Ridgway Family
Norfolk Inn, Norfolk Street, Shelton
Location 4 on the index map





next: the brickworks of R. Scrivener
previous: shops in Howard Place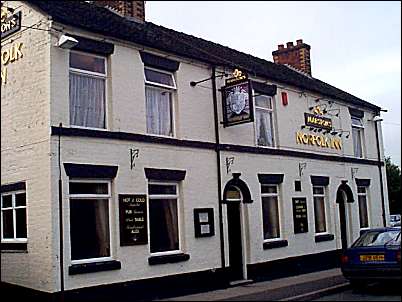 The Norfolk Inn, Norfolk Street
This public house is made up of three terrace houses (numbers 3, 5 & 7) knocked through to make the present pub.
The houses around it have been knocked down leaving the pub standing on its own.
photo: 2000
After Ridgway died in 1860 "the executors of John Ridgway decided to auction the remaining building plots on the estate in 1865..."

"In keeping with Ridgway's own belief the remaining plots on the estate were sold on the condition that they be used for 'no tavern, hostel, spirit vaults, ale house, beer house, dancing saloon, music hall, common lodging house or slaughterhouse or any noisesome manufactory or trade' " However by the beginning of the 1870's James Potts had opened a beer house in Norfolk Street (the present Norfolk Inn) which gradually extended its operations to incorporate three terrace houses."
1881 census:
Dwelling: 3 Norfolk St (Norfolk Inn)
Census Place: Stoke Upon Trent, Staffordshire, England
| | | | | |
| --- | --- | --- | --- | --- |
| Name | Marr | Age | Sex | | Birthplace | Occupation |
| Frederick POTTS | M 28 M | Head | Hanley | Publican |
| Louisa POTTS | M 28 F | Wife | Hanley | |
| James F.W. POTTS | 7 M | Son | Hanley | Scholar |
| Gertrude E. POTTS | 6 F | Daur | Hanley | Scholar |
| Lilly POTTS | 3 F | Daur | Hanley | |
| Elizabeth DAY | W 53 F | Mother In Law | Eccelshall | |
| Alfred DAY | U 20 M | Brother In Law | Hanley | Potters Ovenman |
| Clara DAY | U 15 F | Sister In Law | Hanley | Cook (Dom) |
Dwelling: 7 Norfolk St
Census Place: Stoke Upon Trent, Staffordshire, England
| | | | | |
| --- | --- | --- | --- | --- |
| Name | Marr | Age | Sex | | Birthplace | Occupation |
| Sampson GOODWIN | W 67 M | Head | Mottershall | Carter |
| Sampson DAVIS | 14 M | Grand Son | Shelton | Serves A Brick Maker |
---




next: the brickworks of R. Scrivener
previous: shops in Howard Place
---
questions/comments/contributions? email: Steve Birks