Shelton (and the Ridgway Family)
A walk around the Howard Place and Cauldon Place area of Shelton, covering the development of the streets and houses in the area, the Ridgway family and the churches in the area.

also see a walk along Stoke Road to Howard Place and Snow Hill
---

Click here to start the tour
(it will help you to read the introduction first
and to look below - at the tour order
and list of maps/documents)
---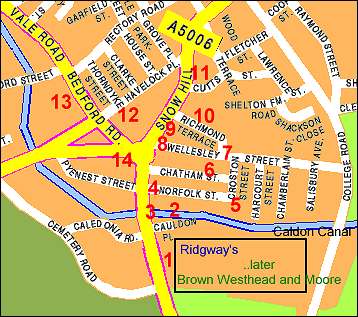 Click the map to go to a location
- or select from the list below -


Locations & photos of the tour (click on the numbers in left column)
intro
Introduction and location map
1
Cauldon Collage and Ridgways factory.
2
Caldon Canal, the wharf and locks.
3
Shops / houses in Stoke Road.
4
Norfolk Inn, the brickworks and glassworks.
5
Croston Street and its houses.
6
Chatham Street and the alley to Wellesley Street.
7
Wellesley Street and its houses.
8
Scrivener's Architects.
9
The Hollies and Richmond Villa in Snow Hill (Masonic Lodge)
10
Richmond Street and the school.
11
Cutts Street and the Bell & Bear.
12
Havelock Place, houses and Ridgway Memorial Chapel.
13
Bedford Chapel.
14
Berks - wholesale grocer and The Elms.
- back to the map -

Additional notes and maps (which support the tour)

Ridgway Family Tree

Two pages from a 1893 trade journal on Brown-Westhead, Moore & Co

1898 OS map of the Howard Place and Cauldon Place area

1877 map of the Grove House Estate

Methodist New Connexion

Ridgway pottery ware and marks
- back to the map -


---
This walk is based on notes by Andrew Dobraszczyc,
web pages and photographs by Steve Birks during the walk (July 2000)
questions/comments/contributions? email: Steve Birks
---