Victoria Works, Longton
Located at Victoria Place off Stafford Street.
(became Garnham Place off The Strand)
From
To
Occupier
Comments
1828
1858
Ralph Shaw
Works built by Ralph Shaw and was subsequently run by him or his tenants.
His executors still owned the premises in the early 1880's.
Yale & Barker
Yale & Barker occupied the works in the early 1840's - the works were described as 'a small, well conducted factory; rooms low, small and dirty'
1850
1851
Cooke & Griffiths
Cooke occupied part of the Victoria Works with Hulse (as Cooke & Hulse) 1835-55/6.
Also with Griffiths 1850-51
1853
1858
Walker & Finney
1858
1900
Joseph Finney & Co.
In the late 1860's Finney began to produce China instead of earthenware; he was still at the works in 1890.
1912
1955
Cartwright & Edwards
Cartwright and Edwards were at the nearby Borough Pottery since at least 1869.
By 1912 they also took the Victoria Works.
Cartwright and Edwards became a subsidiary of Alfred Clough Ltd. and in 1955 both the Victoria and Borough Works were sold to the Manor Engineering Co. Ltd.
The Victoria Pottery works were pulled down and the Victoria Foundry was built on the same site.
SOURCES: Jewitts 'Ceramic Art of Great Britain 1800-1900', Victoria History of the County of Stafford Vol. VIII.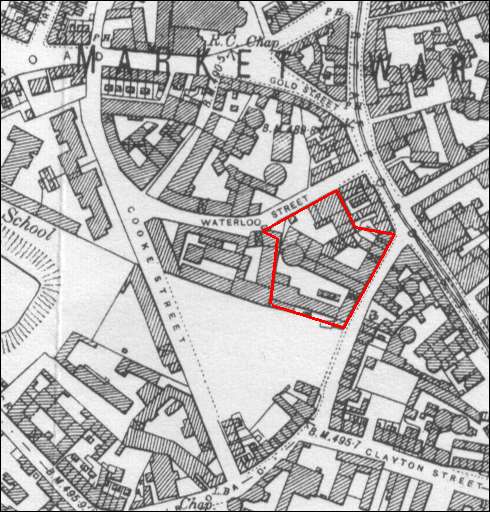 The Victoria Works
Victoria Place, Flint Street - off Stafford Street
1898 OS Map
Note the street running bottom centre towards the left - Cooke Street

Questions/comments? email: Steve Birks
updated: 14 November 2004