SPODE-COPELAND

The Potteries, and particularly Stoke-on-Trent, owe much to the

inventive genius of Josiah Spode, who was unquestionably one of the greatest potters of all time. In 1749, when Spode was about 16, he was apprenticed to Thomas Whieldon of Fenton whose work was well in advance of other potters of the time. in both form and colour. He stayed with Whieldon until 1762 when he moved to work for Turner and Banks, a most fortunate change because a few years later he was able to purchase the pottery from them and so bring into being the now famous Spode-Copeland Factory which still occupies the original site.

At

this time the Staffordshire Potteries were turning out earthenware of very fine quality, and were also successfully experimenting with new bodies, glazes and decorations. The blue and white transfer decorations on contemporary porcelain, which so enhanced the traditional oak furniture of the period. particularly attracted Spode, realising as he did the tremendous demand there would be if only it were possible to produce this type of decoration on earthenware at a price within reach of all. So he began experimenting, and, following a process which had been discovered a few years earlier, he perfected by 1785 the art of transfer printing under the glaze. This was a major triumph, for now he was able to produce his patterns at a price which could be afforded by the humblest in the land and by so doing he paved the way for the numerous potters who together have raised blue printed earthenware to the high position and regard in which it is held to-day.

Spode could not rest on this one success however

—there was always a far greater challenge occupying his mind—an English tableware to equal the delicate, translucent porcelain of the Orient.

Even in his early days of potting he had realised the virtue of calcined bone

and was convinced that the white bone ash mixed with the heavier constituents, china clay and stone, could produce a ware which combined practical strength and durability with the translucency of porcelain. Tirelessly lie laboured over the years, experiment following experiment, until finally in 1794 his perseverance vas rewarded and he was able to offer the world Fine Bone China—unbelievably sheer white, translucent ware that is still unsurpassed for beauty and still acclaimed the ultimate in tableware.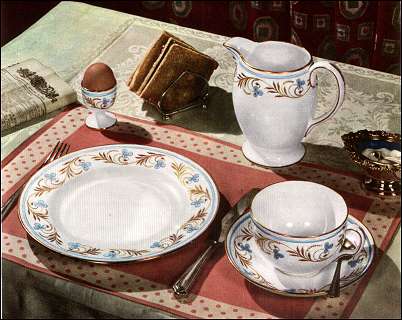 Spode 'Studley' : a fine bone china pattern of exquisite design
The demand of course was phenomenal, so that very soon Spode was prompted to ask his good friend William Copeland to join him as his London Agent, a most excellent arrangement, because Cope-land, who was a tea merchant in London, was a clever businessman, whilst Spode was essentially a practical potter. A further advantage of this association, although quite coincidental, was Copeland's close contact with the Far East through his tea business—Staffordshire pottery, quite naturally, had followed the Oriental pattern and Spode was particularly influenced by the Chinese art, so that he was quick to appreciate the value of the designs on the merchandise Copeland was importing from the East. Even the beautiful patterns on the tea wrappings were eagerly taken by him, and in short time, adapted as decorations for his ware.
After the elder Spode's death in 1797, Josiah II (1754-1827) who had worked with his father for some years took over the direction of the Company. He too was a pioneer, and whilst continuing the production of china by his father's method, he perfected a hard paste made by the addition of felspar, giving even greater durability. There are many felspar porcelain table services in the possession of the City Companies and many great families, bearing in the centre of each already sumptuously decorated plate the armorial bearings in full colour ; other services were given central painted landscapes, with floral borders—and all, as can be seen under the special contrasting lighting in the showcases in the Spode-Copeland Art Gallery, designed to be shown to perfection in candlelight.
During the early 1800's, the need arose amongst the aristocracy for replacements for their services which had been imported from the Far East by the East India Company, and Josiah Spode II introduced, after long experiment, a vitreous body known as Stone China, which matched extremely closely the porcelain and the patterns of the Orient. This body is opaque, but of much finer texture than earthenware, extremely hard and emitting a clear ring when lightly tapped. He was thus able to complete or enlarge the existing services from the patterns sent to him. This enabled him to obtain a wide knowledge of Oriental styles of decoration and his patterns on this Stone China body, either plain blue prints or richly enamelled, have been very popular ever since that time. A notable example of this matching of early Oriental ware has taken place recently, for a few years ago the Copeland Factory were commissioned by the Society of the Cincinnati to faithfully reproduce a large number of pieces to complete a service originally given to George Washington in 1785, with this background history it is not surprising that the Company has always been so renowned for its individual badged and crested ware.
During the 190 years that this famous Factory has been progressing, many changes have been made, quite naturally, many new shapes have been added, and many new patterns have been created, but it is remarkable that despite this long span of time, many of the original shapes and patterns created by Spode are still most popular, and it is even more remarkable that despite the vast scientific strides that have been made in the intervening years, no-one has been able to improve on Spode's original formula for Bone China.
Another characteristic of the Spode-Copeland Factory which has remained unchanged, is its insisttence on the very highest quality, and the many craftsmen who still employ hand methods testify to the fact that to achieve this end, mechanisation has not yet proved sufficiently capable of meeting requirements. It must not be thought because of this however, that there is any complacent acceptance of old and tried methods ; far from it, and if it were possible, Spode himself would unquestionably praise the restless activity, the search for improved techniques which is a daily part of life at the Spode-Copeland Factory.
The late Mr. William Taylor Copeland and Mr. Ronald Copeland spent much time and a great deal of money in collecting together early Spode work. Above the wonderful showroom the Ronald Copeland Art Gallery displays what must be the finest collection of Spode Bone China and Stone China productions in the whole world, and in an adjacent room, beautifully set out on authentic period furniture is a magnificent collection of Spode's under-glaze blue printed ware.
Anyone interested in fine pottery production should not miss the opportunity of visiting this wonderful display when in Stoke-on-Trent.
The history of this famous Company must be one of the most fascinating in the world, and naturally it would take a long time to tell. An excellent little book however has been written by G. Bernard Hughes entitled ' The Story of Spode ', and a copy of this can be obtained by writing to W. T. Copeland & Sons, Ltd., Stoke-on-Trent.

Spode 'Lancaster' : epitomising all that is most delightful
in the tradition of the English dinner table

Stoke-on-Trent handbook - 1957