| | | |
| --- | --- | --- |
| | Stoke-on-Trent - Advert of the week | |
The Potteries Motor Traction Co. Ltd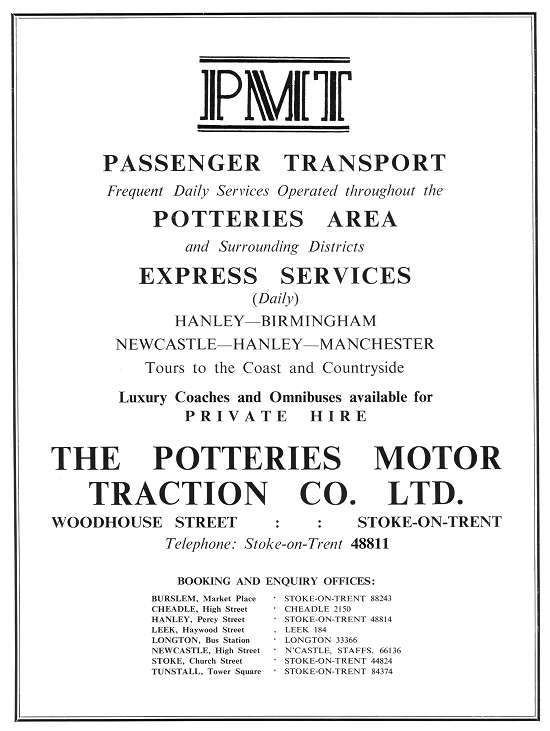 The Potteries Motor Traction Co. Ltd
from the 1957 - City of Stoke-on-Trent Handbook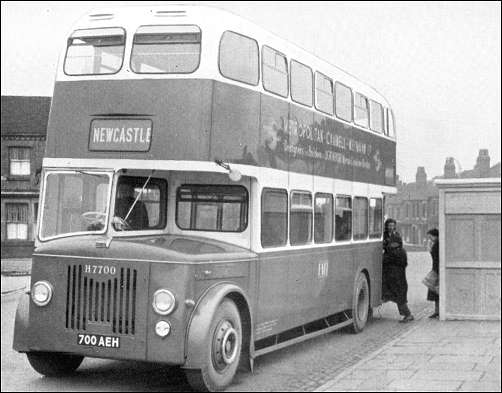 The company began life as Potteries Motor Traction Limited or PMT. The company can trace its origins to the 1860s when horse-drawn trams started operations in the 'potteries' area of North Staffordshire. Steam trams followed in 1881, and electric trams in 1899.

Named Potteries Electric Traction at the time (as a result of its tram fleet) the company introduced motorbuses in 1900. Eventually these replaced the trams, which were finally withdrawn in 1928, and so the company was renamed Potteries Motor Traction in 1933.

The large number of local independent operators in the area had always been a problem for P.M.T. and, after World War 2, the company decided that the best way to eliminate them was to buy them out. Accordingly, the fleet became extremely mixed during the 1950s, and reflected the consequent complete lack of standardisation.

It expanded beyond its Staffordshire base into Merseyside, Cheshire and Greater Manchester.

The traditional colours of the PMT fleet were red and cream. During National Bus Company ownership in the 1970s and 1980s, poppy red and white livery was used. Following privatisation, the livery became red and yellow with the Potteries logo. This livery has now been completely superseded by the standard First corporate colours (pink, white and blue).