Thomas Arrowsmith & Sons, Burslem
Thomas Arrowsmith was a JP and Councillor for Burslem Borough and the owner of a pottery works manufacturing stilts and supports for firing ware in the kilns.

Arrowsmith was involved in local affairs and politics. His son Henry Tomas Arrowsmith took over the business and was similarly heavily involved in local affairs - like his father he was a JP and a governor of the Haywood Hospital which was adjacent to their works.
ARROWSMITH , Henry Thomas
, J. P. , C. C.
Lymewood, Wolstanton, Stoke-on- Trent.

Born 1860, Burslem, S.O.T.
Son of late Thomas Arrowsmith, J.P.
Educated at Endowed School, Burslem.
Married 1886, Elizabeth, daughter of late Thomas W. Eardley.

Stilt and Spur Manufacturer. Burslem School Board, 1906; Staffordshire Education Committee, 1919 ; Staffordshire County Council, 1925 ; Member of the Boundaries Local Taxation Road and Bridges, Public Health, Mental Hospital Board and Education Committee, etc. ; Justice of the Peace, 1924 ; Life Governor of Burslem, Haywood and Tunstall Memorial Hospital.

"Who's Who in Staffordshire" 1934

Thomas Arrowsmith & Sons, Wedgwood & Moorland Road Works, Burslem
Patentees and Manufacturers
Stilts, Spurs and Thimbles
and every reqisite for firing tiles and pottery

from: 1907 Staffordshire Sentinel 'Business Reference Guide to The Potteries, Newcastle & District'
Moorland Road
Burslem Borough Public Baths
Supt., William Bratt
Gibson and Sons, earthenware manufacturers.
150 Boulton, A . H. , accountant
152 Arrowsmith, G. T., fireman
154 George, William, fitter
156 Mountford, Jane
158 Arrowsmith, T., and Son , stilt manufacturers
160 Haywood Hospital
House doctor, Margaret Douglas French, M.B., B.S. Sister-in-charge, Miss M. E. Moore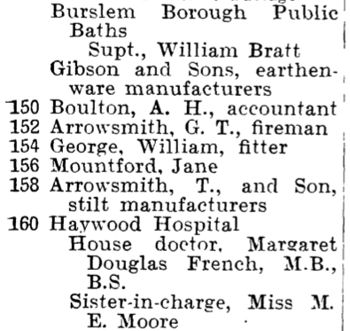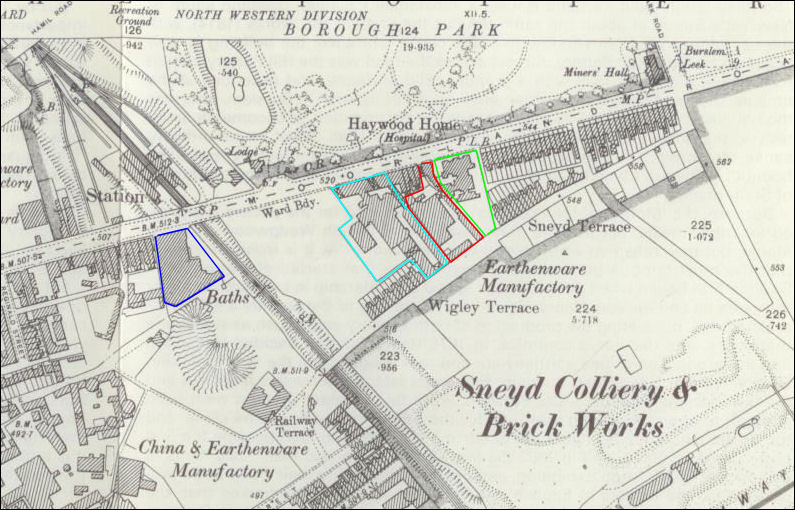 1898 map of Moorland Road, Burslem
dark blue = Burslem Borough Baths
light blue = Gibson & Sons, earthenware manufacturers
red = Thomas Arrowsmith & Son, stilt manufacturers
green = Haywood Hospital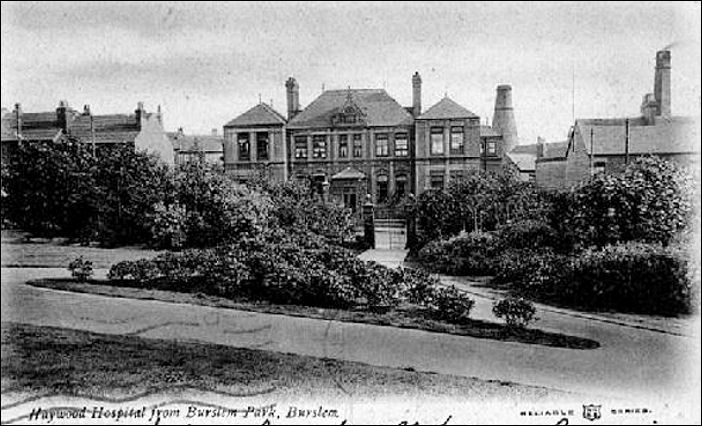 postcard c.1900 - Haywood Hospital from Burslem Park
to the right of the hospital is the works of Thomas Arrowsmith & Son
postcard: Don Henshall
Haywood Hospital
In 1882 it was decided to hold a competition for the designing of a purpose-built hospital.
By 1885 the plans were available and the winning architect was Mr. G. B. Ford of Ford and Slater, Architects, in Burslem.
In January 1886, a piece of land was obtained in Moorland Road adjoining the manufactory of Thomas Arrowsmith & Sons Ltd.
The new hospital was officially opened on 20th June 1887 - Thomas Arrowsmith was one of the governors.

the same view in March 2011

---

1907 directory
Burslem
Magistrates for the Borough


---
Governors of the Haywood Charity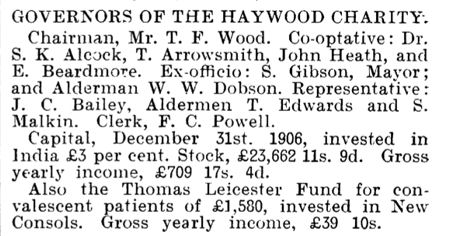 ---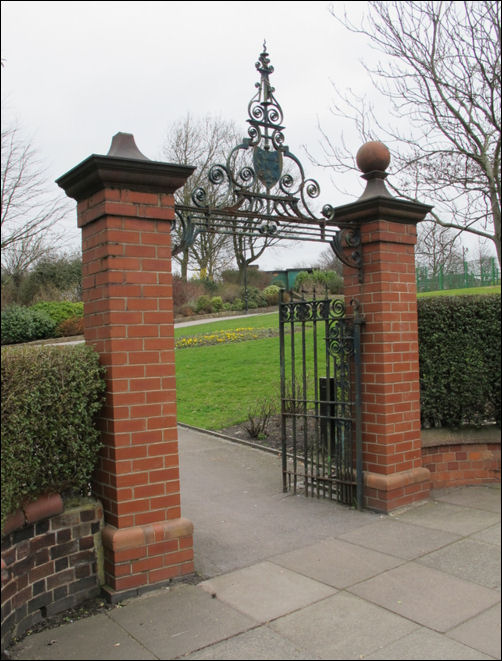 The Moorland Road gates to Burslem Park - donated by Mr & Mrs Arrowsmith

presented 1893
Burslem park was situated on Mooland Road - It was opened in August 1894.

Like the balustrades on the terrace walls and the Wilkinson fountains, the two drinking fountains were made at Doulton's Rowley Regis factory.

Local industrialists helped pay for the children's playground, gates for the Park Road entrance and Moorland Road entrance opposite the Haywood hospital were gifts from Mr and Mrs Arrowsmith.

Seats were given by Alderman Robinson; Councillor Lovatt; Alderman Boulton; Councillor Parker and Councillor Wilcox Edge. Pottery manufacturers J. Gibson and Company donated two shelters in the comers of the terrace. Messrs W & J Challinor of Leek sent a boat for the lake.
---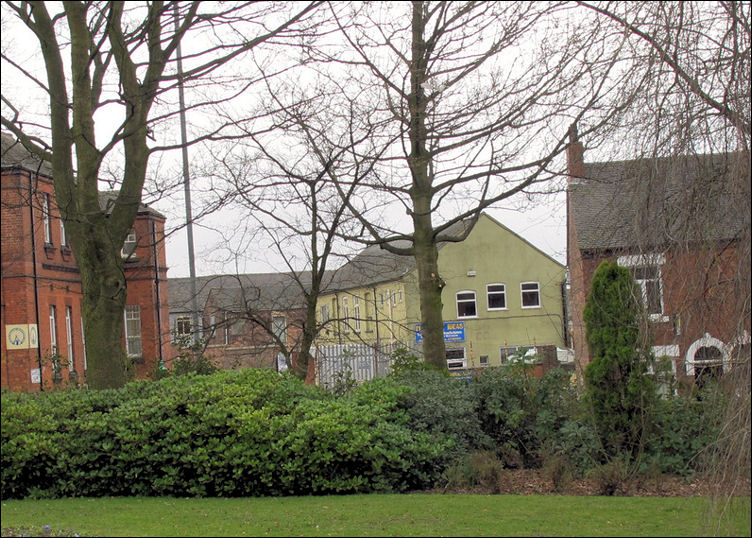 some of the buildings of Arrowsmiths works still exist between
the Haywood Hospital (left) and the house number 156 Moorland Road (right)
---

Burslem Board School on Moorland Road - built in 1910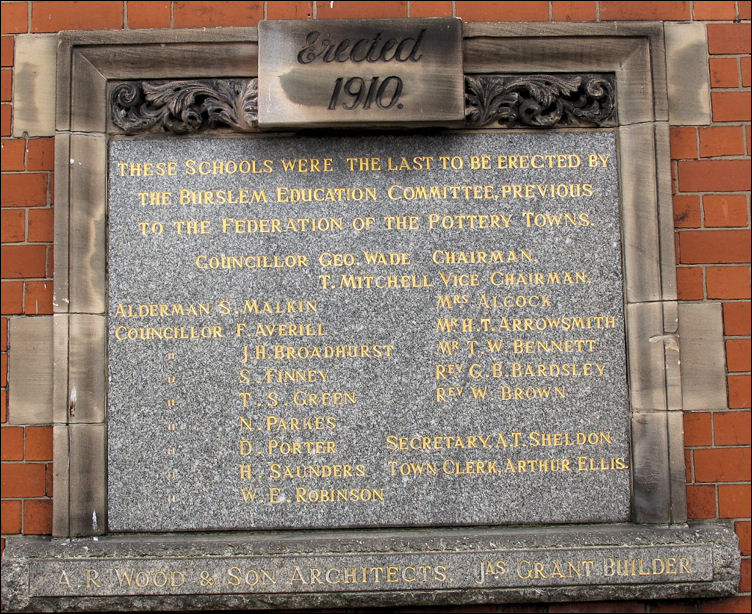 Henry Thomas Arrowsmith was a member of the Burslem Education Committee

Related pages
---
Burslem - one of the six towns of Stoke-on-Trent
---
also see..