| | | |
| --- | --- | --- |
| | Stoke-on-Trent - Advert of the week | |
W. Eardley, Pottery Engraver, Ford Street, Shelton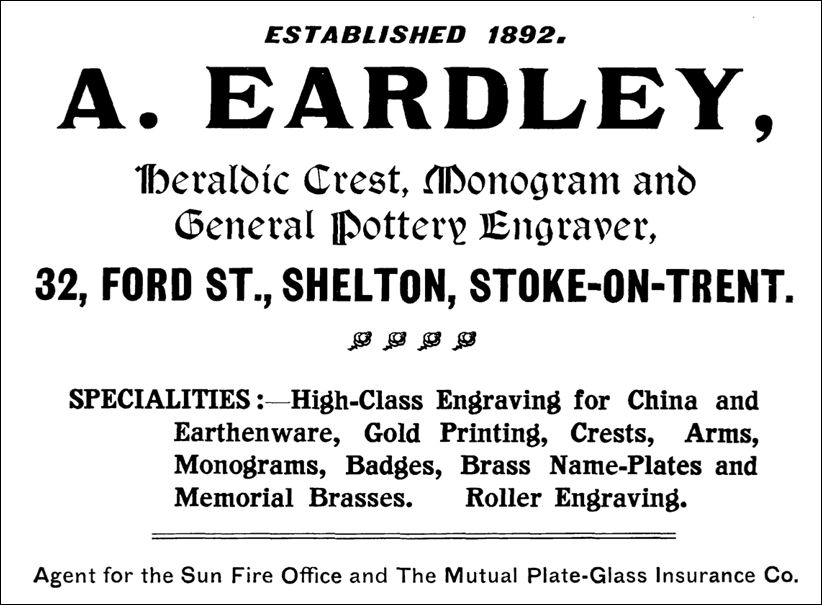 W. Eardley, Pottery Engraver, Ford Street, Shelton
Established 1892
A. Eardley
Heraldic Crest, Monogram and
General Pottery Engraver,
32 Ford St., Shelton, Stoke-on-Trent
SPECIALITIES:- High-Class Engraving for China and
Earthenware, Gold Printing, Crests, Arms,
Monogrames, Badges, Brass Name-Plates and
Memorial Brasses. Roller Engraving.
Agent for the Sun Fire office and the Mutual Plate-Glass Insurance Co.
---

32 Ford Street (now Crowther Street), Shelton, Stoke-on-Trent
picture: Google Street View

Related pages
---
John Ridgway & Shelton. Walk around the Howard and Cauldon Place area of Shelton in the 1850-1890 period. The Ridgway pottery family and the development of the streets and houses.

A photo walk across Stoke Fields to Winton's Wood - the parish of St. Simon and St. Jude (Hanley), the area around Staffordshire University. Winton's Wood and Poxon's field.
---
also see..