| | | |
| --- | --- | --- |
| | Stoke-on-Trent - Advert of the week | |
Cookson Matthey Ceramics PLC
Cookson Mathey Ceramics & Materials Ltd, Uttoxeter Road, Meir, Stoke-on-Trent
Cookson Matthey Print Ltd, Burslem, Stoke-on-Trent

1817: Percival Johnson begins work as a mineralogist in London.
1891: Johnson Matthey is incorporated as Johnson, Matthey & Co. Ltd.
1963: Blythe Colours, based in Stoke-on-Trent, was acquired.
1994: Johnson Matthey joins Cookson Group PLC to form Cookson Matthey Ceramics plc.
1998: Johnson Matthey acquires Cookson's stake in Cookson Matthey Ceramics.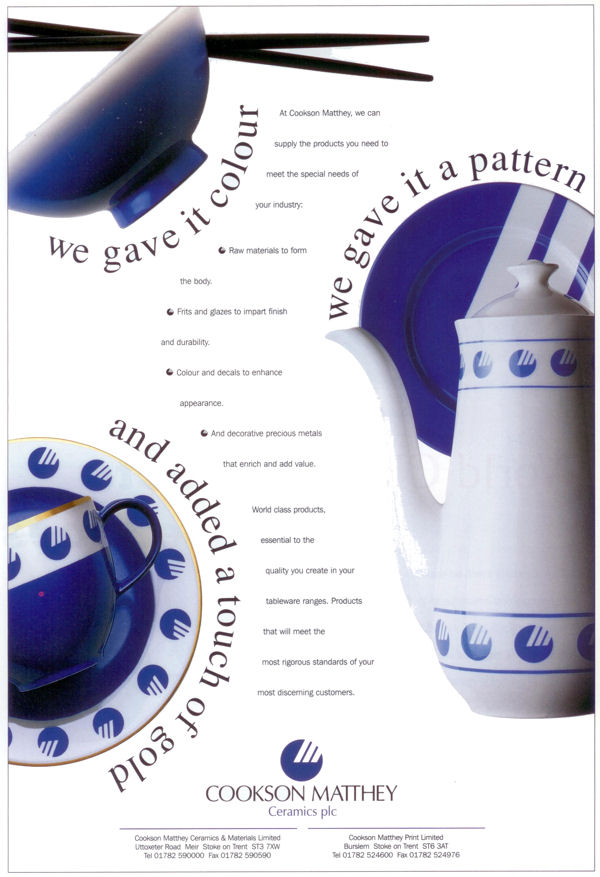 Cookson Matthey Ceramics PLC, Stoke-on-Trent
from: City of Stoke-on-Trent Business Directory 1997/98

In 1963 Blythe Colours, based in Stoke-on-Trent, was acquired. This brought to Johnson Matthey an extended range of industrial colors, a worldwide network of agents, and a strong north European section based in The Netherlands.

A major reorganization of the company took place in 1966 and 1967, with the establishment of four divisions within which all of the company's activities and subsidiaries were placed. These were the Jewelry and Allied Traders Division (JAT); the Chemical Division; the Industrial Division; and the Ceramic Division.

In March 1994, Johnson Matthey and Cookson Group PLC, a U.K.-based metals fabrication firm, combined their respective ceramics businesses into a 50-50 joint venture called Cookson Matthey Ceramics plc. This venture absorbed Johnson Matthey's Colour and Print Division, leaving the firm with the remaining three divisions and its share of the Cookson joint venture.

Continued poor results in the ceramics division, due primarily to declining prices for zircon, a key whitening agent, led to the collapse of Cookson Matthey Ceramics. The company purchased Cookson's stake in the joint venture for £65 million in January 1998, allowing it to consolidate its ceramics holdings and cut operating costs by £4 million, mainly through consolidation.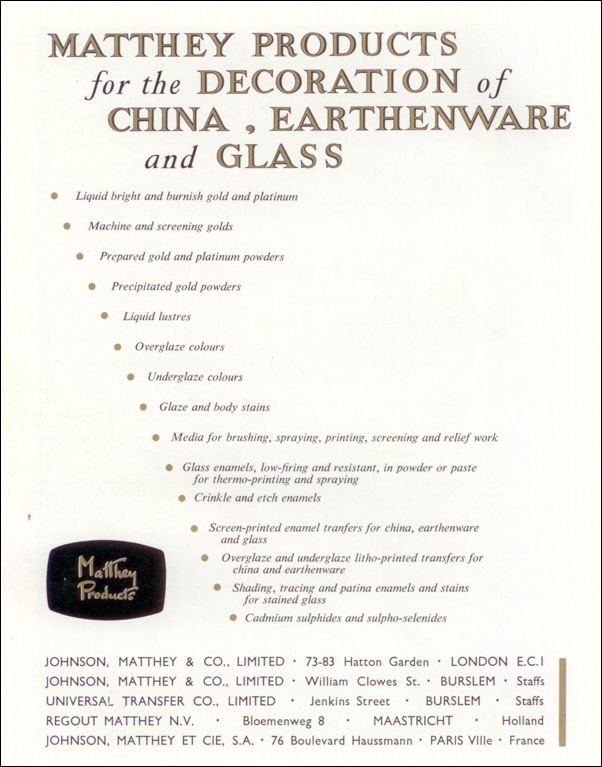 Matthey Products
from: City of Stoke-on-Trent Business Directory 1957
---