| | |
| --- | --- |
| Wayte & Ridge | |
Location and period of operation:
| | | | |
| --- | --- | --- | --- |
| Wayte & Ridge | Longton | c.1864 | May 1865 |
China, Earthenware, Parian Manufacturers and Commission Agents at the Waterloo Place Works, Heathcote Road, Longton, Stoke-on-Trent, England.
The partners were Arthur Wayte and Stephen Ridge. In 1864 they advertised themselves as manufacturers and commission agents. Having works in Longton, England and a representative Agent and correspondence address in Paris.

In May 1865 they were adjudged bankrupt.

The following details appeared in the Staffordshire Advertiser on the 27th May 1865. - "Longton, parian manufactory and beer store, Bridge Street, to be let, late held by Wayte & Ridge, apply Jesse Ridge, Audlem, owner." (Rodney Hampson, Pottery References in the Staffordshire Advertiser 1795-1865)
---

Note: there are no known examples of ware
or marks relating to Wayte & Ridge
the marks shown here are sometimes wrongly attributed to Wayte & Ridge,
- in fact they are those of Wittmann & Roth, Importers of London
Godden notes....
"These initials, which often occur in a diamond-shaped outline on earthenware figures, have previously been attributed to the above short-lived firm (Wayte & Ridge).
Definite evidence has just come to hand proving that these initials were used on wares (usually Continental) sold by Messrs. Wittmann & Roth, Importers, of London, c.1870-96"
Geoffrey A. Godden - Encyclopedia of British Pottery & Porcelain Marks. 1964, revised 1991.
- click for information on Wittmann & Roth -
---
1864 advert for Wayte & Ridge
Porcelain, earthenware, pottery, lusters, stoneware, biscuits

and all products of the English porcelain factories.

Mm Wayte & Ridge, Manufacturers and Commissionaires,

wishing to increase the relations they already have on the Continents always have varied and tasteful items; the choice of new shapes and designs makes their manufacture remarkable and their already worthy success; the quality and the good price of them assure them an even greater one.

The good conditions in which they find themselves allow them to fear no competition.

Costing prices are sent to all those who request them from Mr. Wayte in Paris. Please write Messrs. Arthur & Co., 10 Rue Castiglione, in Paris, where the agent can be visited, or at their home in England at the address below:

Messers WAYTE & RIDGE, Manufacturers,
Waterloo Place Works
Heathcote Road, Longton, Staffordshire, England

---

Wayte & Ridge
Manufacturers of Parian, China, Luster &c.,
advert from 1864 Jones's Mercantile Directory
of the Pottery District of Staffordshire
reproduced courtesy:
R.K. Henrywood - Staffordshire Potters 1781-1900
Note: John Arthur & Co., 10 Rue Castiglione, Paris were bankers
and must have been used by Wayte & Ridge as a correspondence address
---
London Gazette
20th October 1865

| | |
| --- | --- |
| | Arthur Wayte and Stepen Ridge, both of Longton in the County of Stafford, Commission Agents, China Manufacturers and Copartners, carrying on business at Longton aforesaid, and also at Faubourg Saint Martin, Paris, in the Empire of Frnace, under the style or firm of Wayte and Ridge, having been adjudged bankrupts under a Petition for adjudication of Bankruptcy for the Birmingham District, on the 27th day of May, 1865........ |
notice of adjudication of bankruptcy
of Arthur Wayte and Stephen Ridge
---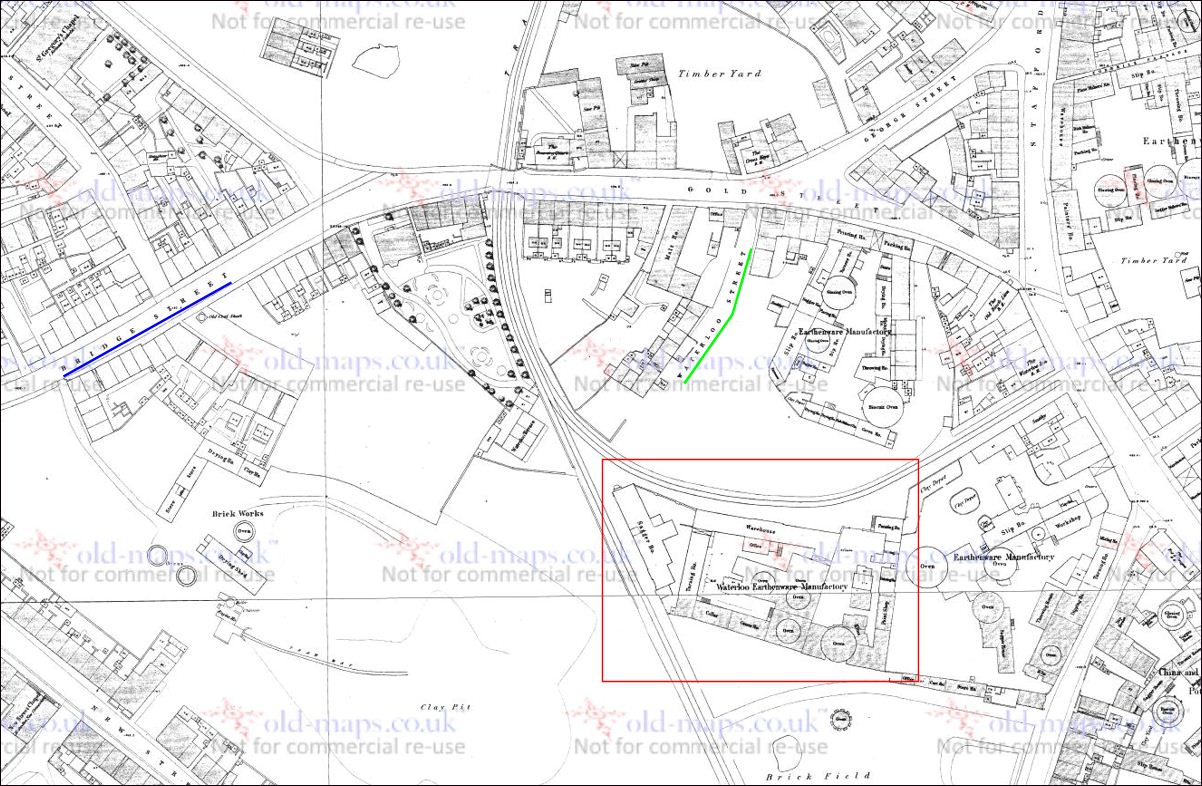 1857 map showing Bridge Street, Gold Street and the Waterloo Earthenware Manufactory

NOTE: sometime in the early 1860s Bridge Street was renamed to Heathcote Road
map courtesy: old-maps.co.uk
---
Questions, comments, contributions? email: Steve Birks
---