James Wardle

Wardle & Ash







Location and period of operation:
| | | | |
| --- | --- | --- | --- |
| James Wardle | Shelton & Hanley | 1854 | 1871 |
Earthenware, Parian, Majolica manufacturer at a number of works in Shelton & Hanley, Stoke-on-Trent, England.
Around 1854 James Wardle followed his father's (William) trade and set up a pottery in Hope Street, Shelton (Hanley).

In 1859 James went into partnership with George Ash as Wardle & Ash, the business was moved to James Street, Shelton and in 1863 to Broad Street.

In February 1865 the partnership of Wardle & Ash was dissolved. George Ash continued on his own account at the Broad Street Works and James Wardle moved to the William Street Works, where it is said that he produced "somewhat indifferent majolica wares for both the British and American markets". - 'British Ceramic Art 1870-1940' - John A. Bartlett.

In 1866 James was bankrupted, he made arrangments to pay creditors 7s 6d in the pound in three instalments.

James Wardle died in 1871 and the business passed into the hands of his wife Eliza who traded as Wardle & Co.

Subsequently: Wardle and Co
---
The London Gazette
14th February 1865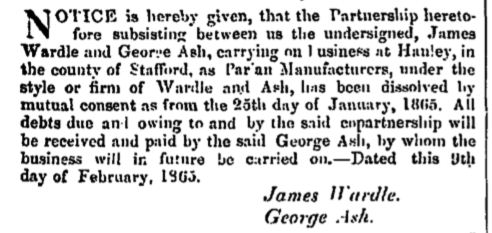 notice of the dissolution of the partnership between
James Wardle and George Ash
---

The London Gazette
6th November 1866


notice of intended payment to creditors by
James Wardle
---

James Wardle
William Street Pottery, Hanley

Keates Directory - 1867

courtesy: R K Henrywood - 'Staffordshire Potters 1781-1900'
---
Questions, comments, contributions? email: Steve Birks
---