Location and period of operation:
| | | | |
| --- | --- | --- | --- |
| Brown & Steventon Ltd | Burslem | 1897 | 1923 |
Earthenware manufacturer at the Royal Pottery, Burslem, Stoke-on-Trent
The partners were William J. Brown, John Steventon and W. Lees.

John Steventon moved from Shropshire to Stoke-on-Trent and worked at Shelton Iron & Steel. By 1890 his profession is listed as a China Decorator on the birth certificate of one of his children. In the 1901 census he is recorded as an earthenware manufacturer.

c.1913 the company was incorporated as a Limited Partnership.

1923 William Brown retired from the business which became Steventon & Sons.
Subsequently Steventon & Sons Ltd.

Brown and Steventon,
earthenware, toilet and
dinner ware manufacturers,
Royal Pottery
from: 1907 Staffordshire Sentinel
'Business Reference Guide to The Potteries, Newcastle & District'

---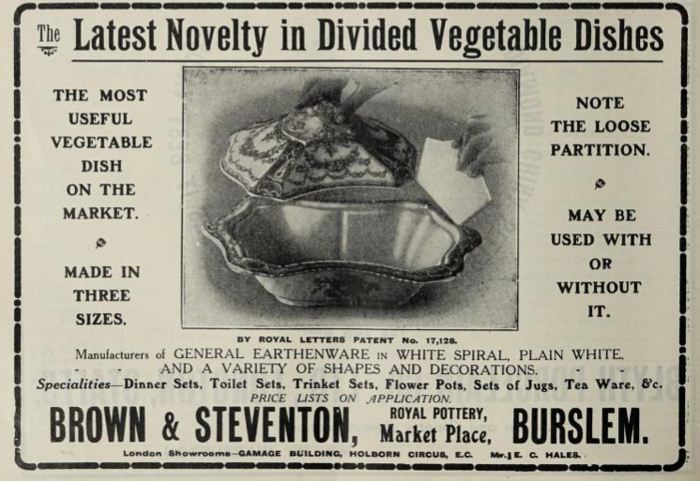 Brown & Steventon, Royal Pottery, Market Place, Burslem
The Latest Novelty in Divided Vegetable Dishes
"Manufacturers of General Earthenware in White Spiral, Plain White, and a variety of shapes and decorations. Specialities -Dinner Sets, Toilet sets, Trinket Sets, Flower Pots, Sets of Jugs, Tea Ware".
The Pottery Gazette & Glass Trade Review
October 1911
---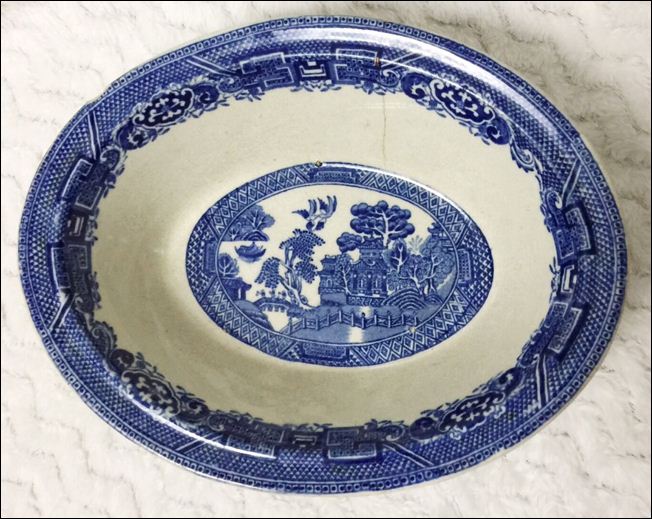 serving dish in the Willow pattern
---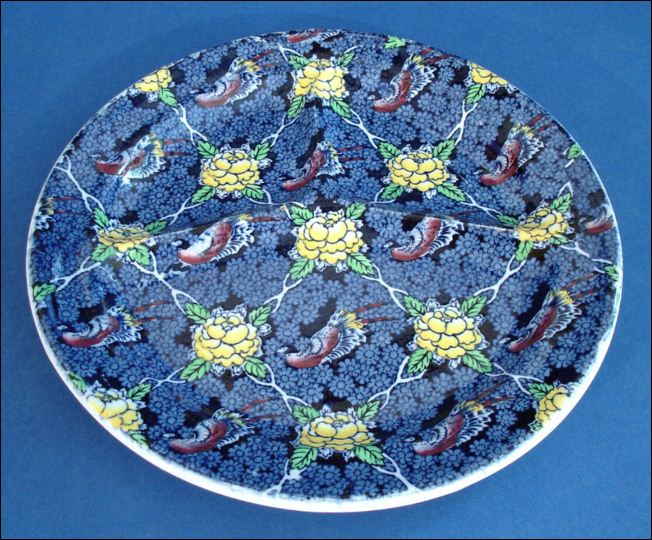 tri-section plate in a chintz style pattern
---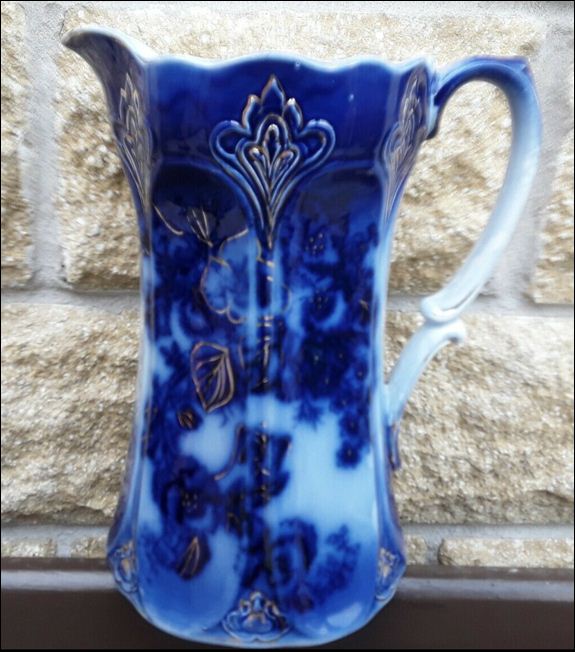 flow blue jug in the Pansy pattern
---
Marks used on ware for identification: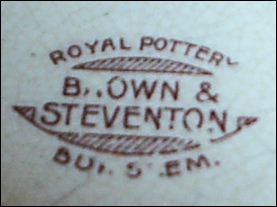 Royal Pottery
Brown &
Steventon
Burslem
1897 - 1903
---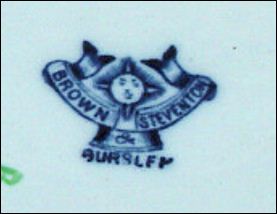 Brown & Steventon
Burslem
1903 - 1913
---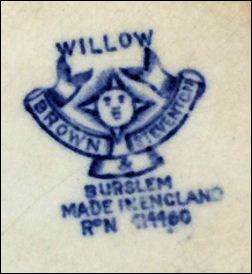 Brown & Steventon
Burslem
Made in England
1903 - 1913
the registration number 414460
shows that the mark was first
registered in 1903
WILLOW is the pattern name
---

Brown & Steventon
Limited
Burslem
Made in England
'Limited' or 'LTD' indicates a date
from 1913 to 1923
PANSY is the pattern name
---
Questions, comments, contributions? email: Steve Birks
---