Location and period of operation:
| | | | |
| --- | --- | --- | --- |
| Barker, Sutton & Till | Burslem | 1832/4 | 1843 |
Earthenware manufacturer at the Sytch Pottery, Burslem, Stoke-on-Trent.


In 1833 Wiliam Barker of Snow Hill, Burslem together with James Sutton and Thomas Till of Liverpool Road, Burslem took over the Sytch Pottery from John Hall & Sons.

Trading as Barker, Sutton & Till they made general earthenware, lustre ware and figures. In 1842 Sutton retired from the business which continued as Barker & Till.
Previously: John Hall (& Sons)

Subsequently: Barker & Till

---

Messrs. BARKER, SUTTON, and TILL's Earthenware Factory, Burslem.

John Mayer, aged 9

I am a runner of moulds for Adolphus Hancock ; I come to work at six o'clock and go home at six; sometimes stay till half-past seven or eight.

I cannot read; I cannot write; I went to day school before I came to work; I go to Sunday school now;

my father was a plate-maker; he is now blind; he has not worked for four years or more; mother takes in washing I've got two brothers and two sisters; my two brothers work, one is a squeezer or presser, the other is a colour maker; my sisters are too young to work ; they go to school and pay each 2½d. a-week;

I get for breakfast a bowlfull of stir-pudding, as much as I can eat and bacon and taters for dinner; I go home to both; and take the time allowed me, an hour and a half. I am very tired when I get home, and get my supper and go to bed, 'cause I have to be up early next morning.

Scriven's Report on Child Labour in the pottery industry in 1840
interview with John Mayer - age 9 who worked at Barker, Sutton & Till


click for more on Scriven's report

---
The London Gazette, October 4, 1842

James Sutton retired from the business
in September 1842
---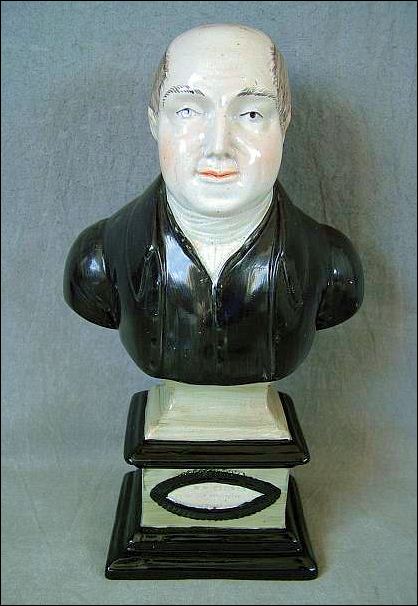 Bust of the Primitive Methodist Preacher, William Clowes
by Barker, Sutton & Till

William Clowes was born at Burslem, Staffordshire, on 12 March 1780, he was the son of William Clowes, potter, and Ann, daughter of Aaron Wedgwood, grandson of Gilbert Wedgwood and employed during his early years as a working potter.

He was one of the founders of Primitive Methodism, and became one of the best-known preachers of the new society.
---
Initials and marks used on ware for identification:
B. S. & T.
B. S. & T
BURSLEM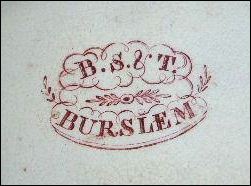 Barker, Sutton & Till
Burslem
---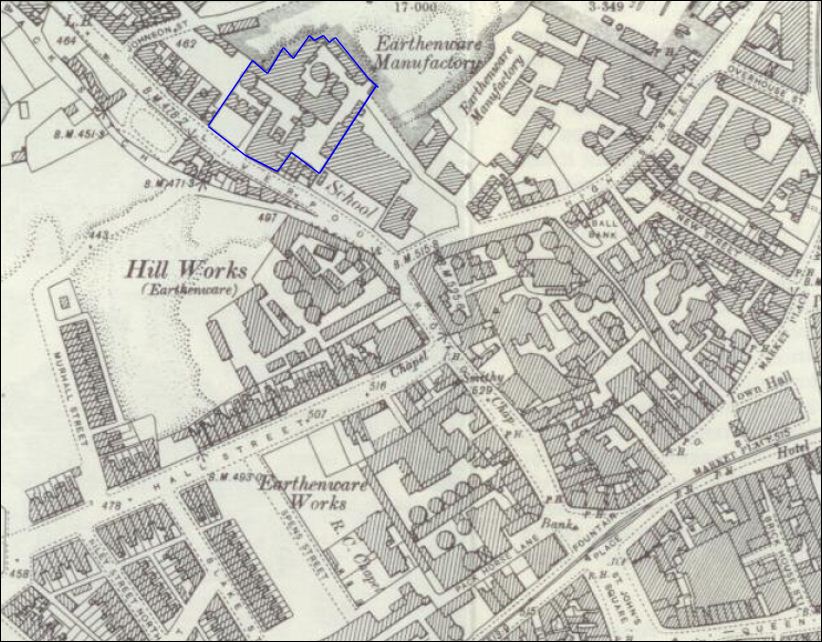 The Sytch Pottery on a 1898 map
- click for more information -
---
questions/comments/contributions? email: Steve Birks
---