Pearl Pottery Co

New Pearl Pottery Co







Location and period of operation:
Pearl Pottery Co
New Pearl Pottery Co

Hanley
Hanley

1892
1936

1936
1941
Earthenware manufacturers at the 'Pearl Pottery' in Brook Street, Hanley, Stoke on Trent

Previously the works were operated by Wood and Bennett - the Pearl Pottery Co. took over in July 1892.

The original partners were: George Allen, James Boulton, Stephen Hawthorn, Harry George Coleman, Samuel George Bennett, and George Hassall.

Harry G Coleman retired in December 1892

In 1936 the business was renamed the New Pearl Pottery Co. Ltd. The works closed during the war and the factory was sold in 1947
Note: there was a similar named (unrelated) company "Pearl Pottery (Burslem)"
---
London Gazette 16th December 1892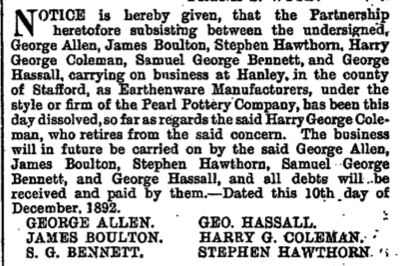 Notice of the retirement of Harry George Coleman
---
an article on "The Pearl Pottery Company, Brook Streeet, Hanley" appeared in...

"A descriptive account of The Potteries (illustrated)" and 1893 advertising and trade journal. Page 26
Initials and names used on ware for identification:
PP
PP Co Ltd
ROYAL WARE
PEARL WARE
PEARL STONE WARE
CRANSTON POTTERY
EDNA BEST ART POTTERY
---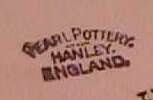 ---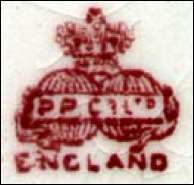 Printed mark used 1912+
two globes with PPC Co Ltd on a banner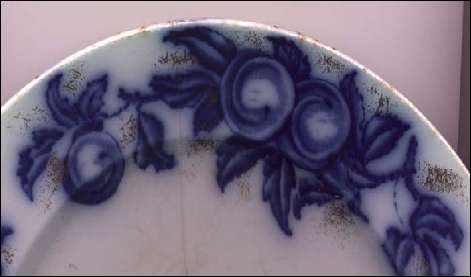 ---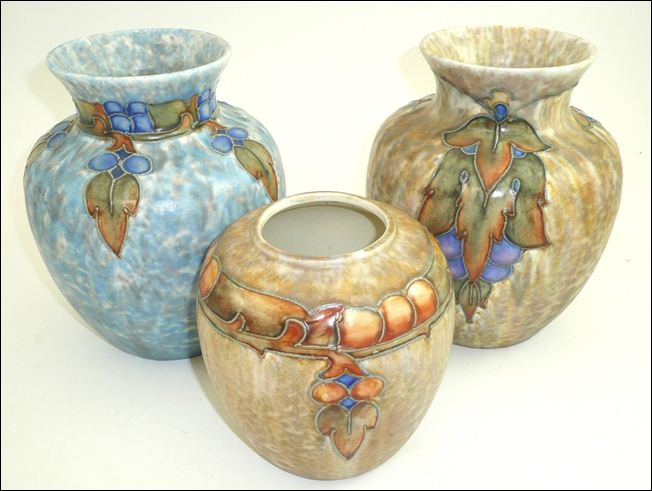 typical art nouveau, tube lined, Cranston Pottery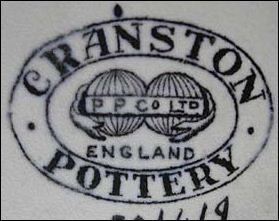 Cranston Pottery
PP Co Ltd
ENGLAND

---

Edna Best Art Pottery in the art deco style

Edna Best (1900 - 1974) was a British stage and film actress. In the 1930's she became involved in the endorsement of Art Deco ceramics made by the Pearl Pottery, Hanley.

The patterns were bold and colourful art deco style no doubt to compete with the polular style of Clarice Cliff. The ranges were produced exclusively for Lawley's of Regent Street in London.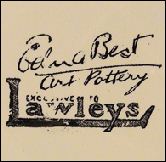 Edna Best
Art Pottery
exclusive to
Lawleys
---
questions/comments/contributions? email: Steve Birks
---