| | |
| --- | --- |
| Felix & Richard Pratt | |
Location and period of operation:
Felix & Richard Pratt
F & R Pratt

Fenton

1818

1920's
The company made earthenware, terra cotta, Rockingham ware. They were also famous for the manufacture of decorated pot lids

William Pratt was a master potter at Lane Delph (Fenton) who operated from around 1753 until his death in 1799. The business was continued by his widow with the help of her sons who eventually started up seperate businesses in Fenton.

---

"on the north side Mr. Felix Pratt's House and Manufactory, on the site where Mr. T. Heath made dipped Pottery: and who is mentioned with proper respect for his virtues, is in a subsequent part. The present proprietor is notable for affability and promptitude in alleviating the miseries of the distressed."

from the 'History of the Staffordshire Potteries', published in 1829 by Simeon Shaw.

---

Transfer of the business:-

F & R Pratt was acquired by H. T. Robinson c.1916, and from 1920 it was operating from the Cauldon Place Works as subsidiary of Robinsonís Cauldon Potteries Ltd.

Harrison & Son (Hanley) Ltd purchased Cauldon Potteries Ltd after it went bankrupt in 1933 and so aquired the business of F & R Pratt.

Harrison's owned the Crescent Pottery of George Jones and Sons and from 1936 transfer the F & R Pratt business to the Crescent Pottery in Stoke.

In 1958 E. Brain & Co Ltd aquired the name and Goodwill of F & R Pratt and Coalport China Ltd who bother operated from the Crescent Pottery Works.

In 1976 Wedgwood purchased E. Brain & Co Ltd. thus aquiring Pratt and Coalport. Coalport continued to produce ware which were decorated with 'original Pratt prints'

reference: 'Handbook of British Pottery Manufacturers 1900-2010' by Michael Perry

---

Selected by the Committee for the Staffordshire Potteries
to exhibit at the Paris Universal Exhibition of 1855

---


Portrait of Felix Pratt on a china plaque
believed to have been made in 1888

courtesy of R K Henrywood - Staffordshire Potters 1781-1900

---

F and R Pratt & Co, High Street East
from: 1907 Staffordshire Sentinel
'Business Reference Guide to The Potteries, Newcastle & District'
---

1898 map showing the works of F and R Pratt & Co, High Street East
---
No. 70 is likely to be the pattern number

Godden (Encyclopaedia of British pottery and porcelain Marks)
notes this as a "Rare printed mark, c. 1847-60. Found on fine quality
Etruscan pattern vases and fine printed wares."


F & R Pratt & Co
Fenton
Manufacturers
to H.R. H. Prince Albert

c. 1847-60
---


Etruscan pattern stoneware by F & R Pratt

---


Prattware Jug - Sailors Fairwell

---


Prattware Jug

---
Initials used on ware for identification:
F & R P
F & R P & Co
F & R Pratt & Co
PRATT
---

Trade Mark of a nude man with a discus used by F & R Pratt
with or without the name F & R Pratt
used on ware depicting 'Old Greek' decoration
generally from 1851-1878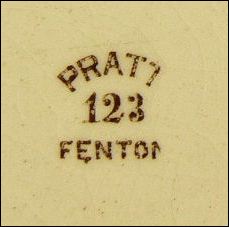 a number of different patterns and shapes
bore the number 123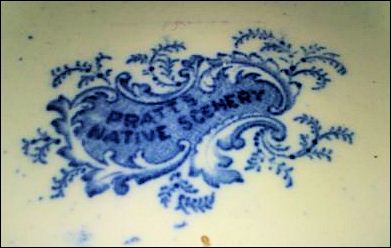 Pratt's Native Scenery
mark used on blue transfer ware

---

19th Century Prattware pot lids
The Sportsman,
Both Alike,
No By Heavens Exclaim May I Perish If Ever I Plant In That Bosom A Thorn
the other is decorated with a lady watering cattle
Prattware Pot Lids
The firm of F. & R. Pratt of Fenton was run by Felix Edward Pratt (1813-1894) who saw the commercial possibilities of producing multicoloured pot lids and bases as containers for products such as bear's grease, gentleman's relish, food-stuffs and cosmetics including rouge. Jesse Austin (1806-1879), who had been an apprentice at Davenport before becoming a self-employed artist and engraver, joined Pratt in about 1843.
Austin subsequently left Pratt to go to Bates, Brown, Westhead and Moore for a period of about a year only to return to Pratt's. Of the two, Austin was the artistic influence and Pratt the commercial brain.
Between them they produced a substantial and widely varying selection of what we know today as Staffordshire pot lids and, with the success they enjoyed, they went on to produce Prattware, pottery decorated with the same colour pictures, for a period of some 40 odd years.
Austin was a gifted artist and engraver but he had limited imagination and drew inspiration from celebrated paintings, events and other aspects of Victorian life. He painted the designs in watercolour and then etched the copper plates in order to produce the three colour plates and the fourth black key plate.
The Great Exhibition of 1851 was to be an early high point for the products of F. & R. Pratt. The firm produced a series of what are known to collectors as 'Exhibition Pieces'. These were the best examples of each variety of picture additionally embellished with wide gold bands.

In 1897, three years after Felix Edward Pratt died, there was an exhibition of Prattware in Blackpool. In the same year it is recorded that people started collecting and in 1924 the first public auction was held.
---

through a number of take-overs Wedgwood aquired the name and goodwill of both Pratt and Coalport.
Under Wedgwood ownership Coalport continued to produce ware which were decorated with 'original Pratt prints'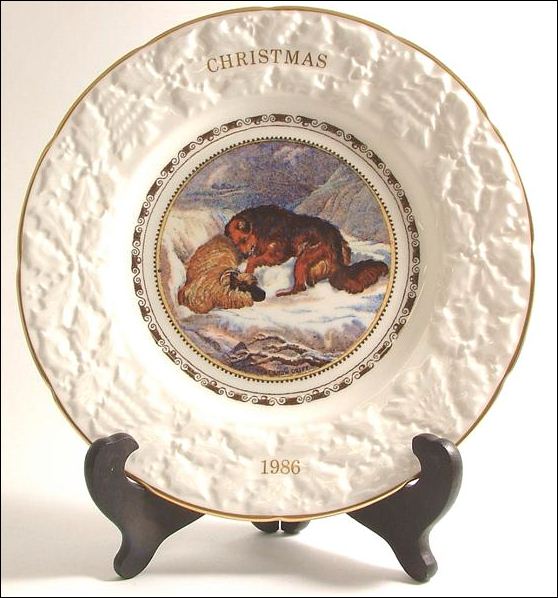 Coalport Christmas 1986 Snow Drift - reproduced from original Pratt prints
---
Questions, comments, contributions? email: Steve Birks
---